Matthew Janusauskas, Director, Technology & Consulting Services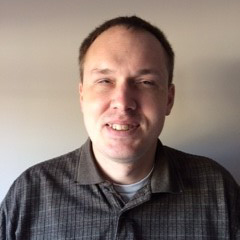 Matthew Janusauskas has over 20 years of experience working with assistive and mainstream technology including roles in accessibility and technical services, information technology, training, team management, and product management.
His extensive technical background, leadership, and communication ability have allowed such achievements as integrating a number of international technical accessibility teams. As product manager, he worked with multiple development and sales teams simultaneously to keep high-profile assistive technology products like the Victor Reader Stream digital e-reader in the market-leading position globally.
William Reuschel, Director, Client Services and Technical Development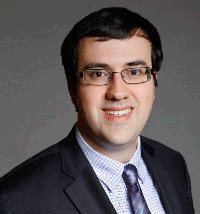 William joined AFB full time in 2012. He has experience in applying WCAG 2.0 and Section 508 guidelines to achieve digital inclusion for both web and mobile platforms.
He has expertise in accessible web applications including modern HTML and Javascript techniques, working with clients conducting usability evaluations, and developing solutions for usability. He frequently delivers training to developers on various aspects of inclusive design, including accessibility principles and testing strategies.
William has a technical background with mobile app development, and with AFB he has led the development of several mobile apps for both iOS and Android including the accessible note-taker AccessNote and the app for the online magazine AccessWorld. Prior to joining AFB full time, he was an intern with AFB Tech performing product evaluations and software development. He holds a B.S in Computer Science and a B.S. in Chemistry from Marshall University.
Matthew Enigk, Accessibility Engineer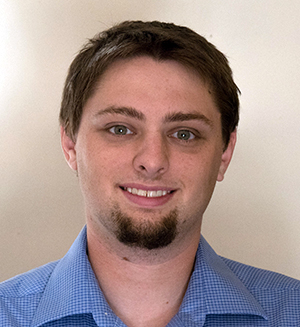 Matthew Enigk joined AFB in 2018 as a Technology and Accessibility Specialist, to evaluate websites, desktop, and mobile applications for accessibility to the blind and visually impaired.
Previously, Matt worked for a major IT consulting firm as a primary web and accessibility developer on the Healthcare.gov Plan Finder system. His past development experience includes Java, C#, SQL, PHP, and HTML. Assistive technology experience includes Talkback for Android, VoiceOver for iOS, Non-Visual Desktop Access (NVDA), and JAWS.
Matt graduated from Marshall University with a bachelor's in Computer and Information Technology with specializations in programming languages and web application.
Kalib Watson, Accessibility Engineer
Kalib Watson is an accessibility advocate and web communications specialist. He is responsible for assessing and improving the accessibility and usability of products, technology, and digital content. He helps organizations to develop policies, governance, programs, and standard operating procedures that better support accessibility and usability proactively as part of design and development lifecycles.
Kalib holds a B.A. in Professional Writing from Michigan State University, and most recently worked as a Web Accessibility Manager for ITHAKA.
Tanner Gers, Business Development and Sales Lead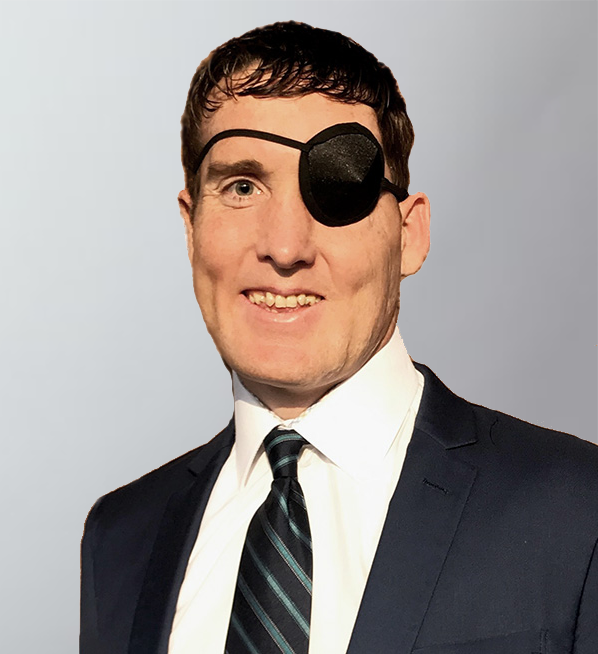 Tanner Gers joined AFB in 2019, after serving for several years as Executive Director of My Blind Spot. As the Business Development Lead for AFB Consulting, Tanner is responsible for identifying, maturing, tracking, and closing sales leads for AFB Consulting.
After losing his sight as an adult, Tanner helped develop software so people who are blind or visually impaired could independently access calculus equations, directed the implementation of an accessible job board to people with disabilities for the state of Arizona, and served on the Arizona Governor's Council Employment Committee for Blindness and Visual Impairment.
Tanner is also a competitive athlete in multiple sports. He is considered one of the greatest batters in the history of the National Beep Baseball Association (adaptive version of baseball for the blind) as a six-time NBBA All-Star and three-time World Series MVP, 2011 and 2012 US Paralympic Track and Field National Team Member. He is also a 2011 ParaPan American Games gold medalist and 2012 trials gold medalist in the long jump, a 2012 US Paralympian in long jump and 4X100m relay, a 2013 World Championship US Track and Field long jumper, and the 2015 and 2016 National Champion in track cycling.
His athletic career opened the doors for his professional speaking career, with programs delivered at companies, universities, and associations across the country, including the National Speakers Association National Headquarters, Dartmouth College, SHRM, Wounded Warriors, Ford, and Toyota, to name just a few.
Tanner holds a bachelor's degree in Communications from the University of Arizona and will be finishing his Master's in Business Administration from Louisiana State University at Shreveport in December 2019.
Additional AFB Resources
Megan Aragon, Director, Knowledge Advancement Programs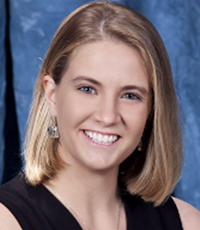 Megan Aragon joined AFB in 2017 to oversee the Center on Vision Loss, a national demonstration center located in Dallas. The Center demo areas and programs are designed to help people with vision loss live more independently. With a focus on emerging technologies and tools, and demonstrating solutions directly to individuals with low vision, the Center on Vision Loss is a natural partner for AFB Consulting to conduct and administer user testing projects.
Prior to joining AFB, Megan served as Community Outreach Specialist for the East Texas Lighthouse for the Blind, where she handled numerous duties in marketing, sales, software and application design, and program development.
Megan was diagnosed with Stargardt's Macular Dystrophy at age 17, a genetic disorder which causes the loss of vision in the center of the eye. Her personal experience with vision loss has kindled a commitment to help create a future of no limits for blind individuals.
Megan was selected as National Industries for the Blind (NIB) Milton J. Samuelson Career Achievement Award winner in 2014 and graduated from NIB's Business Management Training Program the following year. She has a bachelor's degree in sociology, certificate in management, and is a certified Microsoft Office Suite 2010 Master. Megan is currently pursuing her master's in business administration and master's in human resource development.
Neva Fairchild, National Aging & Vision Loss Specialist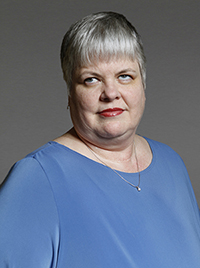 Neva Fairchild joined AFB in 2008 to oversee Esther's Place at the Center on Vision Loss. Esther's Place was a demonstration model home with over 500 products and environmental adaptations to help visually impaired or blind individuals live a life with no limits. Neva has almost 30 years of professional experience in blindness rehabilitation and a lifetime of experience living with low vision. She was diagnosed at an early age with cone rod degeneration, a rare genetic eye condition.
Prior to joining AFB, Neva was a Vocational Rehabilitation Counselor and Employment Assistance Specialist with the Texas Department of Assistive and Rehabilitative Services, and a Vocational Evaluator with the Dallas Lighthouse for the Blind.
Neva serves in numerous leadership roles, ranging from international to local in scope, with organizations such as the Association for Education and Rehabilitation of the Blind and Visually Impaired and the National Rehabilitation Association. She was also appointed by the Governor of Texas to the Rehabilitation Council of Texas, and served as Chair in FY17 and 18.
Neva holds a bachelor's in rehabilitation science and a master's in rehabilitation counseling psychology from the University of Texas Southwestern Medical Center at Dallas.
Aaron Preece, AccessWorld Technology and Information Specialist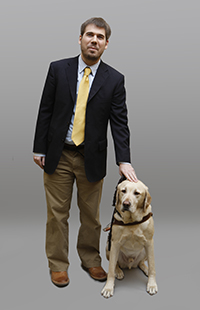 Aaron Preece joined AFB in 2013 after serving as an intern with the organization. He authors articles for and assists in the production of AccessWorld®, AFB's technology magazine, as well as operates AFB's Information Center, where he provides information and resources to those with vision loss, their families and friends, professionals in the field of vision loss, and the general public.
Aaron has expertise in the use of desktop and mobile screen readers including the free and open source NonVisual Desktop Access (NVDA) screen reader for Windows and the VoiceOver screen reader for iOS, as well as the TalkBack screen reader for Android and the ChromeVox screen reader on ChromeOS. As an individual with a visual impairment, Aaron has direct knowledge of using assistive technology in a variety of settings from employment and education to leisure and entertainment.
Aaron also assisted in the composition of AFB's Learn NVDA video tutorials for the NVDA screen reader. Aaron has frequently spoken to groups and at conferences on various topics relating to visual impairment and accessibility. Topics include general information regarding assistive technology, the usability of healthcare devices, and game access for people with visual impairments. Aaron also serves on the board of trustees of the James H. and Alice Teubert Charitable Trust.
Aaron holds a bachelor of arts in history from Marshall University.
Contact Us
For questions or to discuss AFB's services in more detail, please contact Tanner Gers, Business Development Lead, AFB Consulting, at: