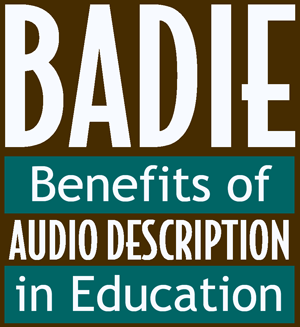 Kids love movies! Movies, videos, and other forms of multimedia are, these days, integral to public, private, and special education curriculum. If you're a young person who can't see or can't see well, audio description provides access to all the visual images of the movies that young people who are sighted enjoy.
The Benefits of Audio Description In Education (BADIE) contest wants you to experience media with audio description and then tell us about what you've experienced! You have a chance to win prizes for yourself and your teacher AND recognition for your school. And—a chance to hold the awesome title: A BADIE award winner!
How to Enter:
You, your parent, your classroom teacher or TVI—and perhaps your entire class—will choose an audio described film from the thousands of videos available through Described and Captioned Media Program (DCMP) via streaming or on DVD. Have your parent or teacher set up a free DCMP account at: www.dcmp.org/signup.
Need help selecting a title to review? DCMP has media covering topics such as math, history, literature, and more. In addition, you can select a described episode of an educational television show, or an episode from hundreds of educational video series.
Alternatively, you can borrow an audio described video or film from your talking book library, or your local public library. Or a young person who is blind can access thousands of audio described films and videos are available via streaming services. You can visit the ACB-ADP's website at www.acb.org/adp/dvds.html for lists of DVDs and films with audio description.
Watch the described film or video and write your review. Then, register for the contest and submit your review.
Next
Aira Announces Support for Get Out The Vote 2020