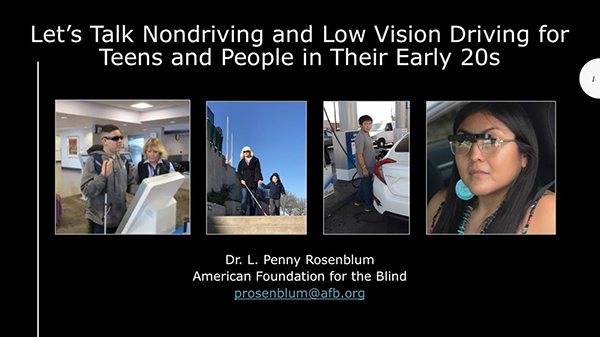 Dr. L. Penny Rosenblum, AFB's Director of Research and a nationally recognized speaker on the topic of how to be a successful nondriver, shares a 2-hour workshop she offered in April 2020. During the workshop she uses the soon to be published revision of the book Finding Wheels to frame information about nondriving and potential low vision driving. Information in this presentation is appropriate for travelers, those who are teens or in their early 20s, family members, and professionals who support travelers (e.g., Orientation and Mobility (O&M) specialists, teachers of students with visual impairments, or rehabilitation professionals). The workshop is divided into 11 sections. Use the links to navigate to each section and watch the video.
Print or save the PDF of the PowerPoint outline for the entire session here.
If you have comments or questions, please contact Dr. Rosenblum at prosenblum@afb.org.
Introduction: Let's Talk Nondriving and Low Vision Driving for Teens and People in Their Early 20s
---