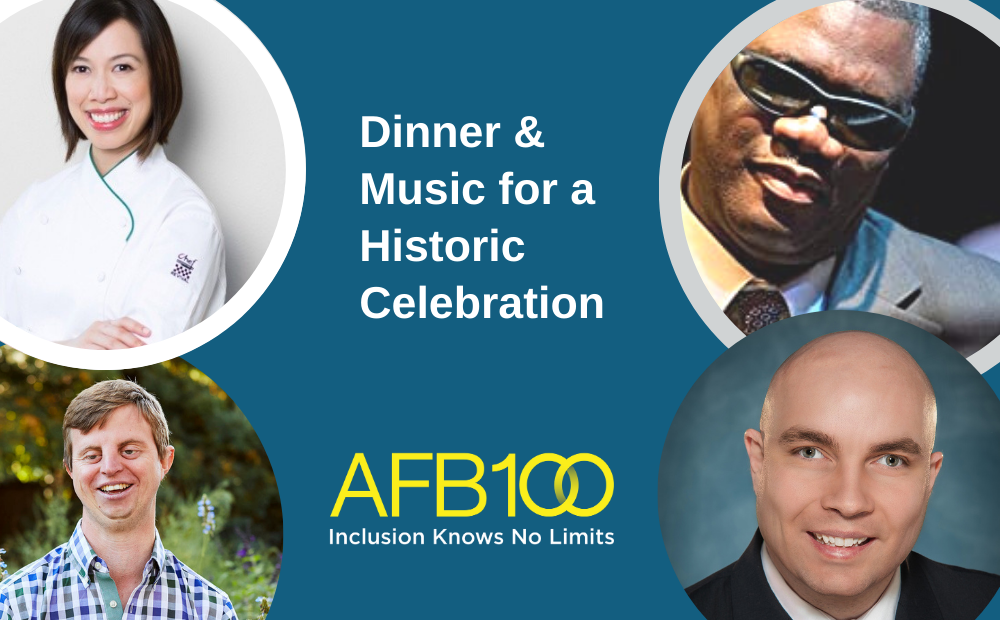 AFB's first century, that is. We kicked off our year-long centennial celebration in February 2021 with a conversation with MasterChef winner, restaurateur, and cookbook author Christine Ha; chemist, entrepreneur, and wine expert Hoby Wedler, Ph.D.; and jazz pianist and Grammy-nominated composer/pianist Marcus Roberts. Attendees participated virtually in this celebration of the senses, community, and the power of inclusion by making dishes from a menu created by Ha, a wine list by Wedler, and a custom playlist curated by Roberts.
On March 4, we hosted our big event: The Art of Inclusion: AFB100 Concert & Celebration. The virtual gala was co-hosted by disability rights activist and best-selling author Haben Girma and AFB's CEO Kirk Adams, and featured music from renowned musicians such as Marcus Roberts, Matthew Whitaker, Amadou & Mariam, Aloe Blacc and students from the New York Institute for Special Education Choir, Jennah Bell, and Broadway star Sean Allan Krill.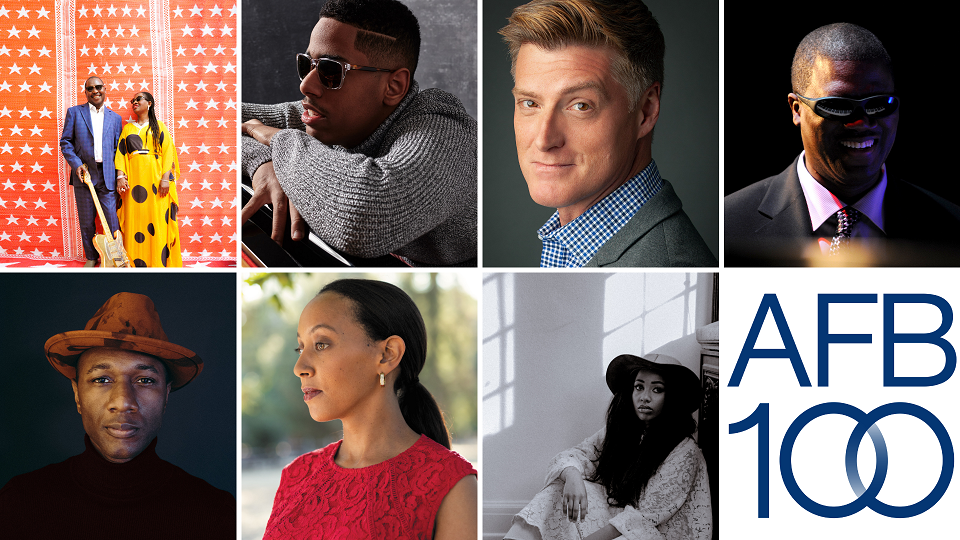 After that, we started our monthly Centennial Conversations, a series of webinars focused on pressing issues and topics affecting people who are blind or have low vision. First was "Women in Leadership: A Conversation About the Intersection of Gender and Visual Impairment." In recognition of Women's History Month and the legacy of Helen Keller, AFB's most famous advocate, this discussion featured a diverse group of women in various leadership roles as they addressed the key issues facing today's visually impaired women, the progress that has been made, and the challenges that persist.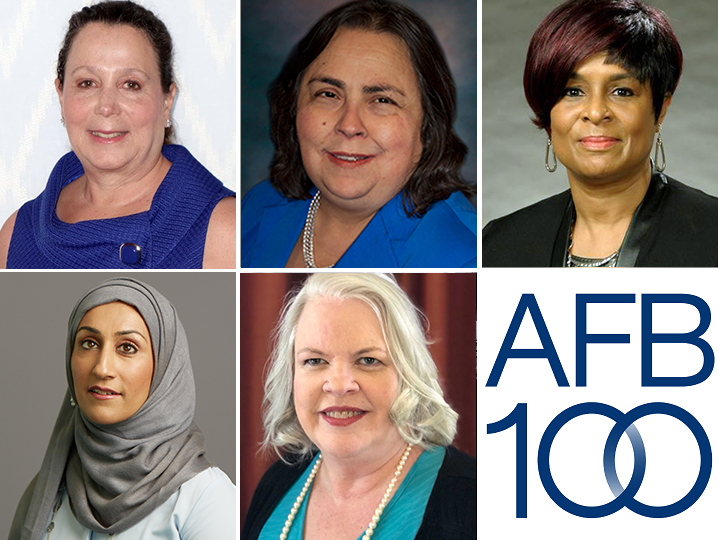 In April, we featured Matthew Whitaker in "The Inclusive Power of Music." Whitaker, a concert pianist currently enrolled in the jazz studies program at Juilliard, spoke with AFB Major Gifts Specialist Melody Goodspeed about the power of combining music, technology, self-advocacy, and collaboration. In May, we focused on mental health with "The Power of Gratitude and Joy," a conversation between Rebecca Alexander, an award-winning author, psychotherapist, disability advocate, and extreme athlete who is almost completely blind and deaf due to Usher syndrome type III, and AFB's Chief Program Officer Megan Aragon. In June, we hosted "Inclusion, Intersectionality, and the Future of Work" to explore what the future of work will look like, particularly for people who are blind or have low vision.
All of our centennial events were recorded and archived for viewing on demand. And, in line with our commitment to accessibility, each has captions, American Sign Language interpretation, audio description, and a complete transcript.
In addition to accessing AFB's forward-looking event series, visitors to AFB's website can also explore our history through an interactive timeline of AFB's past 100 years. Visit afb.org/OurHistory to take a tour through fascinating photos, videos, quotes, and articles from a century of achievement.
Learn more: afb.org/100
Next
Helen Keller's Untold Story