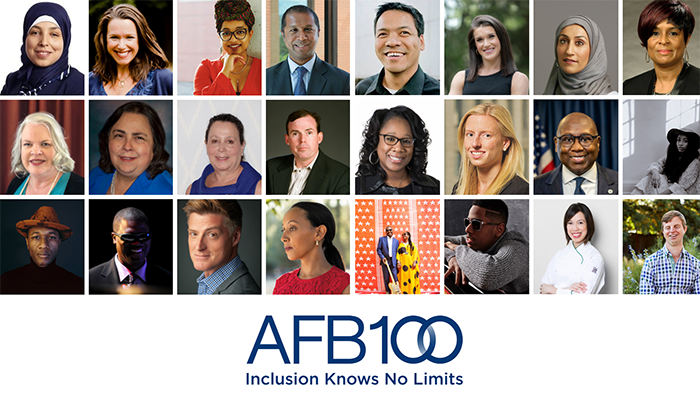 One hundred years. For a century, the American Foundation for the Blind (AFB) has been at the forefront of fighting for access and opportunity for individuals who are blind or have low vision.
This past year, we celebrated AFB's centennial through a wide variety of virtual, accessible events. With intention, we not only honored our proud history but also maintained the forward-thinking approach that's been one of AFB's hallmarks for the last 100 years. And we will continue to challenge ourselves to reach new heights.
At the top of our list of priorities is putting inclusion to work. In honor of his cherished wife, Llura "Lulie" Gund, philanthropist Gordon Gund has established the Llura Gund Workforce Inclusion Fund. Thanks to his transformational gift, AFB will have the resources to expand and develop programs that create new avenues to fulfilling, well-paying jobs for people with visual impairments.
To drive meaningful change and shift perceptions of people with vision loss in the workplace, we will remain focused on a holistic approach to build on the strong foundation we've already created.
We will continue preparing future leaders through our Blind Leaders Development Program, creating opportunities for those just beginning their careers through internships and other initiatives, and making sure there is plenty of skilled talent to keep pushing accessible technology forward. What's more, we will maintain and expand our partnerships with corporations and business leaders that support our goal of creating a more inclusive workforce environment everywhere—because inclusion and diversity are essential to progress.
We'd love to be able to say that in another 100 years, workplace inclusion—and the inclusion of people with visual impairments in every area of society—will be the norm. But until that day comes, AFB will keep advocating for the social and systems change required to achieve our ultimate objective: creating a world of no limits.
With warmest regards,
Kirk Adams, Ph.D. President and CEO, AFB
Debbie Dennis Chair, AFB Board of Trustees