AFB's current areas of emphasis for driving meaningful change
With the introduction of our new strategic direction last year, AFB has identified the three priority areas that are pivotal to transforming the systems and beliefs that currently hold back people who are blind or visually impaired.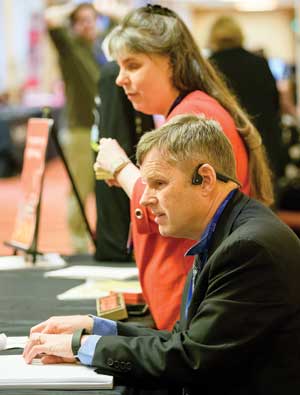 Education is essential to preparing people for success in adulthood. But many of today's schools are not equipped to help children who are blind or visually impaired, not to mention those who are deafblind or have additional disabilities. All students need appropriate resources, instruction, and educational tools to develop to their full potential so they can be confident, fulfilled, and independent members of society for a lifetime. AFB is focused on transforming education policies and practices, and continuing to provide educators and advocates with the specialized training, support, and skills they need to help their students succeed.
Employment is a stubborn challenge that needs urgent attention. Just 35% of working-age Americans who are blind or visually impaired are employed, far below the overall employment rate of 63%. Because of factors including a lack of training, limited access to successfully employed role models, and too many misperceptions among employers about hiring people who are blind or visually impaired, employers often overlook the valuable contributions people with disabilities can make to the workforce and the company culture. Plus, many employers don't fully understand or provide necessary accommodations—most of which are free or inexpensive solutions—to help people with vision loss succeed in the workplace. AFB is determined to transform employment practices and public opinion to help people who are blind or visually impaired pursue their professional dreams.
Aging and vision loss is an issue that's only going to become more pressing in the years to come. Americans are living longer than ever, making them more likely to develop age-related eye diseases that can cause vision loss. The Baby Boomer generation alone accounts for nearly 75 million Americans, making the need for services and support for older adults more critical than ever. However, America is woefully unprepared to respond effectively to these trends. It's estimated that only 2% of older people who need specialized training in independent living currently receive it. AFB is working to change that, especially as the number of adults over age 60 with vision loss is expected to skyrocket in the decades to come. Together with key stakeholders in the corporate, community, philanthropic, and public sectors, we will use our unparalleled experience and expertise to ensure older Americans get the care they need.