The findings reveal significant gaps in accessibility and resources that won't end when the pandemic does COVID-19 has forced the entire world to adjust the way we work and live. But the challenges are exacerbated for people who are blind or have low vision.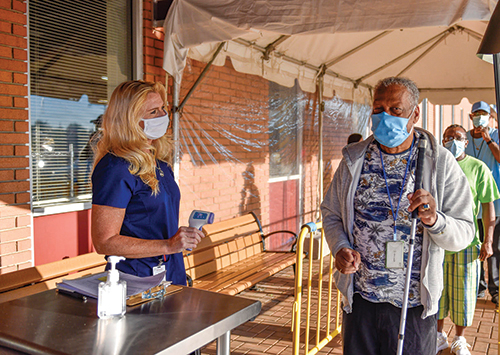 In March, AFB joined with 15 other organizations and companies that shared AFB's concern about the effects of COVID-19 on adults who are visually impaired in the United States to create the "Flatten Inaccessibility" survey. Nearly 2,000 surveys returned in April were complete enough to evaluate, and AFB took the lead in analyzing and reporting the results, which are available at afb.org/FlattenInaccessibility.
"Even when we started the survey, we could see the impacts on people with vision loss, but all of this has gone on much longer than we expected," says L. Penny Rosenblum, Ph.D., director of research for AFB. "We saw a lot of issues that need to be resolved moving forward, but now we have data we can use to develop solutions."
The survey looked at areas such as employment, transportation, and healthcare, which Dr. Rosenblum says are often intertwined. Some respondents feared they might lose their jobs if their productivity declined because they didn't have access to essential technology tools—such as screen reader software or monitors they couldn't bring home when offices closed—or if they struggled with web-conferencing software that wasn't designed for accessibility.
For essential workers who couldn't work from home, many found they no longer had the option of reliable access to public transportation, paratransit, or even carpools because of social distancing. People who thought they might have COVID-19 or had already tested positive couldn't rely on loved ones to drive them to get care for fear of getting them sick.
However, as one visually impaired respondent with additional disabilities stated, "We keep thinking we can outwit this thing, and that things will 'go back to normal.' Let's overwrite 'normal' and use this opportunity to make it BETTER for us."
That's Dr. Rosenblum's hope, too. "The lessons learned from this data can really serve as a roadmap going forward, because the systemic issues aren't going away any time soon unless we all work together," she says.