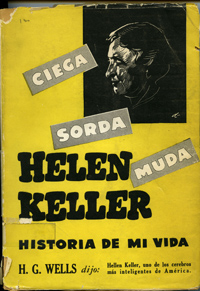 Spanish translation of Helen's autobiography, The Story of My Life. Published in Buenos Aires, Argentina, no date.
"Literature is my Utopia. Here I am not disenfranchised. No barrier of the senses shuts me out from the sweet, gracious discourse of my book-friends. They talk to me without embarrassment or awkwardness."

The Story of My Life, 1902
Helen Keller saw herself as a writer first and foremost—her passport listed her profession as "author." It was through the medium of the typewritten word that Helen communicated with Americans and ultimately with thousands across the globe.
From an early age she championed the rights of the underdog and used her skills as a writer to speak truth to power. A pacifist, she protested U.S. involvement in World War I. A committed socialist, she took up the cause of workers' rights. She was also a tireless advocate for women's suffrage and an early member of the American Civil Liberties Union.
Helen Keller wrote 14 books and over 475 speeches and essays on topics such as faith, blindness prevention, birth control, the rise of fascism in Europe, and atomic energy. Her autobiography has been translated into 50 languages and remains in print to this day.
The books, essays, and speeches that you can read here provide a sampling of Helen Keller's writings that are contained in the collection.