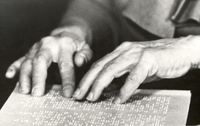 Helen's hands reading braille, 1933
"A letter always seems more truly my own when I can run my fingers over it, and quickly enter into the thoughts and feelings of my friends without an interpreter, even though the interpreter be the dearest and sweetest in the world."

Helen Keller to Alexander Graham Bell, March 9, 1900
Read Helen Keller's letters in this selection of materials from the Helen Keller Archives at the American Foundation for the Blind.
One can read a poignant series of correspondence between Helen in her home town of Tuscumbia, AL, and her teacher Anne Sullivan Macy in Puerto Rico c. 1917, as well as letters and articles reflecting Helen's ideas on subjects such as education, women, war, faith, politics, birth control, legislation, advocacy, and talking books for the blind that span six decades and include correspondents such as Mark Twain, Albert Einstein, Margaret Sanger, and seven US Presidents.
Next
Helen Keller: Water Scene from "The Miracle Worker"