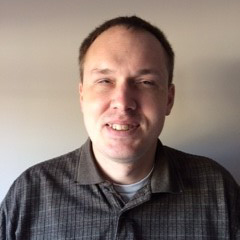 Matthew Janusauskas serves as AFB's Chief Technology Officer, overseeing the areas of information technology services, web and technical development, and AFB's digital inclusion and accessibility consulting practice.
Mr. Janusauskas represents AFB in the Teach Access organization, leading a task force wherein various technology companies, higher education institutions, and disability advocacy organizations come together to drive the inclusion of accessibility in core computer science, design, human-centered interaction programs, and other key disciplines to close the accessibility and digital inclusion skills gap. He also serves as a member of the disability advisory board for the Verizon corporation.
Matthew has over 20 years of experience working with assistive and mainstream technology, including leadership roles in accessibility and technical services, information technology, training, team management, and product and program management. He previously served as Product Portfolio Manager, working with multiple development and sales teams simultaneously to keep high-profile assistive technology products like the Victor Reader Stream, an accessible digital e-reader, in the market-leading position globally.
Next
Sarah Malaier, Senior Advisor, Public Policy and Research