Jane Wei-Skillern, the author of The Networked Nonprofit and keynote speaker at our 2019 Leadership Conference, champions what she calls the four leadership principles: 1) mission before organization; 2) governance through trust-based relationships rather than top-down controls; 3) promotion of others rather than oneself; and 4) building of constellations rather than stars.
At AFB, this philosophy has been taken to heart, with our many partners comprising a brilliant constellation that is working cooperatively to make a life of no limits a reality for blind and low-vision individuals.
Three such organizations are Comcast and Litton Entertainment, which have donated free airtime for a public service announcement (PSA), and Bridge Multimedia, which provided pro bono video description. The 30-second commercial provides a compelling snapshot of how AFB is building a stronger world for the millions of Americans living with vision loss. A longer version of the PSA that will be shared widely online focuses on AFB's vision and the work it is doing in conjunction with its many partners. One of these partners is The Chicago Lighthouse, a social service organization for people with vision loss and other disabilities, which generously opened its doors to AFB to help film the PSA.
"We are delighted to partner with AFB to advance our shared mission of strongly encouraging more employers to open their doors to people who are blind and visually impaired," says Dr. Janet Szlyk, president and CEO of The Chicago Lighthouse. "AFB and all of our partners are truly collaborators with a shared mission to improve the lives of people who are blind and visually impaired," Kirk Adams, AFB's president and CEO, says. "We couldn't be more grateful for our partners, who continue to provide direct services while we undertake a variety of research and policy initiatives that strengthen the work they're doing in the field to make sure the pursuit of happiness is attainable for everyone."
AFB's allies also include public- and private-sector partners, corporate sponsors, and individual supporters and donors, whose collaboration and funding are essential to AFB's ability to succeed.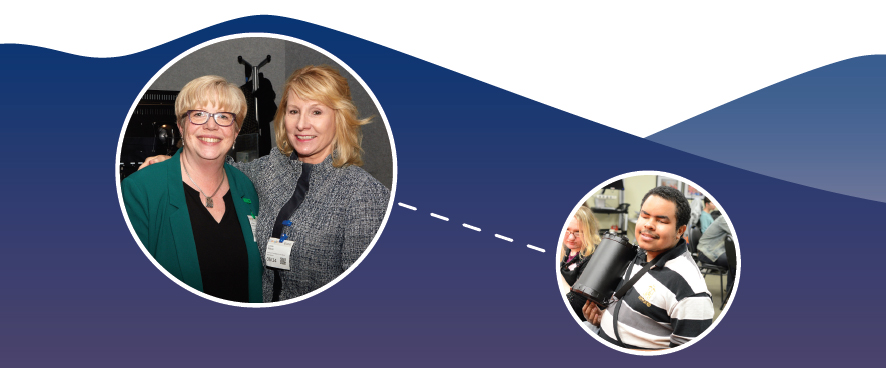 Next
AFB's New Website Builds on a History of Accessibility