Portable, handheld, video magnifiers sometimes called closed-circuit televisions (CCTVs), with display screens have become highly sought-after devices by people with low vision who want to access print materials independently while on the go. Quick access to price tags in stores, restaurant menus, travel tickets, sales receipts, and other types of printed text is now more accessible. In response to the increasing demand for these products, more manufacturers of low vision products are offering their versions of handheld video magnifiers, with prices ranging from approximately $600 to $850. With the increase in choices in this product category, AccessWorld is receiving more questions about them. To provide you with more information, let's take another look at this growing product category.
This article reviews two handheld video magnifiers that are fairly new to the market: the CANDY and CANDY Grip from HIMS Inc. Both video magnifiers have 5-inch-LCD (liquid crystal display) screens which is larger than many versions on the market, 5 high-contrast color modes, adjustable magnification and brightness levels, freeze image capability, built-in rechargeable batteries, and weigh less than 10 ounces. This article examines the features of each product to help you decide if one of them may be the best choice for you.
These two electronic magnifiers are almost identical with the exception that the CANDY Grip has an adjustable, 3position handle and a Mirror View feature which allows for self-viewing. These two features will be discussed later in the article. All other aspects of these two products are the same and are discussed below.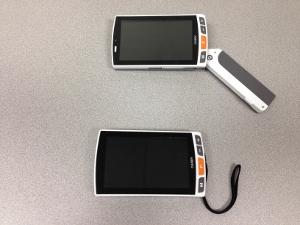 Caption: The CANDY Grip and CANDY electronic magnifiers.
These two handheld video magnifiers are reviewed in three areas: documentation, physical design and features, and how well each displays different types of text. To evaluate these magnifiers, I used them in real-world situations--taking them to stores to read price tags and food labels and to restaurants to read menus and meal receipts and using them at home to look at various objects--including a telephone book, newspapers, magazines, and photographs.
Documentation
These magnifiers come with a 30 page user manual printed in 12 and 14 point fonts. While this is larger than most mainstream user manuals, it does not meet the American Printing House for the Blind's recommendation of 18 point font for an audience with low vision. It is important for all manufacturers of low vision access devices to keep in mind the intended user should be able to access its products' documentation independently. Thus, it is necessary to have larger fonts and pictures that people with low vision can more easily read.
The User Manual does, however, provide easy-to-understand information, troubleshooting tips, and warranty information. It would, however, be valuable to have more instructions on how to use the adjustable legs that fold out from underneath the device. For example, there could be more detailed information or even suggestions for when using the longer legs would be more advantageous than using the shorter ones. There could also be discussion to address if it is ever better to use only one set of legs and not both, essentially placing the display screen at an angle.
Physical Design and Features
The CANDY and CANDY Grip measure approximately 5.7inches long, 3.3 inches wide, and 0.7 inches high, and weigh less than 10 ounces. The camera is located under the center of the display screen, and it is designed to be positioned directly above the text or object to be magnified.
The CANDY and CANDY Grip have tactile controls to change their settings and come with a carrying bag, wrist strap, cleaning cloth, and power supply adapter. The magnifiers have an internal, rechargeable battery with a charging time of approximately three hours.
Magnification
The magnification is adjusted by pressing and holding down the "+" or "−" button located in the upper right corner. The magnification range for these units is approximately 1.5× to 22×. Unlike many similar electronic magnifiers on the market, the CANDY and CANDY Grip have a completely adjustable magnification range. You are not locked into three or four pre-set magnification levels.
Color Viewing Modes
The CANDY and CANDY Grip have five color viewing modes that are adjusted by pressing the " M" button, which is located at the bottom right corner of each unit. The five color viewing modes are: Natural Color, White on Black, Black on White, Yellow on Blue, and Reverse Grayscale.
Freeze Image Feature
The Freeze Image feature takes a temporary picture of an image. It enables you to take a picture of an image and bring it closer to get a better look, take the image to another location to view it in a better environment, or to show it to someone else. The "Freeze" button is located on the side of the LCD screen of the CANDY, while the CANDY Grip has an additional "Freeze Image" button on its handle.
Image Focus
By default, the CANDY and CANDY Grip's camera is set to Auto Focus mode; however, you can switch to Manual Focus mode if you prefer, by holding down the "F" button for two seconds. While looking at irregularly shaped objects or reading text on glossy paper or round items like cans, you may need to refocus the camera which can be done by pressing the "F" button. Pressing the "F" button will refocus the camera whether you are in Auto Focus or Manual Focus mode.
LCD Brightness Control
You can adjust the brightness of the display to better suit your visual preferences. By simultaneously pressing the "Zoom Up" button and the "Freeze Image" button. Pressing these buttons will cycle you through the three brightness choices to find the one that best suits your needs.
LED Lights Control Modes
The CANDY and CANDY Grip have two LED lights, one on either side of the camera. There lights can be set to one of three different modes: Auto, Always On, or Always Off. When in the Auto mode, the LED lights will turn off when the magnifier is lifted away from the reading material and will turn back on when placed near the reading material again. This is to prevent the lights from shining into someone's eyes.
Power Saving Mode
In order to conserve battery power, both magnifiers have a power saving mode which turns off the devices' LCD screen when they have not been used for two minutes. When the devices have not been used for three minutes, they completely power off automatically.
Beep Tones
Each button is assigned a beep tone that will sound to alert the user that the button has been successfully pressed. Beep tones can be turned on or off depending on the preference of the user by pressing the "Color Mode" button and the "Freeze Image" button simultaneously.
Checking Battery Status
You can check the battery level of either device by pressing the "Freeze Image" button and the "Zoom Down" button simultaneously. When these buttons are pressed, a battery level indicator icon will appear in the corner of the LCD screen.
Legs
On the underside of the CANDY and CANDY Grip, there are two sets of legs that fold out to create a reading stand. These legs can be folded or unfolded independently. When using both shorter legs which measure 20 mm in height, the minimum magnification level is 5.6×. When using both longer legs which measure 40 mm in length, the minimum magnification level is 2.8×.
Caption: The CANDY Grip resting on the 40mm legs.
The CANDY Grip has two features not available on the CANDY model: a three-position handle and a Mirror View feature. The ergonomic, folding handle can be used or folded underneath the magnifiers screen. The three position folding handle makes holding the magnifier easy for right and left handed users, and it clicks securely into place. The "Camera Selection" button is located on the opposite side of the magnifier from the handle. Pressing this button turns on the front facing Mirror View camera and provides a self-viewing feature. While in the Mirror View mode, you can still increase and decrease magnification and use the "Freeze Image" feature.
Reading Text
For these specific tests I used a sampling of items that people would read with a handheld CCTV, including a local newspaper, telephone book yellow pages, glossy catalog pages, personal photographs, a can of furniture polish, and the black-and-white text of a paperback novel.
When I held the magnifiers still, directly over the top of the printed material, they did a good job of displaying the different types of materials in the various viewing modes. The one exception to this is when reading text on a shiny round can. In instances such as this, using natural or reverse gray scale worked much better than other high-contrast modes.
Overall, these magnifiers provide a bright, clear view with high contrast between the text and its background. I found that the natural color Image mode worked best for reading text on a colored background such as in magazines and that using the lowest magnification setting in the natural color Image mode provided the best view for looking at photographs.
When I moved these magnifiers to read text, there was a ghosting of the letters; as I moved the unit more quickly, the ghosting increased. This is typical for most hand-held video magnifiers. With the CANDY and CANDY Grip the ghosting is most evident when using the lowest magnification setting with the 40mm legs. This finding reinforces the fact that hand-held video magnifiers, regardless of manufacturer, are best for spot reading, not for reading books or long passages of text. That said, spot reading is still critically important , and these types of hand-held video magnifiers absolutely have a place in our "tool chest" of devices for accessing text for people with low vision.
What Would Make Them Better
The CANDY and CANDY Grip could be made more usable for people with low vision by addressing the following:
As stated previously, increasing the fonts in the user manuals to a larger size would make the product information more accessible to its intended audience. In addition, the documentation could be improved by providing additional instructions for using the folding legs that create the reading stand.
Adding rubberized strips along the sides of the magnifiers would enable users to more securely hold the devices, especially for the CANDY model. I always recommend that people use the wrist strap to ensure they do not accidently drop the device. In the case of the CANDY and CANDY Grip the wrist strap does not come already attached, the user must attach the strap him or herself. Doing so can be a challenge for people with low vision. It would be better if the magnifier came with the wrist strap already attached.
In order to change some of the settings on the CANDY and CANDY Grip, such as the brightness level, button combinations must be pressed. It is difficult to remember all the button combinations for the various features, and it would be simpler to use these features if only one button press was needed.
The battery level indicator icon is small and may be difficult for many users to see clearly, and making the icon display in a larger format would be an improvement.
The Bottom Line
All things considered, both products do what they are made to do: magnify text to make it more readable for people with low vision. The CANDY is priced at $699, and the CANDY Grip is priced $50 higher at $749. I am not sure if I would use the Mirror View feature of the CANDY Grip myself, and I am not sure it would be a feature most people would use often, but the added versatility and convenience provided by the three position handle justifies the additional cost. Though, either would be a valid choice for those who want a portable solution to their magnification needs.
Product Information
Product Name: Lifestyle CANDY: $699 and Lifestyle CANDY Grip: $749
Manufacturer: HIMS Inc
Website: www.hims-inc.com
Telephone: 1 (888) 520- 4467
Manufacturer's Comments
First, thank you and AFB for scheduling the review and write-up of the CANDY portable video magnifier and CANDY GRIP handheld video magnifier. Also, we appreciate the opportunity to share our feedback with you and the readers of AccessWorld.
We agree and will consider implementing a few of the recommendations mentioned in this review in the near future.
Revising the User Manual for a larger font size and explaining the 20mm, 40mm and single leg stand operation in more detail.
We will discuss with our engineering staff options to enlarge the battery status icon or change the color to a higher contrast color.
Users may want to know that the built-in lithium battery lasts for up to 4.5 hour of run time on a full charge.
Also, CANDY and CANDY GRIP are now shipping with an attractive protective leatherette carrying case featuring a shoulder strap and belt loop.
Once again, thank you for sharing your review of the CANDY and CANDY GRIP from HIMS with readers of AccessWorld.
Happy Holidays to you and all at AFB and AccessWorld.
Best Regards,
James McCarthy, President
HIMS, Inc.