Desktop computing has changed a lot in recent years. Where office workers were once routinely issued desktop PCs, many organizations now provide laptops, or even tablets, instead. Form factors for desktop video magnification have evolved, too, bringing smaller footprints and tighter integration that allows some magnifier users to view images from a computer and video camera on a single screen. Northstate Assistive Technology's Revolution 22-inch, a video magnifier combined with an Android tablet, is an interesting case in point, with something to offer both office workers with low vision and home users looking for a space-saving magnification and computing solution.
The Revolution 22-inch consists of an Optelec MultiView HD video magnifier, attached to an HP Slate 21 Pro All-In-One, an Android-based tablet computer. Unlike most tablets, the Slate Pro isn't handheld or battery-powered. It features a 21.5-inch display, and has the footprint of an LCD monitor you might find on a desktop. The MultiView HD magnifier is bolted to the back of the Slate Pro, allowing the camera head to rise above and in front of the monitor. With two presses of a button on the monitor, you can switch between Android tablet mode and magnifier mode.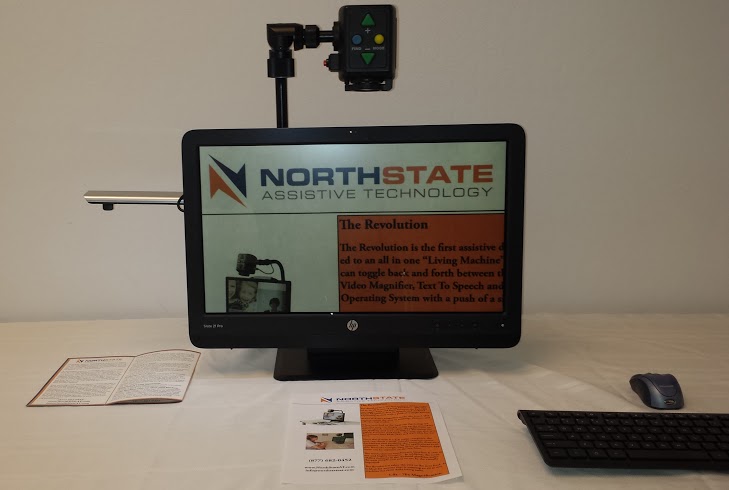 Caption: The Revolution 22-inch All-in-One Magnifier and Tablet
Android on the Desktop
Several PC manufacturers, such as HP, Acer, and Lenovo, sell Android-based all-in-one tablets.. Some all-in-ones are marketed as family PCs, or extensions to a home laptop, while others end up in offices, replacing traditional PCs. HP markets the Slate Pro to business users, though Northstate sees wider applications for Revolution in the assistive technology world, where consumers with limited space may also find the all-in-one approach desirable.
The Revolution's 21.5-inch widescreen HD monitor is far larger than any handheld tablet, giving users with low vision more room to work—especially helpful when using magnified text. Because the monitor sits upright, working with the Revolution in Android mode feels more like using a PC than a handheld tablet. You can use standard Android touch gestures, or the included wireless keyboard and mouse, while in tablet mode. Our test unit shipped with Android 4.3 (Jellybean), and was user-upgradable to version 4.4 (KitKat.) We chose to upgrade to KitKat (version 4.4.2) for testing. There is currently no way to upgrade to the current Android version 5.0, Lollipop.
The unit has both 802.11 a/b/g/n Wi-Fi, and 100 megabit Ethernet networking, and two USB 2.0 ports, plus an upstream USB port. The included 16 GB of storage doesn't provide much room for local files, but the unit includes an SD card reader, and pre-installed Cloud apps that give you options for remote storage of documents and media. The tablet can't truly be called portable, though you can use the handle on the camera housing to pick up the somewhat bulky unit, if you need to move it. Northstate also sells a rolling carry bag.
Video Magnifier
To switch from table mode to camera mode, you press a button on the front of the Revolution monitor, then press again to confirm your choice. With the Slate Pro tablet bolted to the front of the camera housing, the monitor sits approximately two inches above the eight by ten-inch base of the unit, which, in turn sits directly on your desk or table. The camera housing includes ports for power, and the controller pad you will use to zoom and adjust other camera settings. The camera arm sits on a horizontal track, so you can move the arm containing the camera head left or right as you work. The sturdy metal arm rises several inches above the monitor, and then bends 90 degrees, like an elbow. The camera head is mounted at the end of the jointed, horizontal forearm. You can pivot the camera head itself, to choose one of the Revolution's three viewing modes: text view, distance view, or self view. You can also turn the entire arm to change the orientation of what you're viewing.
The Optelec MultiView is an HD camera with magnification up to 70x. Its features are similar to other desktop magnifiers: there are eight color modes, including white/black, green/black, blue/yellow, and gray. Line markers and window shades allow you to concentrate on a viewing area by placing guidelines onscreen, or by blanking the screen to isolate the area where you want to focus. You can freeze the current image, lock focus, and use the white balance adjustment to further enhance the image you're viewing. You can adjust zoom and color modes using buttons on the camera head, or from the controller pad, which has large, high-contrast buttons for all image controls. Buttons feature white icons on a black background, but they unfortunately aren't labeled. The Optelec manual includes a guide to each button's function, so you'll need to memorize them. When you press a button, onscreen text confirms the action you've taken.
When you rotate the camera head to switch between text view, distance view, and self view, the Revolution remembers the last settings you used in that mode. For example, if you're putting on makeup in self view mode, using true color, then turn the camera downward to focus on a document you would like to read, the camera will remember the last settings you used while working in the new mode. It also zooms in or out to the magnification setting you used previously. Rotate the camera again to view a white board across the room, and the settings update. Perhaps the white board is easier to see with white balance set to cool, and a medium magnification. Use distance mode to view objects that are 10 to 15 feet away. Swing the close-up lens away from the camera to engage distance viewing.
Darkening the Revolution
The diversity of magnification, viewability, and color contrast needs of people with low vision creates challenges for all access technology vendors. Many people with low vision rely on high-contrast text, and inverted colors to use computers and mobile devices effectively. The Android operating system did not include an inverted colors feature prior to the release of Lollipop 5.0. Since Revolution can't currently be upgraded to Lollipop, those who rely on inverted colors will find the tablet partially inaccessible. Though the home screen environment, settings, and the included Accessible Editor text editor all feature a dark background/light text interface, most of the pre-installed apps, including the two web browsers, do not. Many apps available from the Google Play Store offer dark themes, but many more do not, and system-wide color inversion apps we tested do not work with KitKat. If you typically use inverted colors or dark themes, you can certainly use TalkBack instead, and/or enable magnification and text enlargement options to compensate. These options will suffice for some.
With its plentiful color modes, the Revolution's video camera is accessible to people with a wide variety of color and contrast needs, though the position of the camera above the monitor may not be ideal for some. If you normally view text on a screen at close range (less than two inches), you will need to either adjust the position of the Revolution camera so that your head does not obstruct its view, or you will need to increase magnification to a level that allows you to view the screen from a greater distance that usual. This is largely a matter of personal visual acuity, and we strongly recommend that you test drive the Revolution if you are accustomed to working very close to the screen, and especially if you have not used desktop video magnifiers extensively. It is also likely that many who do a great deal of reading with the Revolution will want to consider purchasing the optional x-y table.
Text-to-Speech 1.0
Northstate offers two versions of the Revolution 22-inch, Basic and Professional. The units are identical. The Professional version adds a second camera, used for scanning, and performing OCR on text documents, and the result is converted to speech. The USB camera fits into a bracket on the camera housing, behind the screen, and can be flipped downward when not in use. When scanning, the camera extends outward from the left side of the monitor. You'll need to position the Revolution accordingly, leaving enough desk space to accommodate documents you want to scan. We had a bit of difficulty installing the camera into its bracket on the camera housing. We resolved the problem by straightening the bracket slightly.
The text-to-speech option also relies on an Android app called OCR Reader. It has its own spoken interface, and extra-large buttons. Launching the app activates the camera, and the image it sees appears in the center of the screen, flanked by the app controls. There is no way to zoom or crop the image you're about to photograph, though you can increase or decrease its brightness. When you double-tap the image, OCR Reader takes a photo, then immediately process it and begins reading aloud. You also have the option to photograph and save one or more images for later processing.
When you process a photo you have taken, OCR Reader attempts to straighten the image, if it's crooked, and then speaks any text it finds aloud, highlighting the words as it reads. You can pinch to zoom in and tap to read text from a specific point in the document. OCR Reader has nine color combinations you can use to customize background and text color for optimum reading. You can also use OCR Reader's wrapped mode to view just the processed text, rather than the original document. Though documents you scan are saved as images, there's no way to save or manipulate text output.
Revolution's text-to-speech camera is useful for taking a quick look at mail, receipts, or other documents you don't need to refer to later. And OCR Reader's feature-light interface gives it the feel of a 1.0 product that could benefit from further development. Finally, the software's own speech isn't compatible with Android's TalkBack screen reader. If you use TalkBack when working, you'll need to turn it off in order to use OCR Reader with speech. These limitations make it difficult to recommend the Revolution Professional over the Basic model, which is $700 cheaper.
RTFMs
The Revolution package includes two printed manuals: an Optelec-produced guide to the MultiView HD, and Northstate's overview of the tablet/magnifier combo. The 12-page Revolution manual features 16-point type, and a drawing of the Revolution unit, with easy-to-see numbers indicating the various components and controls. The provided instructions cover setting up and connecting the unit, and switching between tablet and camera mode. There's also a one-page FAQ, which introduces screen zoom and the TalkBack screen reader. Though a full Android tutorial is beyond the scope of these instructions, it would have been helpful to include resources for new Android users, and especially a list of touch gestures. Other topics we suggest for a future edition of the manual include: basic network connectivity and setup, and a pointer to the Google Play Store, and the many Cloud service apps that are pre-installed on the Revolution tablet.
Eight of the 12 pages in the Revolution manual are devoted to the PageReader software used to operate the optional text-to-speech camera. This section is effective and thorough, but it would be helpful to warn TalkBack users that PageReader has its own speech, and does not play well with TalkBack. Using Accessibility Shortcut to turn off TalkBack before opening PageReader will yield the best results.
The MultiView HD manual uses 12- to 14-point type, along with line drawings that illustrate the unit's components, and the best ways to position the camera for close-up, and distance viewing. A somewhat larger font would be an improvement, as would larger, clearer drawings indicating the unit's features. The overview images will be difficult for some low vision users to interpret, because the lines are thin, and the drawings rather two-dimensional. Of course, using the video magnifier to view these instructions and images will be helpful to many purchasers, but a true large-print manual would be welcome. The instructions themselves are straightforward and complete.
The Bottom Line
The Revolution 22-inch is an innovative access technology product, with many applications for those who spend a lot of time working in an office or home environment. If the Android operating system is sufficient for your computing needs, and you use a desktop magnifier on a daily basis, the Revolution provides an elegant, space-saving solution. For those who require inverted colors to accessibly use a PC or mobile device, Revolution is probably not a viable choice, until a version running the Lollipop operating system becomes available.
Product Information
Product: Revolution 22-inch
Price: $2,995.00 (Basic) or $3,695.00 (Professional)
Available from: Northstate Assistive Technology, 877-682-0452
Related articles:
Manufacturer's Comments
First, I would like to take this opportunity and thank AccessWorld for reviewing the Revolution 22″ All-In-One Magnifier and Tablet.
In providing comments on the article, the first item I would like to address is that generally, it is not advised to upgrade operating systems without first checking with software vendors to see if it will work with the new operating system. These issues arise all the time in the Windows Operating systems. Although the Android systems tend to be less susceptible, there is always the opportunity for incompatibility. Thankfully, our staff has been very much on top of any upgrades that have been available on the Revolution Tablet, and the OCR Reader application is compatible with JellyBean, KitKat, and Lollipop operating systems. Since the application is deployed through the Google Play Store, updates are instantaneous, easy, and free to the owners of the Revolution.
I am a bit perplexed with the statement that the OCR Reader has a feature light interface. Given the fact that one can change between multiple voices (male and female), 16 different languages, save and load documents, view in original or wrapped mode, pinch to zoom a captured image, and convert a saved image into editable text with a 3rd party application. Many believe the OCR Reader App is a very fully featured application. Are we through with improvements? Never. Our staff is continuously looking to make the app better and easier to use, but with a highly accurate read back starting in approximately 7 seconds, it stands up well against any scan and read machine currently on the market.
With respect to the compatibility of the OCR Reader app and TalkBack, this issue has been addressed and fixed. In the OCR Reader app, the user has the choice now to select between single-tap and double-tap menus. If you will be using TalkBack, it is recommended to select the single-tap menu setting which allows for the single and double-tap requirements of TalkBack. This update was sent out through the Google Play Store, so all Revolutions in the field, as long as they have internet connection, will have received the update to their machines.
Portable vs. Transportable. The Revolution falls into the transportable category, where the unit can be moved about the home or classroom; however, for users that require a highly portable product, they may want to consider the Revo2Go which utilizes the same proprietary software in a smaller, battery-operated, 12.2 inch Android tablet.
Again, I appreciate the reviewer's time and participation in evaluating the Revolution and AccessWorld for publishing the article. Any other questions about the Revolution can be directed to NorthState Assistive Technology at 877-682-0452.
Sincerely,
Cory Hanosh