Deborah Kendrick
When you hear Laura Legendary speak for even a minute or two, it will come as no surprise that she studied vocal performance and theater at California State University at Northridge (CSUN) or that she grew up in southern California. She has that sunny, easy way of chatting that throws fragments of vivid color into nearly every sentence and puts a positive (or at least whimsical spin) on just about everything that comes up.
But life was not always sunshine and lollipops for Legendary. In fact, one of the bleakest chapters in her life ultimately led her to the business she loves today.
Legendary had limited vision from birth, but it took a while to realize that she wasn't just nearsighted. Diagnosed with retinitis pigmentosa, her vision continued to decline until, in early adulthood, she was completely blind. Her dream of pursuing a career in musical theater fell apart when she found she could no longer read sheet music or sight-sing on the spot for auditions. She learned braille and other blindness techniques and figured out various things she could do to earn a living. She did some computer consulting and some professional speaking.
Then, a bit later in life, she fell in love and got married. When her husband died less than six months after the wedding, Legendary's world spiraled into that dark place conjured by tragedy. She struggled. She went to grief counseling.
Then, one day, someone gave her a sweet little worry stone. On one side the word "survivor" appeared. She couldn't see to read that but, when her friend encouraged her to flip the stone over, her fingers fell on the same word, "survivor," in beautiful braille! She ran her fingers over and over that stone and its warm braille and, in almost an instant, the inspiration for her now ten-year-old business was born!
Elegant Insights Jewelry
Legendary had never made jewelry before launching her business, but she had always loved beautiful things. She designed her own wedding and engagement rings and, as she puts it, "shared the jewelry gene" with all the women in her family.
She wrote a business plan, did her homework, and pulled together a team of people who could share her vision and turn her concepts and design ideas into wearable, beautiful jewelry.
That little gift prompted her to look for braille jewelry—necklaces, bracelets, earrings and more—that women and men could wear with pride and that would display messages in braille.
"We don't just take a piece of metal and stamp a butterfly or some braille dots on it," she says. Everything is made by hand and made with care. Her greatest joy is when her customers share with her compliments they have received. The fact that a bracelet or pendant or luggage tag has braille on it may not be the first thing a sighted observer appreciates, but the surprise that the braille is there is part of the fun.
And why, as Legendary likes to ask, shouldn't braille be beautiful?
Her collection offers a wide range of jewelry with braille. From a necklace that says "I love you," to a "Techlace" (bling with tiny USB drive included) that says "geek," to military-style dog tags or her "dangle bangle"—you can select from a set of messages on the website or request a custom message. On all products, you can choose whether you want Grade 1 or Grade 2 braille and are given clear guidelines regarding the number of braille characters a specific piece can hold. There are luggage tags, key fobs, blingy purse charms and charms for your white cane. She has sets of wine glass charms – themes include maple leaves, discs, and more, with each charm embossed with a different braille word such as "truth," "trust," "hope," etc.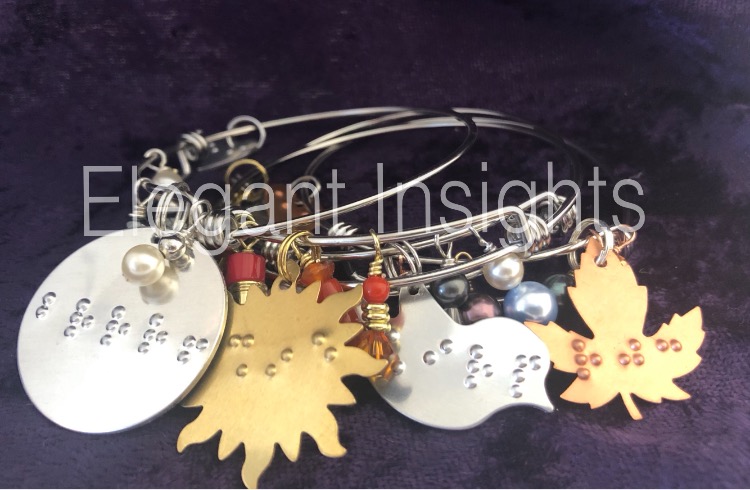 The Charmed by the Seasons Expandable Dangle Bangle Bracelets, arranged in order from left to right: winter, summer, spring, fall.
You can buy a braille embossed charm for your dog's collar, a braille embossed zipper pull for any child or adult jacket, or a bookmark with a Mark Twain quote. The collection is large and creative and constantly growing.
Making It Work
Once she had developed a business plan and a team of talented individuals to turn her ideas into products, Legendary needed to find ways to spread the word and promote her products. Her energy on social media is as dazzling as her jewelry. The Elegant Insights Jewelry website includes descriptions and photos of many of her products. She manages the site herself, writes all the descriptions with her characteristically bright language, and gives clever names to each new item and collection.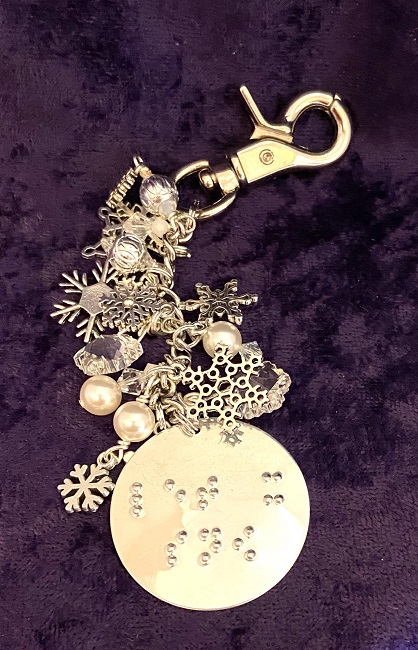 The brand new Sparkling Snowfall purse charm
Her first public presentation of her products was in the summer of 2011, with an exhibit at the American Council of the Blind convention in her own state, Nevada. Since then, she has exhibited at several state and national conventions of the American Council of the Blind, National Federation of the Blind, Blinded Veterans Association, and others, but says it is just too costly to attend every year. Despite her gift for conversation and promotion, she says she is basically a private person and rarely leaves her home or home studio.
She maintains a presence on Facebook, Twitter (@ElegantInsights), and Instagram, hosts a blog called Sparkle On, and writes a newsletter.
She co-hosts a podcast called Fashionability, dedicated to holding conversations with people promoting products or services to include people of all abilities in the world of fashion.
Let's Go Shopping
When the coronavirus brought much of our country, particularly retail, to a standstill, Legendary had another inspiration. With everyone staying home, blind people weren't getting any shopping done and blind entrepreneurs weren't having opportunities to display or demonstrate their wares. Thus, the first Let's Go Shopping virtual event evolved.
Legendary talked with another blind business owner and entrepreneur, Brent Harbolt of the Harbolt Company, who offered her a Zoom room for her virtual event. She got the word out, interviewed and invited ten or twelve fellow blind entrepreneurs, and an all-day virtual mall crawl was launched.
The event was 12 hours long. A schedule was posted in advance announcing vendors and time slots and Legendary kept the schedule moving. The turnout was so huge that, as Laura puts it, "we broke the Zoom room!" They had to purchase more space for more invitees.
The first event was not without its disasters. Zoom bombers invaded the gathering, hurling insults and displaying pornographic images. Still, the vendors and shoppers carried on, repeatedly booted the invaders, and the overall success was so tremendous that Laura was soon planning another Virtual shopping event.
The first Let's Go Shopping event was a single 12-hour day. The next, for dads and grads, was three days, and the most recent was a September two-day event for back-to-school and early holiday ideas. The events have been hugely successful and planning is under way for yet another in November.
Legendary coordinates the whole virtual mall crawl, interviewing and selecting vendors, promoting on social media, and editing the recordings of the presentations for customers who missed the live event.
Tools for Success
Elegant Insights jewelry is run entirely from Laura Legendary's laptop and iPhone. She personally manages the website and all the social media, the processing of orders, and promoting of new products. Asked to identify the essential elements of her success, she named persistence, the willingness to work long and flexible hours, and plenty of physical and mental stamina.
Essential elements she did not name but clearly possesses are boundless energy, creativity, passion for her product, and enthusiasm to share it with others.
Her business supports her, she says, but not without extremely hard work.
She loves that she is living her life on her own terms. She has created her own path. Asked if she would recommend building one's own business to other blind individuals, she said, "It's a way of buying yourself your own job."
Interested small business owners who are blind or have other disabilities are invited to contact Laura Legendary for information on participating in the next Let's Go Shopping virtual event. To learn more about Elegant Insights Braille Creations, call Laura Legendary at 702-605-1265, or visit any of the links in this article.
This article is made possible in part by generous funding from the James H. and Alice Teubert Charitable Trust, Huntington, West Virginia.
Related Articles:
More by this author: