If you are reading this article, there is a good chance that you are using a screen reader, a term that is as generic to assistive technology as Kleenex is to facial tissues or Jell-o is to gelatin desserts. What you may not know, however, is that Screen Reader was once a proprietary product of IBM, rather than the generic term for the way people who are blind or have low vision gain access to computer screens. In fact, our terminals became "talkies" just 20 years ago, in 1984, largely because of the work of Jim Thatcher, then a mathematician for IBM, the world's largest technology company. This auspicious anniversary is an appropriate time to look back on the pioneering efforts of IBM and what it plans for the future.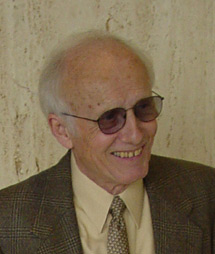 Caption: Jim Thatcher.
Like so many nondisabled people who become involved in the disability community, Thatcher had a personal connection: Dr. Jesse Wright, his then-thesis adviser at the University of Michigan, is blind. In 1963, Thatcher became one of the first Ph.D.s in the then-nascent field of computer science. He and Wright then joined IBM as mathematicians. Those were the days that predated personal computers (PCs), with "dumb" terminals like the IBM 3270 that were connected to a mainframe computer and couldn't be coded or modified and were totally inaccessible to people who were blind or had low vision. The PC was in its infancy, and, according to the biography that Thatcher provided for this article, he and Wright "started working on an audio access system" for the IBM Personal Computer in 1984. This work culminated in IBM's announcement in 1986 of one of the first screen readers for DOS, called IBM Screen Reader. Thatcher later led the development of IBM Screen Reader/2, the first screen reader for a graphical user interface on the PC.
"The 3270s were what people were using; we saw PCs coming on," Thatcher recalled during a telephone interview from his home in Austin, Texas. He noted that, at that time, IBM had a prototype of a talking terminal, known then as SAID (for Synthetic Audio Interface Driver), developed by Al Overby of IBM Raleigh. Through the work of Thatcher and Wright, SAID was developed into the IBM Screen Reader for DOS. "I had no idea it would become an IBM product because I was just having fun, making the PC accessible for Jesse," Thatcher continued. Thatcher retired from IBM in 2000 and now works as a consultant on accessible technology.
Staff Access Came First
Infused with the energy of evolving technology, "the PC times were very vibrant," according to Thatcher. "Everyone was helping everyone else; it was very open. A PC could plug in and act like a terminal. It was important to blind people to make their PC plug in and talk to a mainframe. There were lots of blind people working in computers because of talking terminals." Thatcher noted that IBM Screen Reader did not become a trademarked product; at the time, the company was focusing on accessibility for the benefit of its staff members who were blind or had low vision. IBM points with pride to its history of diversity in its workforce, having hired the first black person and the first three women for its professional staff in 1899 and its first professional with a disability in 1914. Thatcher noted that dozens of blind IBM staff members beta tested the screen reader.
The accessibility factor was not considered a major marketable feature. Over time, however, this view would change. In the meantime, Thatcher continued his trailblazing work for IBM, leading the later development of IBM Screen Reader/2, the first screen reader for a graphical user interface on the PC. He was intimately involved in the development of IBM Home Page Reader (the talking browser that is now one of IBM's preeminent accessible products for people who are blind). Thatcher's biography notes that in 1996, he moved from IBM Research in Yorktown Heights, New York, to join the IBM Accessibility Center in Austin, where he led the effort to include accessibility in the IBM development process. A key part of that effort was the establishment of the IBM accessibility guidelines specifically for use within IBM's development community.
Caption: Chieko Asakawa, a researcher at IBM Japan who is blind, using IBM Home Page Reader.
Thatcher received numerous awards for technical work over his 37-year career with IBM, including a Distinguished Service Award from the National Federation of the Blind in 1994 and the Vice President's Hammer Award for his work with the U.S. Department of Education on the development of software accessibility standards in 1999. Thatcher is also the coauthor of Constructing Accessible Web Sites with Paul Bohman, Michael Burkes, Shawn Lawton Henry, Bob Regan, Sarah Swierenga, Mark Durban, and Cynthia Waddell (published by Glasshaus, in the United Kingdom, in April 2002 and by Apress, in the United States, in July 2003).
On the Cutting Edge
IBM has consistently been on the cutting edge of access technology, helping to formulate the guidelines for the World Wide Web Consortium (W3C) Web Accessibility Initiative. In 2003, the company was among five corporations, four nonprofit organizations, and one individual to receive the New Freedom Initiative from the U.S. Department of Labor for "exemplary public and private partnerships" that further the Bush administration's objectives "toward employment of people with disabilities."
Quoted in a corporate news release, Andy MacDonald, IBM's senior vice president of human resources, noted: "Over the years, our nationally recognized policies, training and mentoring programs were created to ensure employees with disabilities are welcomed, valued and productive in the IBM workplace, and the 2003 New Freedom Initiative Award reinforces our efforts." This award, from the U.S. Department of Labor, was in recognition of IBM's training and mentoring programs for people with disabilities. In addition to its equal opportunity hiring practices, the company was also recognized for its dedication to making technology products and services accessible to people of all abilities, as well as its commitment to research in this area through the IBM Accessibility Center.
IBM Accessibility Center
The Accessibility Center is part of IBM's research organization, which is the world's largest information technology research organization, with more than 3,000 scientists and engineers at eight laboratories in six countries engaged in developing innovative marketplace technologies. IBM has produced more research breakthroughs than any other company in the information technology industry, according to a company news release.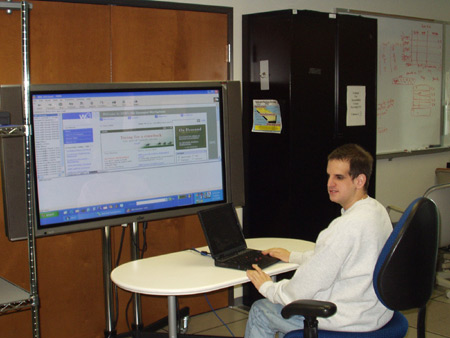 Caption: Randy Horwitz of the IBM Accessibility Center using Home Page Reader.
"The disability market can't be a niche market; it's too small," said Phil Jenkins, accessibility program manager and senior engineer at IBM's Austin facility. "So the company has transitioned into the goal and direction of universal design in its products and services, announcing a global initiative, in June 2003, to offer consulting business to business to provide accommodation solutions."
The following services are part of IBM global technologies' partnerships:
Providing visually impaired French computer users with a free, pared-down version of Home Page Reader that accesses French government web sites (thus satisfying the European Union's requirement to make government web sites accessible).
Working with Crunchy Technology, a Washington, DC-based web company, to improve the U.S. Department of Agriculture's Office of Small and Disadvantaged Business Utilization web site. This three-way collaboration transformed the web site and online forms into accessible areas and opened up opportunities for applicants who use assistive technology to compete for governmental projects and contracts. Jenkins described IBM's part of the activity as conducting a global "search and replace" and correcting any features that would make such a site not usable with assistive tools.
Working with the U.S. Postal Service to make the agency's web site comply with new revisions to Section 508. These regulations require the government to make workplace information available in accessible forms to all employees who have disabilities. The joint project helped create a web site that is friendly to AT users.
In fact, Section 508 of the Rehabilitation Act (which establishes standards that govern the accessibility of electronic and information technology for federal employees with disabilities and customers with disabilities who use federal services) is one of the major motivators for IBM to shift toward the goal of universal design. (Note that the 508 regulations were compiled by blind technology guru Doug Wakefield).
"It's no longer a case of 'do we want to' when it comes to features of accessibility," Jenkins said. "We have to. The government will buy from our competitors if we don't. 508 created a de facto standard for business." Similarly, Jim Sinacchi, director of diversity communications, Global Workforce Diversity, for the IBM headquarters in Armonk, noted: "We have to build our hardware and software with accessibility built in; it's like an air bag in a car or safety in a Volvo."
In addition to section Section 508, another motivating force for building accessibility into products is the growing market of baby boomers, who, as they age, are losing vision, hearing, and mobility," Sinacchi added. He sustained a spinal cord injury in a surfing accident years ago and now uses a wheelchair.
The futuristic possibilities of a totally accessible workplace were what the company tried to show at a splashy presentation at the 2003 CSUN conference (the annual Technology and Persons with Disabilities conference of the California State University at Northridge), an exhibit that left many attendees who were blind puzzled about the purpose. "Engineers who design the stuff will say that the product is cool, and blind people will reply, 'Yeah, but what will it do for me?'" Jenkins stated. Thatcher suggested that "the resources required to produce that multimedia event might have better been directed toward addressing the question of how to make the wireless world more accessible to people with disabilities."
Neither Sinacchi nor Jenkins would specify what new products people who are blind can look for in the near future. Sinacchi did note, however, that IBM is working on upgrading Home Page Reader and is also working on a project to have instant messaging work with speech output.
More information on IBM's accessibility initiatives can be found at <http://www.ibm.com/able>.