The truism that the more things change, the more they stay the same accurately summarizes the state of affairs in the accessibility of major appliances. The knobs and easy-to-feel buttons of yesterday have been replaced by touch pads and virtual controls, yet research reveals that alternative techniques and information about the behavior of these controls make many of them useful to people who are blind or have low vision. Despite its seemingly mundane nature, the topic of appliance accessibility is truly one of monumental importance among Americans who are blind or have low vision. In this issue of AccessWorld we address these important topics with two related articles. In "A Range of Opinions: A Survey on the Accessibility of Today's Home Appliances," lead investigator Darren Burton details the findings of a first-of-its-kind user study recently conducted at AFB's Technology and Employment Center in Huntington, West Virginia (AFB TECH), in which volunteers who are blind or visually impaired tested the accessibility of the range of appliance controls and their operation.
In this article, I report the findings of a survey of currently available appliances, and provide practical information resulting from AFB TECH's research with users. This article examines stoves, washing machines, clothes dryers, dishwashers, microwave ovens, cooktops, and wall ovens to provide a snapshot of the appliance scene as of early 2006. To gather as representative a sample as possible across the price-feature spectrum, we at AFB TECH visited appliance retailers, ranging from a hometown store displaying modestly priced equipment to Sears and Lowe's, each offering a relatively wide range of prices and brands. We also visited the Great Indoors, a Midwest-based high-end appliance mega-emporium.
While alarming trends continue to develop in the high end of the appliance price range, many accessible appliances in each category are still available. Whirlpool still maintains consistently useful control interfaces across its entire product line. Beyond Whirlpool, the picture becomes cloudy. Frigidaire, GE, Sears Kenmore, and the European higher-end manufacturers are continuing to introduce controls that range from marginally useful to outstanding. At the same time, our worst fears were confirmed with the introduction of a Sears Elite range with no knobs or other controls that were detectable by touch.
On the brighter side, the data and users' experiences that AFB TECH has collected from its research subjects clearly indicate that some commonsense strategies can increase the usability of a wide variety of moderately priced appliances, the kind that most consumers purchase. The same investigation also revealed ways in which manufacturers can immediately increase accessibility by making simple changes.
Types of Controls
Accessibility, it is said, is like beauty because it is in the eye of the beholder. Apt as this description may be, describing accessibility in scientific terms is challenging. For this reason, we identified three classes of controls that can be used to communicate the physical characteristics of appliance controls: "accessible controls," "inaccessible controls," and "ambiguous controls."
Accessible controls are those that have historically been provided on appliances. These controls include conventional turn knobs, such as those on burners and dryers, and mechanical push buttons that latch or change position when engaged. In almost all instances, accessible controls can be felt to determine their status. Reaching to feel the burner control on a stove at the 9 o'clock position lets a cook know that the burner is set to simmer. Feeling the pointer of the dryer control periodically as the cycle progresses allows the user to predict how much longer the cycle will take.
Accessible controls are commonly thought to be the most desirable by virtue of the properties just described. Of the three classes of controls, they are the only ones to support both direct setting and direct interrogation.
Inaccessible controls are those that provide no means of direct tactile identification or direct interrogation. These controls are typified by the flat touch panel that is found on the majority of microwave ovens and many other appliances, such as wall ovens and dishwashers. Inaccessible controls require modification to be usable nonvisually. In some instances, even modification, such as the use of braille or other tactile markings, cannot mediate the inaccessible behavior of the control.
Ambiguous controls are those that fall in between the accessible and inaccessible classes. They provide at least some feedback to the user. Most often this feedback is indirect or associated. Examples include oven controls that set a default temperature of 350 degrees when turned on. Pressing textured regions on the smooth control panel activates the controls, and pressing the Up and Down controls increases or decreases the temperature by 5 degrees for each press of the control. In addition to changing the temperature, a distinct beep is heard as each control is pressed. By counting beeps, one can accurately set the temperature. Direct verification of the temperature is not provided because direct observation of the display is not possible with the electronic oven control. This ambiguity creates a situation in which it is possible to set the oven nonvisually, but full independent access to the display information is not provided.
Individual experience, temperament, training in blindness skills, and tactile acuity play a significant role in an individual's response to ambiguous controls. For some, the accuracy and ease of touch controls outweigh the lack of direct information about the controls' status. For others, the indirect nature of using these controls makes them unacceptable.
The Appliances
The results of our investigations are reported here for each type of appliance. A features chart at the end of this article summarizes the findings on selected features for appliances and manufacturers to help you begin the process of selecting an accessible machine that fits your needs. For more detailed information on performance and features, sources such as Consumer Reports and <www.consumersearch.com> may be helpful.
Stoves
The outward appearance of some major appliances has changed little in the past 50 years. This is not the case with stoves. The consumer of only a few years ago would barely recognize today's electric ranges. The familiar coiled burners that typified the average electric range for most of the 20th century have all but disappeared from the market. The ceramic cook top has become ubiquitous, as have touch controls to operate the oven.
The impact of these trends on accessibility is significant and is at the heart of the difficulties that many Americans who are blind or have low vision struggle with. While our in-house user information and reports from the field suggest that alternative techniques can be used with the new ceramic cook surfaces successfully and safely, independent access to controls is another matter.
Many stoves, even those in the moderate price bracket, have a split control personality. Conventional turn knobs set and adjust the burner temperature, but the operation of the oven, broiler, and other related functions requires coming to terms with a touch pad. Our survey revealed a continuing pattern of mixed types of controls. In some ranges, such as most Whirlpool models, roughened regions indicate the location of the oven controls and related functions. Pressing these regions results in a clearly audible beep. The controls default to a predictable setting, usually 350 degrees, when the oven is activated. For the broiler, 500 degrees is a common default temperature.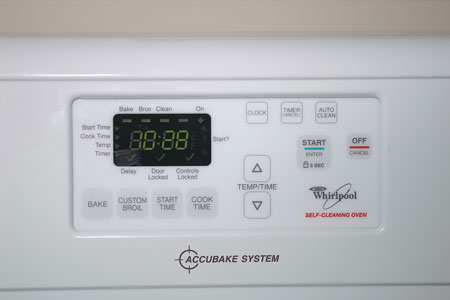 Caption: Whirlpool flat ceramic cook-top stoves have conventional turn knobs for the burners (top) but a touch pad for the oven and broiler. However, the touch pad controls are roughened and respond with a clear beep (bottom).
Beyond the basic controls, many oven-timer and related functions can also be adjusted successfully. There is a caveat, however. For some more advanced functions, successful nonvisual use requires you to track several layers of menus. Prompts to set the cooking delay, for instance, must be memorized. Many users find this an inconvenient method, making these controls unacceptable, while others easily acclimate themselves to the menu structure and appreciate the opportunity to set an oven with precision or to take advantage of complex features of the stove.
In contrast to Whirlpool, the Maytag stoves that we examined all included inaccessible smooth control panels for the oven and related controls. We did not test this brand for the predictability of operation.
Sears Kenmore and GE offer some models whose controls could be considered ambiguous by virtue of the use of textured control surfaces. Some GE stoves, stainless steel with black accents, featured controls with prominent textured surfaces.
An interesting Amana slide-in range, displayed at the Great Indoors, used large mechanical buttons to select the oven feature—bake, broil, and so forth. A small turn knob, which had distinct clicks as it was turned, appeared to adjust the temperature. We were not able to operate the unit to make further observations. Despite this unique and potentially useful interface, the overall impression of the controls was that they were flimsy.
Dishwashers
When viewed over the past 24 months, during which I have been carefully monitoring the accessibility of controls, the dishwasher category has become a worst-case scenario. Until recently, models at all price-performance levels from most manufacturers were available and accessible. This is no longer the case. Maytag and GE units across the price-performance spectrum all use flat controls that provide no tactile features. At the same time, well-respected high-end models from KitchenAid, which were the paragon of accessibility, have replaced clear and easy-to-use buttons with a flat, featureless, touch-sensitive strip of controls along the top of the door.
What to do? For an accessible dishwasher, think German. A modestly priced Mealy unit, at $400, uses a turn knob with an easy-to-feel pointer and a single Start control. Bausch controls remain easy to feel, as do those on Asco. An LG machine, which appears to be a Bausch look-alike, also uses easy-to-feel buttons and controls. Fisher and Paykel (the New Zealand-based manufacturer) has introduced a new kind of dishwasher. Resembling a large kitchen cabinets drawer, the unit pulls out and is filled from the top. A pair of Up and Down buttons, located just inside the unit, set the wash cycle, and an easy-to-feel Start button on the face of the washer starts the unit. Reports from Australia indicate that many people find the machine to be accessible and convenient.
Except for models at the entry level, no machines allow nonvisual access to information about the progress of the cycle. In basic machines, the mechanical timer control turns as the cycle progresses, providing direct tactile information to the user.
As with stoves, Whirlpool dishwashers and many Sears Kenmore units use easy-to-feel embossed controls. The size of a quarter, these controls are molded into the flexible face of the plastic control panel. Pressing them results in a clear movement of the finger. The Start button is often physically separated from the cycle controls and is usually a contrasting shape. Unlike Whirlpool ranges, dishwashers of this brand do not appear to provide confirmation tones.
Washers and Dryers
Washers and dryers and stoves are a toss-up as the inaccessible leaders of the pack. Because many washers and dryers are designed and sold as a pair, the behavior of the controls is usually similar on both.
The desire to decrease the amount of water that is used to wash a load of laundry has driven a generous application of high technology in the previously low-technology surroundings of the laundry room. Two trends are immediately obvious as you walk up and down the rows of washers and dryers: front loading and electronic controls. Each embodies two interrelated strategies to the challenge of washing more clothes with much less water. Front-loading washing machines, by their design, require less water. Advanced load-sensing technology allows the unit to use only the amount of water that is required for the actual load. Because electronics and computer-chip brains are on board, vastly more elaborate control systems are possible. These controls, when accessible, provide equally flexible control for those who use nonvisual strategies. When accessibility is poor, the result is equipment that, we believe, cannot be used independently by people who are blind or have low vision.
Conventional top-loading washing machines and their front-loading dryer counterparts are still available. These models use the traditional turn-knob controls that most of us grew up with. The controls differ from brand to brand. Some have an easy-to-feel point on the control dial. The dial clicks as you move from cycle to cycle, making it easy and predictable to set.
The differences in brands among front-loading and some high-tech top-loading units are striking. Unlike its dishwashers, washers and dryers from Bausch appear to be especially inaccessible. Virtual knobs and controls select among cycles that are displayed on menus. With these new control designs, a large rotary control moves a pointer up and down a display menu of options. The function of the control changes with each menu on the display. Tracking the location and option for each position of the control is impractical or impossible with these virtual controls, and it is necessary to select them to adjust even simple settings, such as temperature and spin speed. Top-of-the-line LG units, also highly regarded by many, use a series of lights and a large virtual dial to select the wash cycle. As the control is turned, status lights for wash cycle, temperatures, rinse options, and so forth move progressively among the possible choices. The behavior of the controls in the washer-dryer pairs in these brands was similar.
We are pleased to report that Whirlpool offers remarkably accessible controls on its Duet line of washers and dryers. Easy-to-feel pointers allow for the unmistakable selection of wash and dryer cycles. The Up and Down buttons facilitate changes in the cycles' default settings. Although these units are the best of the high-tech front loaders, changing the parameters of the cycles requires that you know the default settings and count button presses. A Clear button easily resets the values.
Caption: Whirlpool offers a frontloading dryer with remarkably accessible controls.
GE and Frigidaire front-loading washers are inaccessible because of the use of an endlessly turning selector knob, as in the Bausch and LG. A Frigidaire dryer, counterpart to the front-loading washer, was found to be useful by virtue of a rotary knob that has a stop at each end, allowing you to count clicks corresponding to cycles.
Several new models from Whirlpool, LG, Sears Kenmore, and Frigidaire have arrived in stores, heralding the introduction of the new models for the next year. A trend toward mid-sized washers, 3.3- to 3.5-cubic-foot capacity, establishes a new size class for front-loading machines. True to its record for inclusive design, the Whirlpool Duet Sport offers controls that resemble those on the larger Duet. LG now offers a Tronn Super Capacity machine, the controls of which are quite useful. The five washing cycles are each represented by a small light, placed in a ring surrounding the large, round control. Following the recessed light and pressing on the outer portion of the ring selects the cycle. Manipulating the buttons that adjust spin speed, water temperature, and so forth is easy, thanks to a clear chime that is heard each time a button is pressed. If you are comfortable with counting and pressing to make adjustments, this LG may be of particular interest.
Sears Kenmore introduced the Oasis washer in April. Billed as the largest washer available, it may also be the most inaccessible we have found. A continuously turning knob selects cycles and hard-to-feel bubble controls adjust settings. The turn knob felt sloppy, with poorly differentiated stop positions. To make matters worse, no audible tones were detectable, not even when turning the machine on and off. Whirlpool will introduce a version of the same washer, the Cabrio, in mid-summer. According to a Whirlpool representative, it will use the same controls as the Duet Sport.
Fisher and Paykel has a high-tech control interface that may be the most accessible offered on any washer. Pressing the various soft-touch embossed buttons on the control panel makes cycle selections. Adjusting the water temperature, spin speed, and water level by use of Up and Down buttons is easy because reaching the top or bottom of each menu results in a different-sounding beep. Pressing the Off button clears all the settings. A matching dryer that uses a novel top-loading design employs the same control strategy.
Microwave Ovens
The first frontier for the inaccessible flat touch-panel control was the microwave oven. Although sold in appliance and department stores, the components found in contemporary microwave ovens resemble a home stereo or TV tuner more closely than the other appliances in the kitchen. For this reason, design and manufacturing are driven by the same forces that shape the development of other home electronics.
The overwhelming majority of microwaves require the use of braille or other tactile markings to be even marginally useful. Even with these modifications, advanced cooking features and knowledge of the remaining time are not accessible in any off-the-shelf unit that we examined.
A $99 GE microwave was an interesting contrast to the others at Sears and the Great Indoors. It includes bubble controls, miniaturized versions of those found on many dishwashers. About the diameter of a marble, each button, number pad, and cooking control can be identified by touch. As with other ambiguous controls, individual reactions to these controls will depend on many personal circumstances. In our lab, the test participants were generally pleased with the controls. Some participants who used low vision techniques did not find them as convenient as other microwaves with larger control labels.
Caption: Most microwave ovens have only inaccessible, flat touch-panel controls like the Sears Kenmore model (right), but one GE model (left) had "bubble controls" that could be felt tactilely.
Other designs appear and disappear as models are introduced and withdrawn from the highly competitive market. Panasonic recently offered a large all-stainless steel unit with actual push buttons. Just as quickly as it appeared, this unit sold out and is no longer available.
Wall Ovens and Cooktops
On the appliance totem pole, separate wall ovens and drop-in cooktops are at or near the top. While most of us are content to purchase and use a freestanding stove, for those with the resources and desire to purchase "the very best," separate units are the order of the day. It is in these units that manufacturers introduce their latest and supposedly greatest technology and design.
At the Great Indoors and other specialty retailers, you will find stoves that are priced from $400 to $900, which is typical of many appliance dealers and big-box stores. But if you move down the row, you will encounter cook tops that are priced in excess of $2,000. Behind them in nicely lighted displays are their wall-oven brand mates, with prices that often exceed $3,000. So what exactly can be said about a $5,000 wall oven/drop-in cooktop combo? You can say that, except for Whirlpool and KitchenAid, $5,000 will get you a lot of inaccessibility for your kitchen.
Well-known brands, including Genair, Daycore, Electrolux, and GE, use inaccessible oven controls. Only Whirlpool and KitchenAid consistently provide some tactile contrast on the control panels of their ovens. KitchenAid units even offer a keypad, like that of a microwave, to set the temperature, time, and other settings. A basic or entry-level convection wall oven from Frigidaire is available with textured control surfaces. Several Lowe's stores carry it in stainless steel and black.
My kitchen has a smoke detector, which occasionally makes its presence known when the broiler is on. If my kitchen included an accessibility alarm, it would sound the alert because the cooktop with no knobs is here. Imagine that a cooktop and microwave gave birth to an offspring. Junior is a totally smooth, flat piece of glasslike ceramic, installed in the counter top. When you touch the Up and Down arrows, the burners turn on and off. That works well if you can see the Up and Down arrows and the indicator that show how hot the burner is set. After some attempts to use it, it becomes clear that this imaginary appliance offspring is, in fact, the proverbial monster. What is not a figment of our imagination, however, is the reality that these cooktops, while still in the high-end and ultra-high-end categories, will be moving down the line to a stove near you.
Low Vision Access
The participants in AFB TECH's testing who used low vision techniques, either exclusively or in combination with tactile techniques, expressed several important concerns. First, they noted that the contrast of control labels is a central consideration when choosing an appliance and that models within a single brand may differ significantly in this regard. While the Whirlpool stove was well received for its easy-to- read labels on dials and marking on controls, the brand's washer and dryer were singled out for criticism owing to their silvery, reflective backgrounds and hard-to-read words.
Second, the participants noted that the brightness of the indicator lights on the Whirlpool stove were helpful, as were the size and brightness of the digital readouts. The larger and brighter the display, the better for most people.
Third, the participants stated that the color, size, and style of fonts and the mixed cases were useful cues and that glare and background color also affected an appliance's usability.
Research participants' experiences with several microwave ovens also revealed that significant individual differences contribute to the successful selection of an appliance. Balancing the size and brightness of the display against the ease or difficulty of reading control labels may require additional research. As with nonvisual accessibility, planning and careful shopping can help identify a winner at the appliance store.
The Shopping Experience
On February 1, 2006, NBC's Today Show devoted a segment to the declining state of customer service. The segment depicted what many shoppers already know: the appalling lack of customer service that exists in many retail establishments. The Today Show highlighted four examples, two of which were big-box stores that sell major appliances.
Against the backdrop of larger and larger organizations controlling more and more of the distribution of appliances, what is the state of knowledge in areas that are of the most importance to consumers who require information about accessibility? Although specific data have not yet been collected to measure the knowledge of sales personnel, several trends were revealed in our last round of information gathering.
One trend is that you do not necessarily get what you pay for. The Great Indoors was the only establishment we visited that offered an oven-cooktop combo in the over-$5,000 price range. Knowing this, I had a certain expectation of customer service and knowledgeable sales staff as I passed through the sliding doors. Much to my surprise, I soon found myself standing among stacks of electric cooktops and out-of-the-box dishwashers that were set in the walkways of the store, like so many displays of sale goods or impulse items at Wal-Mart. The resemblance to a discount operation did not stop with the merchandising; the availability of help and the overall knowledge of the sales staff were not much better than in a discount store.
Sears is the nation's largest retailer of major appliances. In both this round of observations and previous explorations, we found that Sears sales associates were generally able to provide at least appropriate assistance. They often grasped the issues and concepts of accessibility and were excellent resources. Those who did not understand the specifics at least generally listened carefully and answered basic questions appropriately. Lowe's is the nation's largest retailer of Whirlpool appliances. As with Sears, most of the sales staff provided good information and were helpful most of the time.
Independent appliance stores demonstrated something of a bipolar effect. In some, help was impossible to find, and after I found it, I wished I had not. Still other salespersons were so excellent that I found myself having to resist purchasing another washing machine, even though I have an almost new one.
Shopping Strategies
Strategies for shopping include the following. First, plan your attack. By organizing your shopping, you will be able to ask the questions you need to ask in a consistent way. Let your fingers do the walking—call ahead, ask questions, and make note of whom you talk with and your impression of the person. If it is a big store, with a brand that you are especially interested in, call several times, and when you get a salesperson whom you like, establish a time to shop when you know he or she will be available.
Second, do not be afraid to express your discomfort or concern when you encounter poor service. A direct statement, such as "This isn't going well; you seem to be uncomfortable with my blindness. I would like to talk with someone else" may work to move things along if you picked the short straw on the sales floor.
Third, find out what the return policy is. Some big-box stores charge a 15% restocking fee. Note that most of the appliances that you will see will not be plugged in, so when you find a model that you think you are ready to purchase, ask to have it connected. This may be an easy matter or out of the question, depending on the store and the circumstances. If the store is unwilling to let you try the controls but charges a restocking fee, go to another store. Since it may not be possible to connect electric stoves and dryers that operate on 220-volt power to preview the controls, you may want to confirm the usability of a unit by connecting a gas model whose controls have the same design, because gas units require only a standard 110-volt outlet. Sales associates at both Lowe's and Home Depot in the Huntington, West Virginia, area cheerfully accommodated requests to connect appliances on display in their stores during the preparation of this article.
Learning about Your Appliance
Although the availability of accessible controls has clearly diminished over the past several years, an adequate supply of devices with ambiguous controls remains available, and at all price levels. Once you choose an appliance, plan to learn about it. While the geekier or technically motivated may want to plug in the new washer and see what the controls do, most people benefit from some focused time with a reader or assistant. When they were given specific instructions about the appliances with ambiguous controls, all the participants in AFB TECH's usability testing reported a positive shift in their confidence in using the appliances following instruction. Several strategies for learning to use appliances once you have purchased them emerged from this experience.
Take notes. The participants who took notes, several braille readers, reported high confidence levels in using touch controls. Notes help keep you oriented to the controls and track your settings.
Plan to mark the appliance yourself. All the participants had unique strategies for applying tactile markings to the controls of their own appliances. Some participants stated that they used markings only when an appliance was new, while others reported that they maintained tactile markings for the entire life of their appliances.
Create a reference card or cheat sheet in braille or large print. Include information that is meaningful to you, such as a step-by-step list of instructions or a description of controls as they are encountered on the appliance. Many participants responded affirmatively to the availability of such a reference card.
Documentation may be available for some models. A survey of several web sites, including those of Whirlpool and Frigidaire, revealed different levels of accessibility to the companies' web sites and product literature. Several of the PDF versions of the manuals that we examined were not tagged sufficiently to provide good readability with Adobe Reader and a screen reader.
Contact the manufacturer. A KitchenAid representative and I were able to discover many important characteristics of the company's wall ovens by reading the manual together. In addition to sharing the manual in PDF while we talked, she read extensive passages from it, allowing me to make detailed notes. She also invited me to call back at any time if I desired more information, including information from the manual.
Ask about braille and other kinds of labels. Whirlpool offers many templates and kits to mark its appliances.
Ask others about their experiences. If it is true that word of mouth is the best advertising, surely it is true for accessibility. There is nothing better than hearing about appliances firsthand from others who use them the same way that you do. In addition to your friends who are blind or have low vision, several web sites on the Internet allow you to download and listen to or read reviews of many products. These web sites include <www.blindcooltech.com>, <www.acbradio.org> and <www.voiceofthenationsblind.org>.
---
This article was funded by the Teubert Foundation, Huntington, WV.
---
View the Product Features as a graphic