In Part 1 of this series, I described how, while listening to a luncheon speech by Harvey Lauer, I was inspired to conduct an oral history project to capture the memories of the giants in the blindness assistive technology field upon whose shoulders we stand today. The purpose of the project was to record on tape the stories of legends and pioneers of blindness assistive technology and make the interviews available for historians of technology and others who are interested in firsthand accounts by those who have enabled people who are blind or have low vision to function in the Information Age.
I conducted a total of 25 interviews. The previous article outlined 7 of them—interviews with Russell Smith (Pulse Data International, now the HumanWare Group), Leslie Kay (Smith's mentor and inventor of sonar devices for people who are blind), and five legends and pioneers who were at one time or another connected to Telesensory Systems (Jim Bliss, John Linvill, Larry Israel, Jim Halliday, and Bob Keenan).
The Catalyst
In May 2003, I celebrated the project's first anniversary by interviewing Harvey Lauer. The interview took place in Lauer's home, just west of Chicago, where I found him still active, alert, and surrounded by his gadgets (including the Stereotoner, an audible version of the Optacon, regarded by some as a precursor to the reading machine that did not quite get off the drawing board). Lauer, an industry advocate and early leader, worked for many years at the Hines Veterans Administration Medical Center (birthplace of the now-traditional long cane technique). Over the years, he has, among other things, been adviser to the Optacon team at Telesensory and David Holladay at Raised Dot Computing. (Lauer was also profiled in the March 2003AccessWorld.)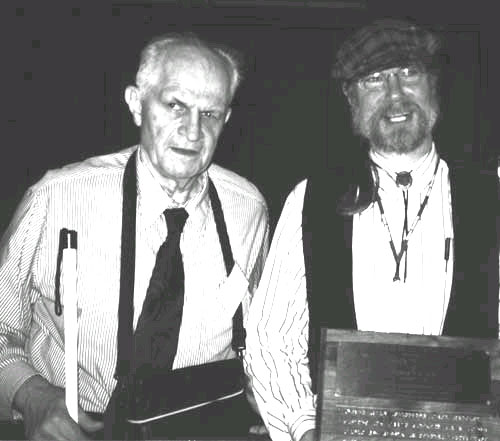 Caption: Harvey Lauer (left) presenting an award to Jim Allan of the Texas School for the Blind and Visually Impaired at the AFB Technology Odyssey Conference in August 2001.
Adapting Apples
A month later, I traveled to Westford, Massachusetts, to interview David Holladay and his wife, Dr. Caryn Navy (Braille Edit and MegaDots) in their home. Their house is demarcated by a large sign that says "Braille Planet," a remnant of the company that Holladay sold to Joe Sullivan and Duxbury Systems just before he and Navy joined the Duxbury team. In 1981, inspired by his wife's need for braille translation of mathematical materials so she could more efficiently teach university classes, Holladay decided to apply his considerable engineering and programming skills to creating Raised Dot Computing and the Braille Edit product (speech- and braille-translation software that ran on Apple computers).
A Pair of Engineers
Two months later, I visited the Smith-Kettlewell Eye Institute to interview two inventors and industry observers, Bill Gerrey and Tom Fowle. Gerrey's father, a blind master piano tuner, taught his son the value of mechanical skills and the love of good music. (The father was a close friend of Jacobus tenBroek, founder of the National Federation of the Blind.) Both blind engineers, Gerrey and Fowle have a long-standing reputation for inventing specialty devices for people who are blind with unusual needs (such as wheelchair navigation and the use of complex scientific instruments). They provided interesting insights into how they believe people who are blind should be regarded by the general public and how assistive technology for people who are blind should coincide with the way they actually perceive the world.
Observing by the Bay
In September 2003, I interviewed Jerry Kuns in his lovely and, by his own design, newly renovated home in San Francisco. For aficionados, this is the best time of year to be in the city by the Bay. Kuns is an old-time industry observer who has worked as a rehabilitation counselor, developer of assistive technology programs, and sales representative and, lately, an instructor in assistive technology for students who are blind at the California School for the Blind. In the late 1970s, he spent time with Steve Jobs and Steve Wozniak in their garage while they invented the Apple computer. He has known most of the players in the business since the 1970s and has helped several assistive technology companies develop their philosophies and sales approaches.
Funding Innovation
In December 2003, I had the pleasure of visiting Larry Scadden in his home in Kona, Hawaii. Scadden is another longtime industry leader and observer who provided fascinating historical perspectives on the industry. His years at the National Science Foundation permitted him to fund such projects as the University of Washington's Do-It (Disabilities Opportunities and Internetworking in Technology) and several initiatives to eliminate barriers to careers in the sciences for people with disabilities (access to laboratories and laboratory equipment, accessibility of instructional material, and attitudes of teachers).
The First CCTV
In March 2004, I traveled to Santa Monica, California, to interview the "father" of the closed-circuit television (CCTV), Sam Genensky, a mathematician who, as a boy, used a self-designed binocular device to maximize the effectiveness of his poor vision. In the 1960s, Genensky worked for the Rand Corporation on top-secret projects for the navy and air force. While there, he and his colleagues developed the CCTV system that was originally marketed by Apollo Lasers and VisualTek. Eventually, the product lines of both these companies were absorbed by Telesensory and imitated and improved upon by many other companies over the years.
Talking in Florida
In late April 2004, I traveled to Florida to interview Deane Blazie (Hobe Sound) and Ted Henter (St. Petersburg). At his first company, Maryland Computer Services, Blazie developed Total Talk, the first talking computer terminal. One of his early customers and advocates was a newly blind computer programmer, Ted Henter. At Blazie Engineering, Blazie and his team developed the Braille 'n Speak and Braille Lite series of portable notetakers, the Braille Blazer embosser, and more. (See "Deane Blazie: Forging a New Path for Literacy" in the January 2000 inaugural issue of AccessWorld.) Blazie can probably tell you more about the engineering challenges in producing a cheaper braille cell (the most expensive component of braille displays) than anyone except Franz Tieman and Oleg Tretiakov, developers of the piezo-electric braille cells that are found in all braille products for people who are blind today. Much as Russell Smith at Pulse Data, the secret to Blazie's success in the portable braille device industry was his willingness constantly to survey and react to the needs of consumers who are blind.
Caption: Deane Blazie in 2000.
Henter (Henter-Joyce) did his basic talking computer training under Blazie and, when the PC came into its own, set out with a silent investor (Bill Joyce) to develop JAWS (Job Access with Speech) screen-reading software for DOS and, most famously, Windows. Raised in the Panama Canal Zone and a championship motorcycle racer, Henter worked as an engineer until 1978 when he lost his vision in a car accident in the United Kingdom while preparing for the World Motorcycle Racing Championships. His newest company, Henter Math, develops and markets the Virtual Pencil, a PC-based math problem-solving tool. Henter is currently on the Board of Freedom Scientific, to which he sold Henter-Joyce in 2000.
A Piece of the Pie
In June 2004, I met with Saba Hocek (OCR for PCs) in her Upper East Side apartment in New York City. In the mid-1980s, along with her brother Adam, Hocek created Ad Hoc Systems, which developed a desktop OCR (optical character recognition) system at least two years before Kurzweil and Arkenstone. A bit of controversy surrounds the eventual demise of Ad Hoc Systems. The company appears to have been driven out of business by Arkenstone. The not-for-profit model skillfully used by Jim Fruchterman enabled his company to obtain more cheaply the expensive Calera boards that were required for OCR systems at that time and thus enabled Arkenstone to sell its OpenBook desktop OCR systems at two-thirds the price of Ad Hoc Systems, thus scooping up most of her market share. Since Hocek closed the business in the early 1990s, she has worked as a mainstream computer specialist, occasionally providing assistive technology services to a few longtime clients.
Radio Years
A day after my interview with Hocek, I visited John De Witt in his offices in Midland Park, New Jersey. Together, we looked back to when public radio was just getting started and radio reading services were born. De Witt described an early attempt at the American Foundation for the Blind (AFB) to develop a CCTV that preceded Genensky's endeavor by 10 years.
Because he has been in the business for over 30 years, beginning his assistive technology career with AFB, where he worked for more than a decade, De Witt was able to recall much about the evolution of the assistive technology industry. In the late 1980s, along with Steve Mendelsohn, he decided to form a for-profit technology company that evolved into De Witt and Associates. This company, as it turns out, was instrumental in the success of the AFB-AER 2001 Technology Odyssey Conference and the luncheon speech that inspired this project.
Focused on Books
In September 2004, I visited with Jim Fruchterman in the offices of his newest company, Benetech, in Palo Alto, California. Fruchterman founded Arkenstone, named for an object in the J. R. R. Tolkein books. After developing several companies (including a failed attempt at rocket science), he formed Arkenstone in 1989 as a not-for-profit organization within one of his for-profit businesses, so he could charge lower prices and compete with Ad Hoc Systems and Kurzweil. Arkenstone was best known for its OpenBook OCR product. After Fruchterman sold Arkenstone Blindness Products to Freedom Scientific in 2000, he formed Benetech (which means "good technology), which created the innovative Bookshare project. (See "Fruchterman's Fantasy Becomes Reality," November 2001.) He conceptualized Bookshare from Napster (his neighbor was the acting CEO) and almost named his project "Bookster"! Bookshare gathers books that have been scanned by people who are blind and makes them available for download on a subscription basis. Benetech's other projects include a secure information-processing system to curtail human rights abuse and, in development at the time of our July 2004 interview, novel land mine-detection technology.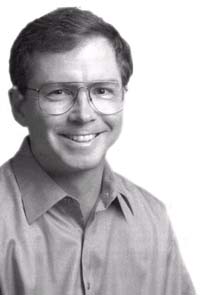 Caption: Jim Fruchterman in 2001.
Sound Judgment
In October 2004, I visited Ron Morford in Arlington, Virginia, and Fred Gissoni in Louisville, Kentucky. Morford earned his degree in computer science at Penn State University. The experience of slaving over embossed braille and punch cards while in college and in his early career gave him the determination to use his skills to develop a workable synthetic speech system for computer users who are blind. In spring 1979, after studying specifications for synthesized speech from the U.S. Navy and Bell Labs and burning up several PROM (programmable read-only memory) chips in his Washington, DC, apartment, he finally achieved his dream: verbal emulation in real time (VERT). Under contract with Telesensory, Morford continued to develop his VERT software-hardware combination until Telesensory no longer wanted to pay him to continue to evolve it. Telesensory eventually failed to keep up with consumers' needs and soon, for all intents and purposes, went out of the speech-technology business. Today, Morford heads Automated Functions, where he is developing an accessible graphing calculator.
Like Harvey Lauer, Fred Gissoni may be considered one of the men behind the scenes, a mover of movers, an encourager of development, a consumer's consumer. In fact, along with Tim Cranmer, Fissoni worked for Kentucky Services for the Blind and, in the late 1970s, helped produce the device that was the precursor to Blazie Engineering's Braille 'n Speak. Gissoni currently works for the American Printing House for the Blind (APH). During our interview, he spoke of his days at Kentucky Services for the Blind, his work with Cranmer, and his time at APH, where, among other things, he has championed Leslie Kay's sonar devices.
Ski and See
A week after my interview with Gissoni, I took an Amtrak train from my home in Berkeley to Davis, California, approximately 75 miles northeast of San Francisco, where I met with Mike May. May's threefold tale includes not only his assistive technology career and athletic accomplishments, but the restoration of vision in one eye.
After decades of blindness and a remarkable career as a champion downhill skier, modern medical techniques (which included stem cell transplants) enabled May to receive partial vision restoration. Because of this experience, Mike has been the focus of much study on what happens when people who have been blind for so long suddenly regain their eyesight. Getting his start with Arkenstone, today, Mike leads the Sendero Group, which develops accessible and portable GPS (global positioning satellite) wayfinding technology. At the time of the interview in October 2004, Sendero Group's talking GPS technology was available to BrailleNote users, and plans for its installation in other platforms were under way.
A Touch of Class
Jackie Wheeler (Palo Alto, California, and now with Cambium Learning, which acquired Kurzweil Educational Systems in April 2005) explained how Telesensory developed the first group of Optacon instructors in the early 1970s. Similar to Bob Keenan and Jim Halliday, she provided insights into the engineering-oriented management style of Telesensory that has been responsible for its incredible achievements. (There is general agreement that the failure to keep up with consumers' changing needs was probably the cause of Telesensory's ultimate demise.) Wheeler described how the Optacon gained in popularity in the early 1970s, how she and Gail Brugler became part of the first core of Optacon instructors, her eventual jump to Kurzweil Educational Systems, and her satisfaction with the move.
Scanning the Future
Ray Kurzweil (Wellesley Hills, Massachusetts) used his knowledge of artificial intelligence to develop the scanning and OCR technologies that were necessary for his first reading machine. When PC and speech-synthesis technology evolved to the point where his products could become part of the desktop, he formed Kurzweil Educational Systems (KES). At the time of our interview in September 2004 ("The Man and the Machine: An Interview with Ray Kurzweil"), Kurzweil was not prepared to divulge the sale of KES, which took place eight months later.
Caption: Ray Kurzweil.
His latest venture is in the area of life prolongation. Throughout the interview, Kurzweil took several of more than 250 daily nutritional supplements that he hopes will keep him healthy enough to be able to take advantage of nanotechnologies that he believes will exist in about 20 years. These technologies hold the promise of enabling humans to live a high-quality life to at least 150 years of age.
Translating Dreams
A day after my interview with Kurzweil, I visited Joe Sullivan in his home in Stowe, Massachusetts. The ground was covered with snow. This was not the case when, on July 4, 1975, Sullivan formed Duxbury Systems with Bob Gildea, a blind physicist and Sullivan's colleague at the Mitre Corporation, and Anne Simpson, a geologist who had a powerful computer that she housed in nearby Duxbury. In the early days of large-scale braille production, only industrial-strength computers and large embossers (developed by George Dalrimple, Vito Proscia, and others at MIT) could produce the volume of braille that was requested by schools, mainly for textbooks. In those days, APH had its own proprietary braille-translation software, but, unlike the Duxbury program, it worked only on APH's computer.
Sullivan continued to evolve his braille-translation tables, expanding into several languages and altering them to conform to recent rule changes that were established by the authorities that governed the usage of English braille around the world. In addition, as the speed and memory capacity of microcomputers grew, Duxbury moved into the PC market. Today, the portability of Duxbury's software into several operating systems enables users who are blind and transcribers to produce readable hard-copy braille from a variety of desktops.
Technology-Talk
In December 2004, I conducted my final interview in San Jose, California, with Doug Geoffray. While still a high school student, Geoffray worked for Bill Grimm at Computer Aids Corporation, where he helped develop some of the earliest dedicated talking software products for people who are blind. (See "Focused and User Friendly: Doug Geoffray," January 2002 AccessWorld.) Do you remember Word-Talk, File-Talk, and Calc-Talk? Also working for Grimm was Dan Weirich, who produced the Sounding Board speech synthesizer.
Caption: Photo of Doug Geoffray and family in 2001.
In 1988, Geoffray began writing the software that would eventually become Vocal-Eyes. After Grimm shut down Computer Aids Corporation, Geoffray and Weirich founded GW Micro to complete the development of Vocal-Eyes, one of the most popular DOS-based screen readers in the history of assistive technology. Combined with the power of the Sounding Board, Vocal-Eyes made a formidable marketing package. The date was February 15, 1990. Unfortunately for their business, Geoffray and Weirich lagged behind the Windows phenomenon, but by 1992, it became clear to them that if they were to remain competitive, they would have to develop a Windows screen reader. It took three years for their contractor to complete, but in 1995 Window-Eyes was born.
Bring on the Giants
The history of blindness assistive technology is interwoven with the history of technology in general and the various cultural phenomena that surrounded it. Few ideas have ever sprung full blown from chaos. In the case of blindness assistive technology, most developments evolve from existing technologies and long-standing and well-understood problems. Not only do those whom I interviewed admit that their work would not have been possible without the giants who came before them, they insist that their work was in reaction to those problems. In the next article, I highlight some of the major themes that emerged from the interviews. I think you will be interested to hear what the legends had to say.