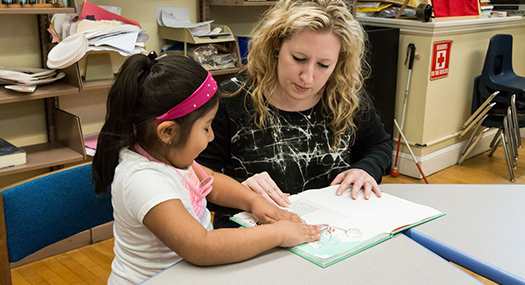 Assessment Materials
Assessment of Braille Literacy Skills. A checklist of literacy skills for emergent, academic, and functional literacy. Available in print, large print, and braille.

Tools for Selecting Appropriate Learning Media by Caton. Available in print or braille.

American Printing House for the Blind
P.O. Box 6085
Louisville, KY 40206
Telephone: 502-895-2405

Learning Media Assessment, by Koenig and Holbrook.Available in print, large print, and braille.

Texas School for the Blind and Visually Impaired
1100 West 45th Street
Austin, TX 78756-3494
Telephone: 512-454-8631

Braille Assessment Inventory (BAI). A tool to help determine learning media.

Hawthorne Educational Services
800 Gray Oak Drive
Columbia, MO 65201
Telephone: 573-874-1710

Braille Assessment Checklist for Persons with Multiple Disabilities (BAC). A tool that can be used to collect and summarize information to help determine learning media. Free; available in print or on disk. National Literacy Program
American Foundation for the Blind
100 Peachtree Street, Suite 620
Atlanta, GA 30303
Telephone: 404-525-2303
Instructional Materials, Slates & Styluses, etc.
Teaching the Braille Slate and Stylus, other videos and materials.

Exceptional Teaching Aids
20102 Woodbine Avenue
Castro Valley, CA 94546
Telephone: 800-549-6999

"Peg Slate," "Janus Slate," Braille Writing Dot by Dot, and other materials. APH sells braille and large print books, educational materials, etc.

American Printing House for the Blind
P.O. Box 6085
Louisville, KY 40206
Telephone: 502-895-2405

Howe Press at the Perkins School for the Blind sells a wide variety of slates and styluses, as well as Perkins braillewriters.

Howe Press
Perkins School for the Blind
175 North Beacon Street
Watertown, MA 02172
Telephone: 617-924-3490

Marburg Full-page slate (and other materials).

Maxi-Aids
P.O. Box 3209
Farmingdale, NY 11735
Telephone: 800-522-6294

Tack-Tiles are sets for literary braille, Nemeth and music codes.

Tack-Tiles
Los Olvidados Ltd.
P.O. Box 475
Plaistow, NH 03865
Telephone: 603-382-1904

A Spelling Dictionary for Beginning Writers, by Hurray. A beginning dictionary and "word bank" for primary grades. National Braille Press
88 St. Stephen Street
Boston, MA 02115
Telephone: 800-548-7323
Teacher's Bookshelf
Instructional Strategies for Braille Literacy, by Wormsley and D'Andrea. Strategies and resources for teaching braille, including assessment, technology, special needs, etc.

AFB Press
11 Penn Plaza, Suite 300
New York, NY 10001
Telephone: 800-232-3044

Also available from AFB Press, Beginning with Braille by Swenson, Foundations of Braille Literacy, by Rex, Koenig, Wormsley, & Baker; The Burns Braille Transcription Dictionary, by Burns; and Guidelines and Games for Teaching Efficient Braille Reading, by Olson.

Communication Skills for Visually Impaired Learners, by Harley, Truan, & Sanford. Information not only about braille instruction, but other communication skills as well, and information about students with low vision.

Charles C Thomas
2600 South First Street
Springfield, IL 62704

Providing Quality Instruction in Braille Literacy Skills, by Koenig and Farrenkopf. Companion guide to Routman's Invitations, gives strategies for teaching braille in a whole language classroom environment.

Region IV Education Service Center
7145 Tidwell
Houston, Texas 77092
Telephone: 713-744-6368

The Braille Enthusiast's Dictionary, by Koenig and Holbrook. Indispensable resource that shows simulated braille for contracted braille words, and syllable divisions.

SCALARS Publishing
P.O. Box 382834
Germantown, TN 38183
Telephone: 901-737-0001

Twin Vision Dictionary of Braille Problem Words. Similar to the Enthusiast's Dictionary, shows word contracted and then spelled out, in embossed braille.

American Action Fund for Blind Children and Adults
18440 Oxnard Street
Tarzana, CA 91356

The Bridge to Braille, by Castellano and Kosman. Designed for parents and regular classroom teachers.

National Organization of Parents of Blind Children
National Federation of the Blind
1800 Johnson Street
Baltimore, MD 21230

Classroom Collaborations, by Hudson. Information about working with classroom teachers and instructional assistants, and inservice training ideas for braille and for orientation and mobility.

Perkins School for the Blind
175 North Beacon Street
Watertown, MA 02172
Telephone: 617-924-3434

Publications from the Texas School for the Blind and Visually Impaired. A wide variety of curricula, assessment materials, resource books, videos, and other great materials. Request a catalog by writing to: TSBVI
1100 West 45th Street
Austin, TX 78756-3494
Telephone: 512-454-8631.
URL: http://www.tsbvi.edu
And don't forget!
The National Literacy Center, American Foundation for the Blind. DOTS for Braille Literacy newsletter, resource sheets, etc. National Literacy Program
American Foundation for the Blind
100 Peachtree Street
Atlanta, GA 30303
Telephone: 404-525-2303
E-Mail: literacy@afb.net
Next
Refreshing Braille Skills