If you live independently, or even if you strive to be more independent, one of your most frequent purchases will be groceries. Though some small local stores still take and deliver phone orders, these mom-and-pop grocers are rapidly being replaced by large superstores from national chains such as Safeway and Kroger. Happily, it is still possible to have your groceries delivered. With Web and mobile technology, it's even possible to shop for meat, fruits, vegetables, and produce from the comfort of your own home.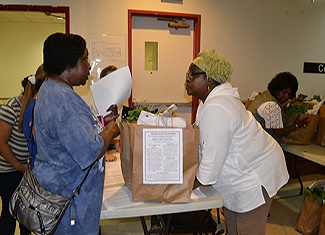 Online Grocery Shopping
Many supermarkets are beginning to offer at least some ability to order groceries online. Some chains, such as Safeway, pair online ordering with delivery, and usually require a minimum purchase and the payment of a small delivery fee. Others, such as Kroger, allow you to order groceries online, but you have to pick them up. Of course even this can help you shop independently, since you will not need to arrange a shopper to accompany you up and down store aisles finding the items on your shopping list. You can have your entire list bagged and waiting for you, and pick the order up yourself.
Even if you need a friend or personal assistant to make the pickup, you'll be saving time by ordering online. Also, you are much more likely to find those delicious new grocery items you didn't know were available because a shopping companion cannot read the names of every can and box on every store shelf.
Even Walmart is dipping a toe into the online grocery game. The company currently has pilot programs offering grocery sales and delivery in San Diego and Denver, though there is no word as to when and how fast the service will roll out nationwide. The shopping website is quite accessible, with an "Accessibility" link offering special hotkeys to assist with navigation. Check the website for local availability, or call 800-924-9206.
Online grocery shopping is a rapidly changing business model. Stores that do not offer it now may begin service in a few months. Others that currently require pickup may also soon offer delivery. Even supermarkets that offer these services in large metropolitan areas may not offer the same level of service in small town stores. Your best bet here is to call your favorite store, or do an online search for grocery options in your city.
Unfortunately, your local supermarket's website may not be 100 percent accessible. There may be unlabeled product images, checkout buttons that are hard to locate, or other complications, but with a bit of effort you can usually find your way. Another option is to locate and download the store's mobile app. Most supermarket chains offer mobile apps that will run on your Google Android or Apple smartphone. Visit the iOS App Store or Google Play and search for your favorite grocer's name.
Whether you use the web or an app, you will likely be asked to create an account before you can order groceries. Membership has its privileges. You will likely find a list of weekly specials, or member's only deals you can add to your shopping list, which you can create and edit from a searchable list of the store's entire inventory.
More Grocery Delivery Options
If your local grocery stores do not offer online ordering and delivery, you are not completely out of luck. Below are several other options that either ship nationwide or may deliver to your area.
This national chain delivers a selection of approximately 400 frozen food products, including meals, deserts, and special diet items, directly to your home. Though not perfect, the Schwan's website and mobile apps for iOS and Android are reasonably accessible. You can also place telephone orders at 888-724-9267
This well-known retailer of mail order steaks, burgers, and other beef products offers frequent specials on gift and combo packs. They also offer a selection of chicken and seafood products. Their website is mostly accessible.
Head here if you prefer natural and organic foods and beauty products. They ship via post, so there are no refrigerated or freezer items available. Their website is generally accessible, with the occasional unlabeled product image.
There are too many other online food retailers to list here. Suffice it to say that these days if there is a grocery item or an obscure recipe ingredient you want, you can find it online and have it shipped to your door. Simply enter the name of the product you seek into your browser's search bar and you will likely find multiple sellers. Of course these days the top search listing is likely to lead you to Amazon, an online juggernaut to which we will devote the entire next section of this guide.
Next
Accessible Shopping at Amazon for People with Visual Impairments