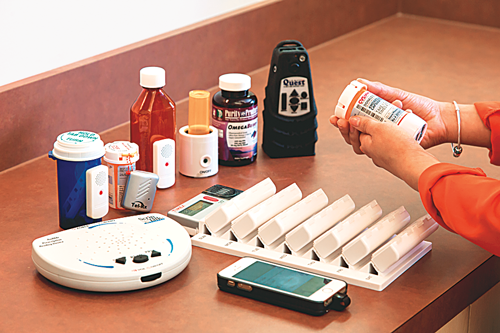 According to the AFB Access to Drug Labels Survey Report, the print-impaired community is particularly at risk for at-home medication errors, such as swallowing the wrong pill, missing a refill date, or ingesting expired medications. Prescription labels contain vital information about our medications and yet because that information is often printed on a rigid, curved surface and usually in very small type, they are among the most inaccessible of documents.
This problem is finally being recognized and addressed. On July 9, 2012, President Obama signed into law the Food and Drug Administration Safety and Innovation Act. Section 904 of the act authorized the US Access Board to convene a stakeholder working group to develop best practices for making information on prescription drug container labels accessible to "people who are blind or visually-impaired or who are elderly." You can read more about legislation for prescription access in the October 2013 issue of AccessWorld. The important takeaway is that today, more and more pharmacies are offering to fill prescriptions in bottles with large print or braille labels, and if you are unable to access either of these formats, there are currently at least two companies offering adaptive prescription label solutions.
ScripTalk
 The ScripTalk Station is a standalone prescription reader produced by En-Vision America, the same company that offers the i.d. mate Quest accessible bar code reader mentioned in Accessible Identification Systems for People Who Are Blind or Visually Impaired.
ScriptTalk uses special talking labels that have the prescription name, dosage instructions, and other label information encoded on Radio Frequency ID (RFID) chips smaller than a grain of rice. Whenever you place a talking label on the ScripTalk Station, the information contained on the label will be spoken aloud. Connect the station to a computer and you can automatically be taken to an accessible website where you will find even more information. You can learn all about how the ScripTalk Station works, and how you can join En-Vision America's Pharmacy Freedom program and get a ScripTalk Station on free, permanent loan by reading An In-Depth Look at the ScripTalk Station from En-Vision America **** in the June 2013 issue of AccessWorld. **** If you use an Android phone that has RFID capabilities, you can also use the ScripTalk mobile app to obtain the same talking prescription information by holding the prescription bottle to the back of your phone. This means you won't have to keep track of an extra device. The latest iPhone models include the needed technology, but at the time of publication, Apple had not yet granted permission for third-party apps to access these features.
Talking Prescription Labels from AccessaMed
The Audio Digital Label from Seattle-based AccessaMed, reviewed in the October 2013 issue of AccessWorld (Accessible Prescriptions: An Update on Legislation and a Review of the Audio Talking Label from AccessaMed), is a chewing-gum-package-shaped device approximately two inches high by an inch wide and a half inch thick. After entering the prescription data into the Audio Digital Label, the pharmacist attaches it to the bottle. You do not need a special device or mobile app to read these labels. Instead, you press the button on the label once to hear the prescription name, dosage, fill date, number of refills, etc. Press the button again anytime during playback to silence the speech.
Both the Audio Digital Label and the ScripTalk Talking Labels are fairly new. Small mom-and-pop pharmacies are not as likely to own the equipment necessary to produce the special labels. If yours does not, consider switching to a large chain or mail order pharmacy.
Next
Accessible Mobile Apps and Talking Devices for Health Monitoring