Authors
Arielle M. Silverman, Ph.D.
Carlie R. Rhoads, Ph.D.
Elizabeth Bolander, B.A. Kelly Bleach, M.S.
Introduction
Over the past century, the guide dog has become recognized as a time-honored travel support for people who are blind or have low vision. For those who choose to use them, guide dogs can offer a blend of independence and companionship. Guide dogs can intelligently detect and avoid obstacles, assist with fluid mobility, and offer well-documented emotional benefits to their handlers.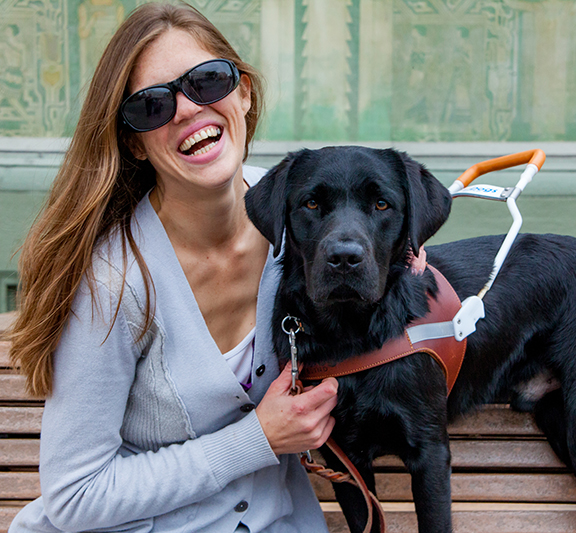 In 2020, Guide Dogs for the Blind (GDB) and the American Foundation for the Blind (AFB) began a two-year research collaboration to generate a better understanding of the current guide dog use landscape in the United States and Canada. The research addressed four major questions:
What benefits do guide dogs offer their handlers?

What recent trends impact guide dog travel in the United States and Canada?

Why do some people choose not to use a guide dog for all or part of their adult lives?

How can guide dog schools improve outreach to prospective guide dog users?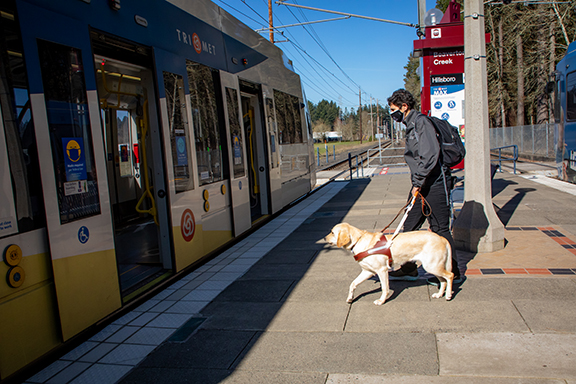 AFB completed three major research activities to investigate the questions above:
A review of both the historical and current scholarly literature surrounding guide dog use;

A survey assessing the attitudes about guide dogs of 533 adults who are blind or have low vision, including both guide dog users and nonusers; and

Interviews and focus groups with a total of 75 individuals, including current and former guide dog users; guide dog school staff, orientation and mobility (O&M) instructors, cane users, and individuals with low vision who do not use mobility aids. Table 1 lists the number of participants from each group.
Table 1: Participation Description (n=75)
| Type of Participant | Number |
| --- | --- |
| GDB graduates | 16 |
| GDB staff | 9 |
| Staff from other GD schools | 5 |
| Diverse GD users across U.S. and Canada | 29 |
| Cane users | 8 |
| O&M instructors | 6 |
| LV using no mobility aid | 2 |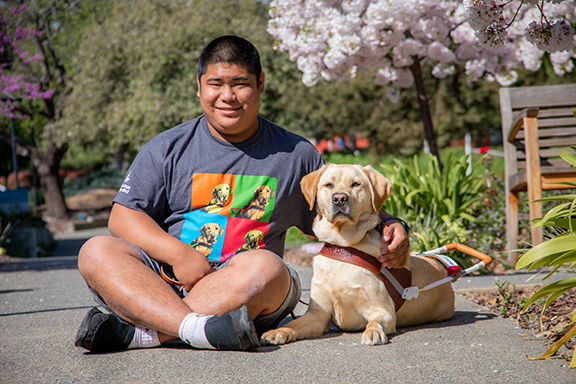 Overall, the findings reveal that guide dogs continue to be an invaluable travel tool for some individuals who are blind or who have low vision. Many factors determine an individual's choice and ability to use a guide dog, which can differ across an individual's adult life. Some of these factors are changing as the overall landscape of travel, and the demographics of the blind and low-vision population, change over time. Recent patterns such as the increase in telework, rideshare usage, and attempts to curtail fake service animals have impacted the contemporary landscape of guide dog usage. The findings lead to important recommendations for guide dog schools, O&M instructors, and policymakers to implement in order to optimize independent travel options for all blind and low-vision individuals.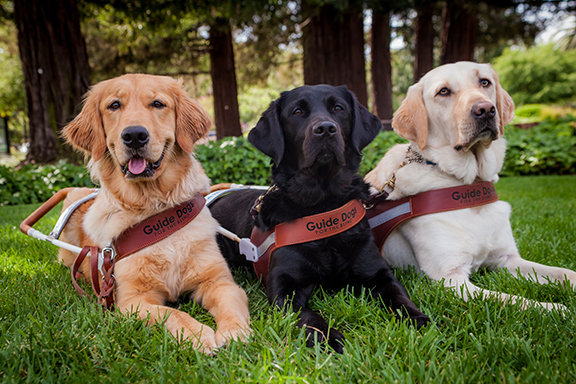 Next
COVID-19 and Adults Who Are Blind, Have Low Vision, or Are Deafblind