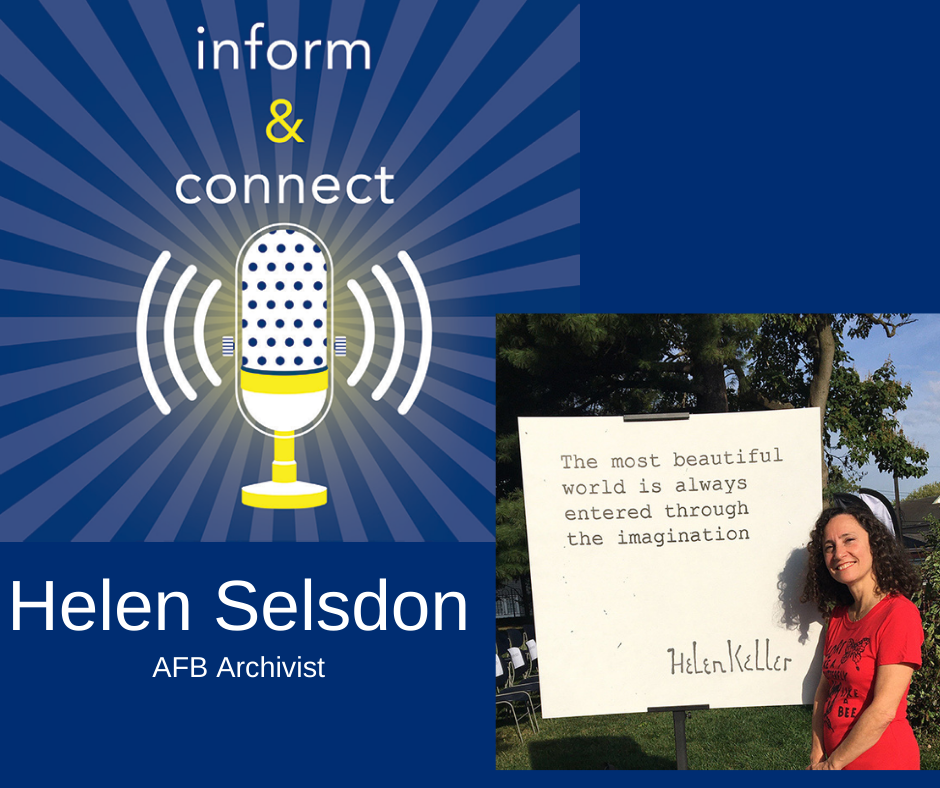 On this episode of Inform & Connect, Melody speaks with Helen Selsdon, who manages the Helen Keller Archive and serves as a grant writer and spokesperson for AFB's historical collections.
Helen will discuss the enormous project that was the digitization of the Helen Keller Archival Collection – the world's largest repository of letters, speeches, press clippings, scrapbooks, photographs, architectural drawings, artifacts and audio-video materials relating to Helen Keller.
"While Helen Keller was a fascinating historical figure, most people don't realize just what a rich life she led, and what a mark she left upon the world," said Melody Goodspeed, AFB Major Gifts Specialist. "Helen Selsdon will help set the record straight while also discussing the little-known aspects of how digital archives are created and used."
Transcript
Melody: So much fun to hang out with. I know we're going to have a blast and I can't wait for us to talk about everything we need to talk about today. So here's our lovely Helen Selsdon. How are you Helen?
Helen: I am very well Melody. Thank you.
Melody: I'm so glad. So Helen, we're going to talk about a lot of stuff today, but really it's going to be featured around Helen Keller which everybody, she has two beautiful posters from what I understand of Helen Keller behind her, but we want to talk about how Helen here, brought all of this to be what we believe to be the first ever fully accessible digital archive. So Helen, can you tell us a little bit about you, how long you've been at AFB and walk us through this?
Helen: Yeah, absolutely. I'd love to. I have been an archivist since 1988, and I've been at AFB since 2002. So this is easily the longest archival gig I've ever had. I want to dive straight into what is contained in the archival collection itself, because many people might not even know what it is.
Melody: Right, exactly.
Helen: There are over 80,000 items in the physical archive, and right now the digital archive contains of over 186,000 digital images. It's the single largest repository of materials by about Helen. For those who don't know, Helen was born in 1880 and she died in 1968. Every aspect of her long rich life is documented in the collection. She worked in the disability field, but as some of you might know, and you certainly will after you look to the archive, she was also active in women's rights, and she fought for the rights of workers, and essentially the marginalized. Everybody who's anybody in the late 19th century, to the middle of the 20th century is in the collection.
We've got at least seven U.S. Presidents. We've got writers such as John Steinbeck, we've got actors such as Laurence Olivier, we've got famous capitalists from Andrew Carnegie and the Rockefeller's to famous anarchists like Emma Goldman. She knew everybody, and actually what's also wonderful, the archive is packed with letters from regular citizens from around the globe who loved her and corresponded with her. So it's a massive archive. And it's not just reflective of Helen's life, it sheds light on disability history as a whole of the late 19th and early 20th centuries, so it's extremely important. It's a bunch of formats. We've got correspondence, speeches, press ratings, scrapbooks, photographs, photographic albums, architectural drawings, audio recordings, and artifacts. But this particular audience, I'm going to just describe the materials about legislation that are in the archive. Helen crisscrossed the U.S. from the 1920s to the 1940s, demanding that provisions be made for people who are blind at this time.
But when she started state commissions for the blind weren't even around. So she was instrumental in going to state legislatures, and demanding state commissions for the blind be created. We forget actually how far we've come, how much we've got to do, but actually how far we've come. And of course I can't help but resist mentioning one piece of legislation, that brought in funding for the creation of talking books and talking book machines. AFB pioneered the talking book in the 1930s. And of course there's correspondence with Franklin Delano Roosevelt. Helen had a direct access to power. If she wanted something, she literally just wrote to these leaders and demanded these things. And she often got them. She was actually unstoppable and she leveraged her power. Can I talk about what the digitalization process is Melody? What it involves?
Melody: Of course. Yes, please.
Helen: Digitalization means photographing material, capturing it and disseminating it. And when I say disseminating, I mean, taking all that information in the image, the date, who's in it, the subject, everything in it, which is commonly called metadata, and making it accessible via our website.
Melody: So Helen really quick. When you say accessible, there is one thing I want to point out to people that I knew guys, she just taught me, which I love. Helen here had 18 people test us all the way from what'd you say, grandfathers to ten-year-old kids, just to make sure that usability.
Helen: Normally, apparently I've discovered there are four to five usability testers, when you, when you create a website. We had 18 and courtesy of Liz Neal who interviewed, and did one-on-one interviews with each of those usability testers and they use their own computer devices, so she could ask questions, gauging how well or how hard it was, for them to use the site. And what was fascinating to us, we discovered that many people didn't even know what archive is. So talk about which one, Liz is asking all these questions and we have all these like, can you use the browse function? Can you use the search function? And it's like, but what is an archive? We learned so much from the usability testing and that's just one aspect of things. Should I keep going?
Melody: Keep going. I just want [inaudible].
Helen: Can I tell you what I discovered in doing this project? Multiple things, but very importantly, the importance of a really good team. It sounds so obvious, but people involved in this project, AFB staff who were experts in accessibility. We used software designers in New Zealand, Stefan in Veridian, they were experts in creating archival collections and putting newspaper collections on online. And then of course, there's Hudson Archival, our digitization vendor, in upstate New York run by the formidable Toya Dubin. At one point I counted 60 people actively working on this project, many of whom were volunteers. And talking about volunteers, when you see an item, when you see an image, okay, on the screen, if you can't see you can't read it, we just like stands to reason. Right?
Melody: Right.

Helen: What if there's a photograph on the screen, right? It has to be described. So in March 2018, we amongst other things, we went on idealist.org, we requested volunteers to help us transcribe handwritten materials. Let me backtrack a bit. We use something called optical character recognition, which can read computer words and spit them out as text. But there's tons of stuff, that's handwritten. So we needed people to help us to transcribe these materials. So back again, in March 2018, we now have over 40 volunteers, each one was individually taught. We created a standards document so that everyone wasn't going off Willy-nilly and doing their own thing. So the transcription in the boxes on the screen are consistent. The people transcribe consistently.

Melody: That's amazing.

Helen: That's a massive, massive effort. There were tens of thousands of pieces of transcription now.

Melody: So grateful for people's time and doing that to be able to deliver this amazing product.

Helen: I have to say, because Liz Neal is on the line…

Melody: …And she's one of our AFB staff, everyone.

Helen: She is the queen of accessibility in my eyes. She has told us again and again, you have to make all your websites accessible. And for us, let me sort of backtrack again. Most collections, if you can't see you can't access them, you just can't use them. What we've done is pioneering. I don't think there's any well we know, there's nothing else like it on the planet period. Where those who are blind, deaf, deaf-blind, and hearing impaired, and could use the archive. Because what we did, we coded it on the backend.

You have to properly label HTML, everything has to have good bones as Liz Neal would say, also, when you can see, we have little buttons on the screen that you use your mouse to click on to say, zoom in zoom out, all those things are keyboard accessible. So all that went into making the collection accessible and that took months and months and months. And we really want others to use this digital archive and to follow our example, it is a beacon on the Hill, but we wanted to make others make their beacons on the Hill, right? There is no point us doing this if others do it as well. So anyway, I hope I explained accessibility well enough. And if I didn't, you got to chime in at the end.

Melody: Well, I think you did a wonderful job. And as a blind user, I mean, I have really gotten lost in this archive because it's just so beautiful. And to have that accessibility, and to understand what you've done is really, it's given me a lot of peace, and the times we're facing now, I mean, you talked about the pioneering that went on with this, like AFB is totally built off of, Helen's, her strategic plan is built off of her. And I think we've led by example. Well, you guys have by creating this beautiful archive. I want to talk about education for just a little bit, Helen. Can you tell us about the education piece that, can be used for teachers and the curriculum and that thing that we also built in.

Helen: Absolutely. Early in 2019 before the pandemic, we began creating lesson plans for students. But lessons use the digital archive to teach about Helen, but also to learn how to navigate primary and secondary sources. We went into a local public school in Brooklyn, we met with the teachers and we asked them what they want, and they told us interestingly, that many kids actually don't know how to do basic search. They don't know how to use an archive. So three lessons, the first one is introduction to digital physical archives, the second one is primary and secondary sources, and the third one is called votes for women, a voice for all Helen Keller suffragists, because last year it was the ratification. That was the Centennial of the ratification of the 19th amendment giving women the right to vote Helen was a huge suffragist. So we have awesome material, that I recommend everybody go and look at on what she said and the teams, about demanding the right to vote for women.

Helen: So these lesson plans are very, very important and think about it. It's a strange coincidence that these were created just as the pandemic was getting going, and remote distance learning materials are needed. So this is wonderful to teach kids via the internet if they can't physically go into schools, or more importantly, kids with disabilities can access their own history and shape that history and roll with it. But what is the point of all collections of making a Helen Keller digital archive, especially if the next generation can't benefit from it, is that making sense?

Melody: I completely agree. Yes.

Helen: I'm super proud of the lesson plans because, I was very very happy I was obviously delighted, that we made...that we created the digital archive, but for me, I've always wanted to focus on kids and the next generation. And how do you, I want my historians to use it, I want my scholars to use it, I want my filmmakers to use it, but I really, really want this to be used in classrooms around the country if not the world. And now is as good a time, certainly a fantastic time to do that.

Melody: Yes. Probably before we go any minute, one thing I want to put on is to talk a little bit about Helen. You know, I love how you said that because this is how we are the future and into education. She's so relevant now, can you talk to us a little bit about how relevant she is and timeless to what we're facing now? I don't think people really...we all see her as a miracle worker, but we know her as we both have called her the Trojan horse. Can we talk a little bit about that?

Helen: I'm going to give an example of the Trojan horse, Helen Keller. Helen Keller traveled to 39 countries around the globe. In many of those countries, she would show up at this point, this is in the forties and fifties. She was in her sixties and seventies. People did not think this beautiful older lady, had the power that she worked and she really did. Her schedules were packed. She would go to museums, she would meet with government officials, she would say, "you have a beautiful country, your culture is amazing, I'm loving what you're doing but...BUT you are not helping people who are blind in your communities." And in fact I have letters back from these places, such as Lebanon in 1952, wonderful letter explaining that because of Helen's appearance in Lebanon (I think it's Beirut), a school for blind kids was started, because she showed up there and demanded it and pushed for it.

They didn't expect this sweet old lady to come in and start telling them that they should do better, but she really did. And this is how work as a disability activist that she worked for AFB from 1924 till she died in 68, before that in the teens, she was demanding women's suffrage, a fair wage for workers. She has correspondence with the National Association for the Advancement of Colored People (the NAACP) and the American Civil Liberties Union (the ACLU) in the collection. She understood, the civil rights are basic, basic rights, period. And she fought for those things from the get go. And I think, what I find hardest of all is to change perceptions.

You can give people technology, you can give people this physical and this, but to change the thinking to make people less prejudiced, is something that is so hard. And I do believe that this digital archive can do that. We could see what she did, we can see what she did in tandem with others. This isn't just an AFB affair. When you look at AFB's at the digital archive, we worked with APH, we work with RNIB, we worked with CNIB, we worked around the globe with our blinders partners and sisters around the globe, brothers and sisters. And I think it's important to look back, to know how to move things forward. I really do.

Melody: Yes. One of my favorite quotes is that, when she talks about history is taught you nothing, if you think you can kill ideas. And there's more of that quote, but she's so true I mean, it is. And she looked at the world. Another one that a friend of mine reminds me of is that she looked at the world as the world was her child. You and I always talk about like, what went on with her. And I love how she strategically have these partnerships, she had people buy it because in today's world, in 2021, there are things that we're all advocating for and that we're moving forward and we've done, but we have so much more to go.

Helen: But she's been that and done it. I've been recently reading the annual reports. I have these annual reports and it's fascinating to me how broad AFB's reach was. How strategic we were in using Helen. She was less the surveys, less the doing actual research that AFB did. She was in front of politicians. She was in front of people who could change the agenda. She was I mean, absolutely, she asked for money from FDR, she got that money. She was instrumental in getting people with vision loss to be able to work in stands, it's actually in the post office, they were given a special ruling that they could sell newspapers, which sounds a bit strange. But they were the only group by the way, any group that I know of with a disability that were allowed to run stands in federal buildings, in post offices. And she did that. And what we forget as well, it's hard work.

It's often not glamorous, it's day in, day out, chipping away at things, we got to see the complete arc, not just a little piece of it, and you can really see the details in the digital archive. And I want everybody to go and look at it. So it's, afb.org/HelenKellerArchive. So please do go and look at it.

Melody: Yes. You guys, please do, because I know for myself, we are embarking on many things here at AFB, happy centennial and we're celebrating a hundred year, go in there, write us, tell us when you go in and do afb.org/HelenKellerArchive, there is the form. Tell us what you think of it. What you think, your experience, what you've learned, because you're going to see. Before we get into questions and answers—this went by so fast, Helen, you're just always amazing talking.

Melody: We all need a little Helen Selsdon in our lives every day, but I love it. Because you're so passionate about what you do, what you believe, and I just wanted to ask one question, when you move in and we think about what you were saying, chipping away at it. It's hard work, it's tedious, it's exhausting. I think a lot of us, I myself used to look at Helen Keller as so unobtainable. But as I read through the archive, I find, we all have a bit of Helen Keller and it's no matter our situation.

Helen: That's true. We can, we can take a portion. And also Helen wrote quite rightly, I don't think you can take gigantic steps. She wrote that. We all take small steps to get to where we want to get to. It's not easy. It's not easy.

Melody: No, I agree. And I think she celebrated each win, and I think we all need to do that. I know there's going to be a ton of questions here, Helen. Thank you so much. I can't believe it's already 4:20. Gosh, you're so awesome. Thank you so much, I'm sending you a virtual hug, my friend. John, how's it going out there in the chat?

John:

Yes. Well, so far we have a comment. I'm going to read this comment to the audience and to you and Helen. This is from a gentleman called Clarke Reynolds. Hi everyone, my name is Clarke. I'm from the UK and I'm a braille artist. I would love to transcribe Helen's letters and my unique color-coded braille, so people can learn braille and learn about Helen in an artist's way.

Helen: Awesome.

Melody: Thanks Clarke. We're so happy you came.

Helen: We'll swap emails. Is that good? We can do that?

Melody: Yes, I will introduce you to Clarke.

Helen: That's wonderful!

John: Okay. So Melody, you will connect Helen and Clarke following this episode. Thank you for the comment Clarke. Here is an impossible question. Helen, do you have a favorite item in the archive?

Helen: That is an impossible question. Do you know what, actually one did come to mind, W.E.`B Du Bois his book, and I might be saying it incorrectly Du Bois, Darkwater. In the first page he had, he's an African-American civil rights leader, and the first page he's inscribed it. And I'm going to paraphrase that, I think it's 1921, 1923. "I have known you unknown for many days." In other words, he has been an admirer of Helen Keller's for many, many years. That book that just makes my heart sing. So it's just a great thing. So that's one of my favorites, but there were so many others. There are so many others.

John: Thank you for that. And again, afb.org/HelenKellerArchive. Okay. Here's another one. Diane Fazzi. "Hi Helen? Thank you for your work and passion to share with the work of Helen Keller. What advice do you think she would give AFB and the profession if she were here today?"

Melody: That's a good one.

Helen: Wow. Can I speak off the cuff here?

Melody: Yes.

Helen: Okay. She had such incredible access to power. We need to have more direct access to people so that we could affect greater change. And I would love maybe today we were, we are still incredible organization. We were absolutely blindness period in America for decades. There are many, many blindness organizations today. How about we all maybe meet and come together and forge a path ahead. Kirk is going to be like, "Oh, no!" Love capstones on this, because I'm sure you'll actually have a far better answer than I do. But anyway, that's my humble answer is how do we reach the powers that be, in a time when there are so many blindness organizations?

John: Well, thank you for that. I'm going to jump into a question submitted in advance. What was this project like assembling this massive digital archive? Did it change you as a person? Did it change the way you view technology and assistive technology?

Helen: I think it made me realize the barriers in technology that remain actually. I can't say really changed me as a person rather than made me more aware of the blind community, of what it is to be blind and really how, if you can't see and your website isn't accessible, if your cell phone is not accessible, you're locked out. It's not one thing of course it's not right, and it's also not necessary. We can make things better. I think people aren't making things better. So I absolutely realize the huge, huge importance of making all the websites accessible for people who are blind and visually impaired.

Melody: Thanks Helen.

John: Thank you for that. Here's one, a little bit more current events-focused. There were headlines recently around an absurd idea, that it was impossible for Helen Keller as a deafblind woman, to have written 14 books and achieved all that she did. How can we help parents and educators respond to false information like this?

Helen: I think disseminate that information even more, make sure we get these lesson plans and the digital archive into curriculum, into general's curriculum. By the way, I'm very pleased because Oh, I should backtrack. None of this was possible without the National Endowment for the Humanities. I should say that right off the bat.

This has been a very expensive project, they'd given us over $614,000 in funding, we are supremely grateful. Entitled we've raised about a million dollars for this project, we keep having to move it forward. Getting the word out there, there is the education arm of the NEH, the makes curricular cool, it's called excitement. And we are going to try and get these lesson plans. We're going to get these lesson plans on their website, so the kids around the nation and indeed around the globe, can access this. I'm not scratching the issue, and education is key, it is the most powerful weapon in our arsenal and as is the digital archive. So it really is to keep getting the word out there. There's only so much you can do to disabuse people of false notions, but we have to keep fighting against that. We just have to keep doing it.

Melody: I agree. John, I think we have time for one more?

John: Squeeze in one more. It's about 4:30 on the nose, the Helen Keller Archive, Helen, an ongoing project, what's next? What else is there to do?

Helen: Well, I have a plan and I know we all have a plan. I really want to create a disability history consortium. I don't want us to be the only people in it using, creating an accessible archive. I want other blinders organizations with archival collections, Perkins, Hadley, Harmon has collections about those with disabilities. I want others to join in, so that we can create a far larger group of collections that can be used by people with disabilities, and those without. Remember when you make your archive accessible, you're also making it easier to use the people who can't see and can't hear. So everybody benefits. So I want money to make a disability history consortium. And in fact, what was wonderful Melody, recently you had a lady called Mary Dolan from FDR Memorial Legacy Committee. So I had a wonderful chat with her, and so we are going to put our heads together to see how we could partner with other organizations to make proposals for grants, to move ahead and create a disability history consortium, because I think it's the way to go. It really is.

Melody: I couldn't agree more. And I think that's a fine example of how AFB is very much with our brothers and sisters and partners, looking at different ways to build. Helen, I want to give this audience some homework, and I think that's an easy assignment, and I want to see what you think about it and I'm going to do it myself.

Melody: We all have the power to share, and we all have the power to educate, especially with the controversy that came up about how Helen could do this. Here, we have this beautiful, fully accessible archive at AFB. My challenge to everyone is to share it with 10 people that you know, and go through and come back with us to your responses. And let's all build it together because as we say, our logo for our hundredth anniversary which is this year is, "Inclusion Knows No Limits." And I can't think of a better person to have today to kick us off in this new year then you Helen, to talk about what is truly possible when you have inclusion, and helping us build education, because education is power. It really is, and Helen knew that to Helen Keller.

Helen: Absolutely.

Melody: Thank you guys so much. And listen to everybody. Please do visit again. It's afb.org/HelenKellerArchive, and check out all the fun we're going to have coming up this year with our Centennial, and remember we're better together in creating a life of no limits together as a team. So everybody have a great rest of your day. I cannot wait to see you in two weeks, and have a great one, have a wonderful, wonderful rest of your week.

Helen: Thank you.