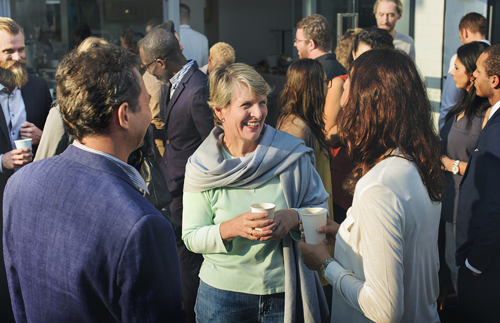 To address the goals of the 21st Century Agenda on Aging and Vision Loss outlined below, AFB staff helped to facilitate the goal teams. We formed a steering committee made up of champions to manage goals. The steering committee met quarterly to discuss measurable objectives each goal group developed and goal committees met regularly to discuss updates and accomplishments for the activities each goal group has been assigned. All members convened at a special session during the AFB Leadership Conference.
Goal One: Funding for Services
Activities: This group advocates for additional funding for the Older Individuals who are Blind program via meetings with their Members of Congress.
Goal Two: Ensuring Availability and Quality of Professional Services
Activities: The Goal Two group explores issues that affect the availability and quality of professional services, including the current pay scale, need training for qualified staff, scholarships to attract new professionals, training for occupational therapists who provide specialized services, identifying and implementing best practices, and improving the curriculum on aging and vision loss.
Goal Three: Collaboration Across Service Delivery Systems
Activities: The Goal Three group identified ways to collaborate across the spectrum of service delivery systems to maximize resources for tackling critical needs (e.g., transportation, employment, living skills).
Goal Four: Funding for Low Vision Devices
Activities: Goal Four welcomed the introduction of H.R. 2050, a bill to provide for a Medicare demonstration project to evaluate the fiscal impact of covering low vision devices as durable medical equipment under part B of the Medicare program, and worked toward the passage of this important legislation for all people with low vision, especially seniors. The American Council of the Blind is leading the advocacy for this Medicare bill.
Next
2015 White House Conference on Aging