The Library of Congress Hires the American Foundation for the Blind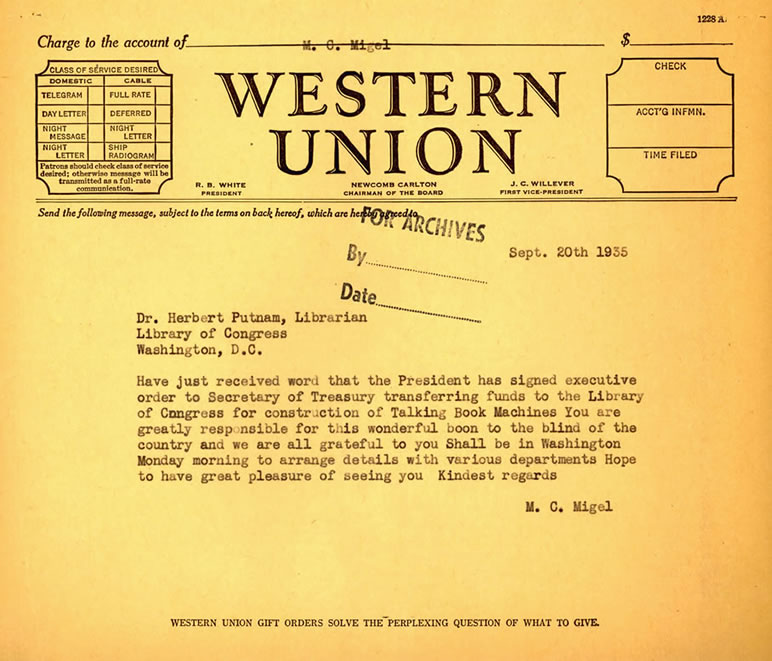 Telegram from M. C. Migel, AFB President to Herbert Putnam, Librarian of Congress, September 20, 1935. Talking Book Archives, American Foundation for the Blind
---
On September 20th 1935, the day after Franklin D. Roosevelt authorized the appropriation to construct Talking Book machines as a WPA project, AFB President M. C. Migel sent a telegram (displayed on this page) to the Librarian of Congress Herbert Putnam. In it, he heartily thanked him for his support for a project that would be run by the American Foundation for the Blind, on behalf of the Library of Congress.
...Have just received word that the President has signed executive order to Secretary of Treasury transferring funds to the Library of Congress for construction of Talking Book Machines. You are greatly responsible for this wonderful boon to the blind of the country and we are all grateful to you ...
---
Full Text of Telegram
[Transcriber's notes: A printed WESTERN UNION telegram form circa the 1930s. Across the top is printed: "Charge to the account of" with "M.C. Migel" typed into the blank.
To the left is a table labeled "CLASS OF SERVICE DESIRED". To the right is a table labeled "Check", "Accounting Information" and "Time Filed"
"WESTERN UNION" in a large font is centered between the two tables.
An archival stamp "For ARCHIVES" with lines for "By_______ " and Date _____" underneath, is stamped on the center of the document. Blanks are not filled in.
In small italic print, above the telegram message, is printed: "Send the following message, subject to the terms on back hereof, which are hereby agreed to"]
Sept. 20th 1935
Dr. Herbert Putnam, Librarian
Library of Congress
Washington, D.C.
Have just received word that the President has signed executive order to Secretary of Treasury transferring funds to the Library of Congress for construction of Talking Book Machines You are greatly responsible for this wonderful boon to the blind of the country and we are all grateful to you Shall be in Washington Monday morning to arrange details with various departments Hope to have great pleasure of seeing you Kindest regards
M.C. Migel
[Transcriber's note: At the bottom is printed: "WESTERN UNION GIFT ORDERS SOLVE THE PERPLEXING PROBLEM OF WHAT TO GIVE."]
Next
Recording Technology Moves On