This is the main house on the Keller family's Ivy Green estate. This picture shows a one-story house surrounded by big, round shrubs and tall, leafy trees. It is a sunny day, but the house is in the shade of all the plants. The house has white wood shingles and lots of windows with dark shutters.
Helen Keller was born in a small town called Tuscumbia, Alabama, on an estate called Ivy Green. Her birthday was June 27, 1880, and her parents were Kate Adams Keller and Colonel Arthur Keller. Theirs was a house full of words; Helen's dad was the editor of the local paper, The North Alabamian. But silence fell on this house in February 1882 when 19-month-old Helen became extremely ill and lost her ability to hear and see.
---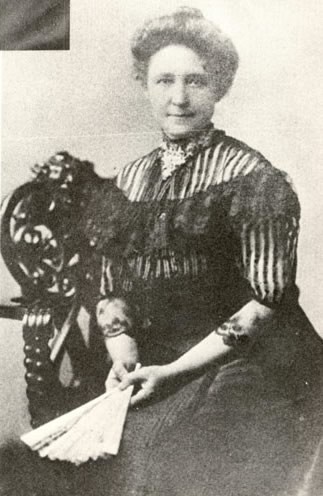 Helen's mother, Kate Adams Keller, is sitting sideways on a fancy, carved wooden chair. She is holding a white fan and wearing a Victorian-style dress that has a high collar and long sleeves. The top of the dress is striped and has a lace ruffle that dips around her shoulders. The bottom of the dress is dark and goes from way above her waist to past her knees.
Learning was tough for Helen. Because of her deafness and blindness, no one could get through to her, and she could not communicate with others. Basic rules and lessons made no sense to her, and she was called a "wild child." Then, in 1886, her mom heard about the Perkins School for the Blind in Boston from Alexander Graham Bell, inventor of the telephone. Helen reminded Bell of another girl named Laura Bridgman, who was deaf and blind. Kate wrote to the head of the Perkins School to ask for a teacher for Helen and they sent their star student, Anne Sullivan. The day she arrived—March 3, 1887—Helen's life changed.
---

This picture of Anne was taken when she was about 21. She is shown in profile, like a face on a coin. Her hair is very curly. She has short bangs and the rest of her hair is twisted up into a long bun at the back of her head. She is wearing a white, delicately embroidered top that has small buttons up the front and a low, round collar.
Anne Sullivan was born on April 14, 1866, in Agawam, Massachusetts. Her family had very little money and could not take care of her. When she was 10 years old she was sent to live in a home for poor people. Anne also had very poor vision. At the age of 14, she was sent to the Perkins School for the Blind to receive training to be a teacher for children who were blind.
---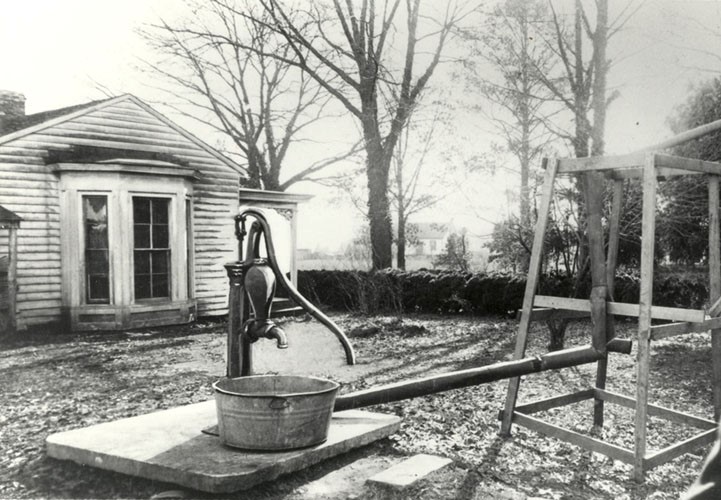 This photo shows the famous water pump where Helen learned the meaning of words. The pump is in the yard next to the Keller's guest house, where Helen was born. The yard is framed by bushes and trees—it is probably autumn, because there are leaves on the ground. The metal pump has a long, curved handle and the spout is positioned to empty into a wide metal pail. A long metal pipe goes from the pump past the edge of the picture. Behind the pump is a house with three side windows and a front porch.
Anne had to figure out a way to make Helen understand words and their meaning. She began to teach Helen letters, by signing them into her palm. Then just one month later, everything clicked. Anne held Helen's hand under a pump while signing W-A-T-E-R into her palm. Helen's whole face lit up. The word came to life, in one moment. That day, she learned 30 words.
---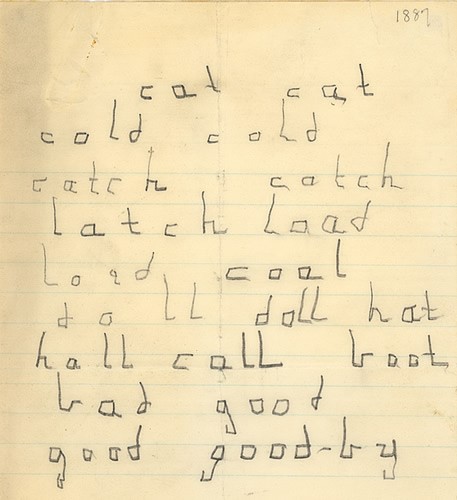 This is a piece of Helen's early writing, completed seven days before she turned seven (the page is dated June 20th, 1887). The page is lined, like a sheet in a notebook, and has words like cold, catch, latch, load, lord, coal, doll, hat, bad, and good-by. In Helen's handwriting, many round letters look square, but you can easily read everything.
Now Helen was too busy to be wild, and her brainpower shone through. Quickly, she learned words and then sentences. Soon she was able to communicate by signing the manual alphabet. But Helen wasn't satisfied with signing alone. She wanted to learn to write. In addition to learning to write in braille, Helen placed a ruler on the page as a guide and drew very square block letters.
---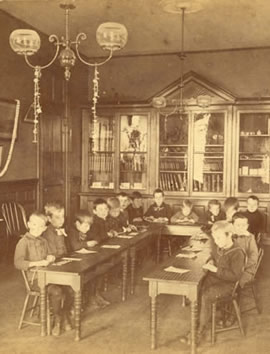 This picture shows 14 students from the boys' kindergarten class at the Perkins School for the Blind in Massachusetts. They're at a group of tables pushed into a U shape, working on a craft project. They are wearing either Victorian blazers and neckties or sailor suits, and they all have on lace-up boots. The classroom looks like a dining room, except there are paper chains and mobiles hanging from the light fixtures. There is no blackboard or teacher's desk. Instead, there are wooden and glass bookcases, framed pictures on the wall, and plants that they can touch.
In 1888, Helen left home for the first time. She and Anne attended the Perkins School for the Blind as a guest of the director, Michael Anagnos. Helen became an overnight celebrity. However, her friendship with Anagnos suffered when she was accused of plagiarism (which means copying someone else's writing and calling it your own). Helen had written a story entitled "The Frost King" for Anagnos's birthday. It was a lot like a story Helen had heard once, long before, and perhaps she remembered parts of it without realizing it. Some people said Helen's writing was just too good for someone who couldn't see or hear nature with her own eyes and ears.
---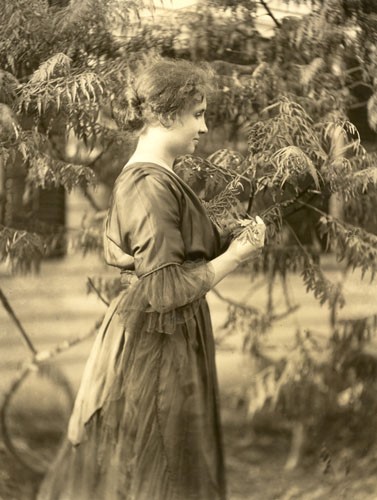 Helen is standing outside on a sunny day, touching the leaves of a tree. This picture was taken around 1914, when she was in her early thirties. Her hair is in a loose bun at the back of her head, and she is wearing a long, dark dress that has a layered skirt with a high waist. The sleeves of the dress are opaque down to the elbow, then turn into small ruffles made of transparent fabric.
But Helen had spent most of her childhood outside! Anne had taught Helen many things outside of the classroom. She taught her to touch, smell, and experience nature. She wanted Helen to be curious, ask questions, and to discover the world around her. And, for the rest of her life, Helen loved to smell and touch flowers, to feel the wind on her face...she was curious about everything!