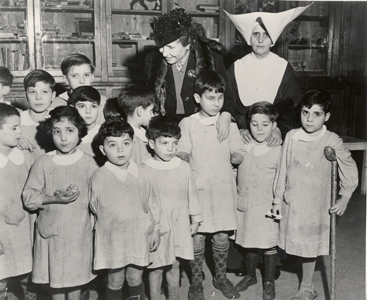 Taken in Rome, Italy, this photo shows Helen with a nun and twelve young children from the Institution for the Blind. The photo was taken in 1946. Many of the children have amputated limbs and are wearing worn, stained clothing. The nun is facing the camera, wearing a traditional outfit called a habit. Her large white headdress, called a coif, has pointed sides that tilt up like the wings of a bird about to fly. Helen is leaning over, talking to one of the smallest children.
Try naming 39 countries—that's how many nations Helen and Polly visited! This world tour was funded largely by the American Foundation for the Overseas Blind (now called Helen Keller Worldwide). Everywhere she went, Helen was greeted by throngs of children, as well as famous personalities such as the British leader Winston Churchill and the Indian Premier Jawaharlal Nehru. Centers were established in her name in countries such as India, the Soviet Union, and Egypt.
---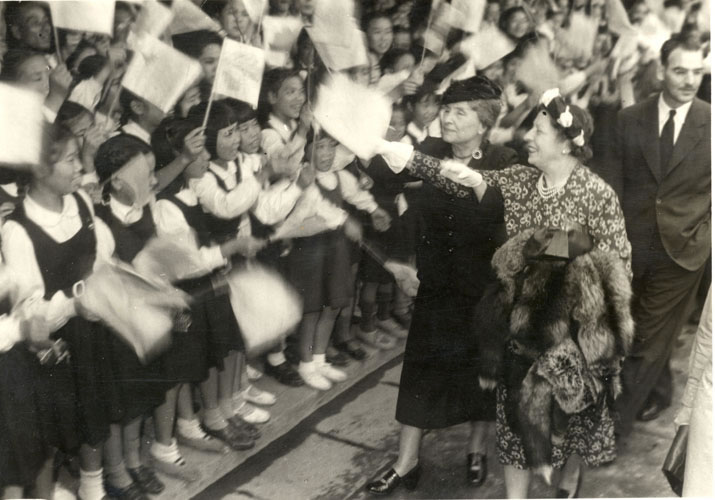 A group of schoolchildren in Kobe, Japan wave white flags with messages of welcome for Helen and Polly, who are visiting in 1948. The children have on school uniforms, white shirts with dark shorts or skirts. Helen is wearing a long, dark dress and hat; Polly is wearing a long, flower-print dress. Both women are wearing white gloves.
After World War II, Helen and Polly went to Europe and Asia to show support for war veterans abroad. This film footage is from their 1948 trip to Japan. They visited Hiroshima and Nagasaki to experience firsthand the aftermath of the only atomic bombs ever dropped.
---

This photograph from Durban, South Africa shows Zulu dancers saying good-bye to Helen, who is smiling from the backseat of a Dodge sedan. The dancers stand to the right of the car, dressed in animal skins and holding ceremonial sticks and shields. In fact, they gave one of their shields to Helen, as a farewell gift! This picture was taken in 1952.
Helen received incredible gifts on her travels around the globe—the Queen of Jordan once gave her a wooden box that was packed with candy! She also received this beautiful shield from Zulus in South Africa. In fact her entire house—which was called Arcan Ridge, in Westport, CT—was filled with gifts and souvenirs from her travels. Today those objects can be seen at the AFB headquarters in New York City.
---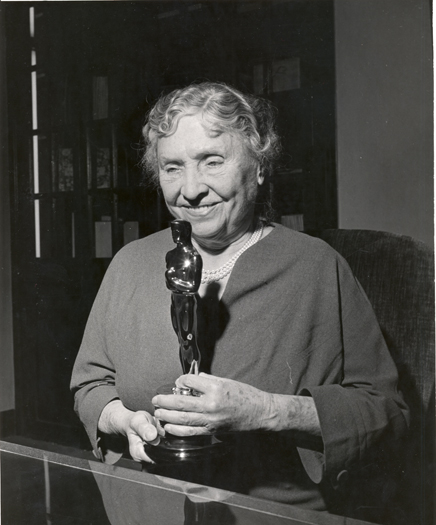 Helen is at a podium, beaming, with her Academy Award. She has on a dark, simple dress and a pearl necklace. Her hair is tied back, with a few small curls around her forehead. The space around her body is dark, as if she is standing in a spotlight.
Helen's life has been the subject of movies, books, and plays for many decades. In 1955, Helen received an Academy Award for the documentary about her life, Helen Keller in Her Story (originally called The Unconquered). In 1959, Anne Bancroft and Patty Duke starred in the Broadway play The Miracle Worker. The play, written by William Gibson, was based on Anne's earliest efforts to teach Helen how to communicate. Three years later, Anne Bancroft and Patty Duke starred in a movie version of the play. Both women won Academy Awards for their performances.
---

This image, taken from a film, shows Helen standing next to opera singer Gladys Swarthout to feel the sound vibrations from her lips. Helen is in profile, wearing a long dark dress and a big dark hat. She is biting her lips, deep in concentration. The singer has her mouth open and is facing the camera, singing with her hands in her pockets. She has short curly hair and is wearing a black short-sleeved shirt and pants. The photo is not dated.
Helen loved all aspects of life, not just the political and social causes she fought for. She enjoyed good food and wine, and she appreciated beautiful things. Helen had very keen senses, including an extraordinary sense of touch.
---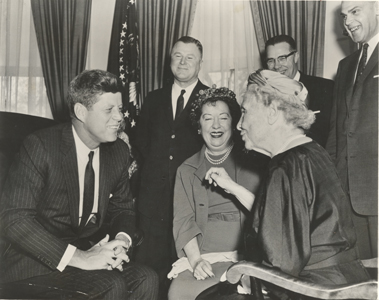 This photograph from 1961 shows Helen visiting President John F. Kennedy in the White House. The two are seated with Helen's secretary Evelyn D. Seide; a few Presidential aides are standing nearby. Everyone is smiling, including Helen, who is explaining something to the President.
When Helen was seven years old, she was introduced to President Grover Cleveland. Cleveland was just one of many presidents that Helen met in her lifetime. This picture shows her meeting President John F. Kennedy in 1961. She received letters from eight U.S. presidents—from Theodore Roosevelt in 1903 to Lyndon B. Johnson in 1965. Her fame resulted in many awards in her lifetime, including the French Legion of Honor and the U.S. Presidential Medal of Freedom.
---

This extreme close-up, from 1959, shows Helen with a gigantic smile. Radiant at 78 years old, Helen has a few soft curls around her face and is wearing a simple dark dress and a pearl necklace.
Helen was a very spiritual woman. She believed that everyone from all races and cultures deserved the same rights. After Polly's death in 1961, Helen lived quietly at Arcan Ridge. She died in her sleep in 1968.
If you would like to learn more about Helen Keller's life, try the [following books](](https://next.afb.org/node/16247), as well as Helen's own writings.