Celebrating the Bicentennial of Louis Braille's Birth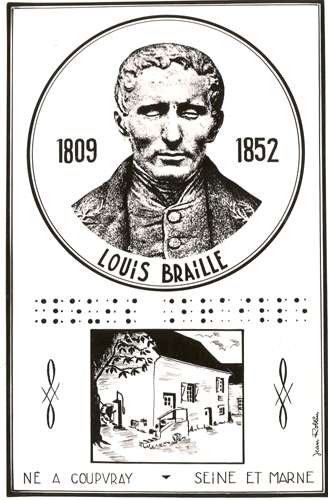 Postcard with drawing by Jean Roblin. The postcard, viewed vertically, is in two main sections—the upper portion has a medallion containing the head and shoulders of Louis. Louis' eyes appear closed. Coat lapels and a button-down waistcoat are visible. The dates 1809 and 1852 are written on either side of the bust and his name is written in the lower portion of the medallion.
In the middle of the postcard the words Louis Braille are written in braille.
At the bottom of the postcard are the words Ne a Coupvray. Seine et Marne [Born in Coupvray. Seine and Marne]. No date.
---
The Louis Braille Museum illustrates the life and legacy of the creator of the braille code—a system of raised dots representing letters, numbers, and punctuation which revolutionized the way blind people read and write.
Using photographs, engravings, and illustrations from books preserved in the American Foundation for the Blind's Archives and Rare Book Collection, the museum traces Louis Braille's life from his childhood in Coupvray, through his student years in Paris, to his invention of the braille code, and the recognition of its importance throughout the world.
Next
AFB Talking Book Exhibit