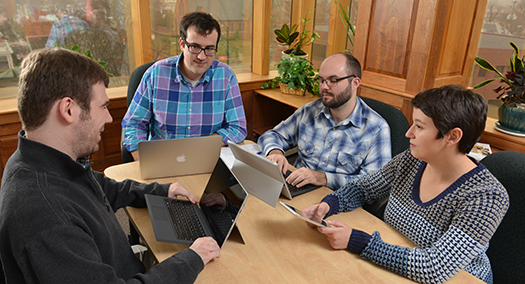 Helping organizations with their disability-inclusion challenges and needs for over 15 years
As part of the American Foundation for the Blind (AFB), a national organization with nearly a century of experience in setting standards and achieving milestones to improve the quality of life for people with vision loss, AFB Consulting is uniquely positioned to help your organization better serve existing clients and employees or reach out to new markets via universal accessibility.
Who We Are
AFB Consulting was founded in 2003 to help organizations and partners advance their accessibility and disability-inclusion goals.
AFB Consulting has completed over 500 projects and works with a regular customer base of 20 organizations across the retail, telecommunications, finance, education, and technology industries.
Learn more about AFB Consulting by reviewing our case studies, staff bios, and our blog covering innovations and best practices.
How We Can Help You
AFB Consulting offers a variety of services that address tactical, strategic, and programmatic needs to help organizations reshape their culture to promote disability inclusion, including:
Digital accessibility conformance reviews and remediation against WCAG 2.0, WCAG 2.1, Section 508, the 21st CVAA, UAAG, and more
Product/technology testing for accessibility and usability, including appliances, home electronics, and more
Accessibility and inclusion training (both general and role-based; includes a nine-course curriculum)
Employment solutions, including talent placement, recruitment, and employee accommodations
Disability-Inclusion/Accessibility program development/roadmap development
Governance/policy review and development services
Research Services to help your organization answer questions and find solutions to disability inclusion barriers
For a full list and explanation of our solutions, please review our Services and Solutions List.
Contact Us
For questions or to discuss AFB's services in more detail, please contact Tanner Gers, Business Development Lead, AFB Consulting at:
Next
AFB's Public Policy and Research Institute