If you lose vision gradually, you may go from reading glasses to prescription lenses, from large print books to hand-held magnifying glasses. Eventually, however, many reach the point where not even a strong magnifying glass will make text large enough to read.  And if your blindness is sudden you may go from reading perfectly fine to not reading at all without the intervening steps. 
Whether you lose your sight gradually or all of a sudden, you will be shocked by how much your daily life can be impacted by the inability to read.  From scanning the morning mail to kicking back with the latest best-selling thriller, it's true what they say:  Reading is fundamental.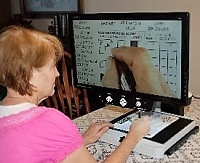 These days a growing percentage of our reading involves electronic documents, e-mail, word processing files, web pages and the like. If you've read our guides on Using a Computer or mobile technology, you already know that it's not only possible, but a rather simple matter to access most electronic documents using either a computer or a smartphone equipped with a screen reader. 
Of course this still leaves a lot of reading for work, pleasure, or just to get through the day. Learning braille and becoming proficient can take years, and at best only a portion of your daily text reading can be requested in this format. Once again, technology steps up to provide critical accessibility to the printed material we need to live a productive and enjoyable life. Many of these solutions involve accessible computers, but these days, as the world goes increasingly mobile, you will likely find the best solutions on a smartphone or one of the special purpose accessible media players we will describe later in this guide.
Feature phones do not provide access for reading, so if you would like to use mobile technology for reading, it's best to switch to a smartphone or tablet running Google Android or Apple iOS, which both include built-in touchscreen readers. If you are not familiar with how these screen readers work, you can get introduced through the guide on mobile technology for people with visual impairments.
By the time you complete this guide you will doubtless agree that today, rare is the printed text that cannot somehow be made accessible to people with visual impairments.