Governess Wanted in Alabama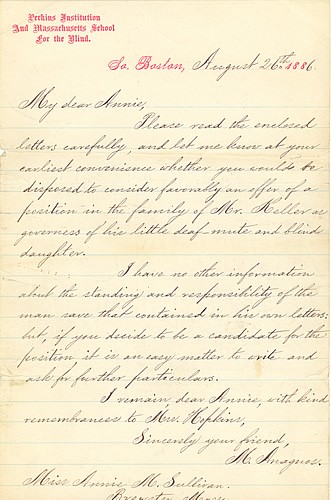 Letter from Michael Anagnos, Director of the Perkins School for the Blind, written to Anne Sullivan, offering her the position of governess with the Keller family, August 1886
---
In August of 1886, Michael Anagnos, Director of the Perkins School for the Blind, asked his star pupil, Anne, if she was interested in working for the Keller family in Tuscumbia, Alabama. He told her that their six-year-old daughter, Helen, had been deaf and blind since the age of 19 months because of a severe illness.
Since that time the baby had grown into a wild and increasingly uncontrollable child. The parents, Kate and Arthur Keller, had contacted the famous inventor and educator of the deaf, Alexander Graham Bell in Washington, D.C., for help. He, in turn, had put them in touch with the Perkins School for the Blind.
---
Full Transcript of Letter
Perkins Institution and Massachusetts School for the Blind.
So. Boston, August 26th 1886.
My dear Annie,
Please read the enclosed letters carefully, and let me know at your earliest convenience whether you would be disposed to consider favorably an offer of a position in the family of Mr. Keller as governess of his little deaf-mute and blind daughter.
I have no other information about the standing and responsibility of the man save that contained in his own letters: but, if you decide to be a candidate for the position, it is an easy matter to write and ask for further particulars.
I remain, dear Annie, with kind remembrances to Mrs. Hopkins,
Sincerely your friend,
M. Anagnos.
Next
The House in Wrentham, Massachusetts (1904-1917)