Irish Immigrants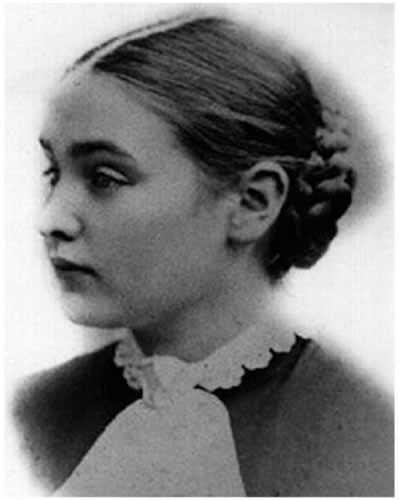 This three-quarter profile of Anne's head and shoulders shows her at age 15. Her hair is parted in the center, pulled back, and braided into a bun at the back of her head. Her dress has a round decorative collar. Circa 1881.
---
Anne Sullivan was the eldest daughter of poor, illiterate, and unskilled Irish immigrants. She was born in Feeding Hills, Massachusetts on April 14, 1866.
Anne was raised in extreme poverty. She was the eldest of five children, only two of whom reached adulthood. Her father, Thomas Sullivan, was an alcoholic and her mother, Alice Chloesy Sullivan, died from tuberculosis when Anne was 9 years old.
When Anne was 7 years old she developed trachoma, a bacterial infection of the eyes. This infection went untreated and affected her vision. She had almost no usable sight until she had an operation at the age of 15, which restored some of her vision, but she remained visually impaired for the rest of her life.
Sullivan's family situation became extremely difficult after the death of her mother in January 1874. At first, Anne's siblings, Mary and Jimmie, were sent to live with their uncle, and Anne remained with her father. During this time, Thomas Sullivan shared stories with Anne about Irish folklore and railed against the injustice of Irish landlords and the British.
This portion of her childhood ended on February 22, 1876, when Jimmie and Anne were sent to the Tewksbury Almshouse, an institution that housed poor and needy people. Anne was just 10 years old at the time.
Their sister Mary was sent to live with an aunt. Jimmie died three months later in the Almshouse, and it appears that Anne never saw Mary again.
Next
Anne as Teacher (1886-1904)