03/26/2020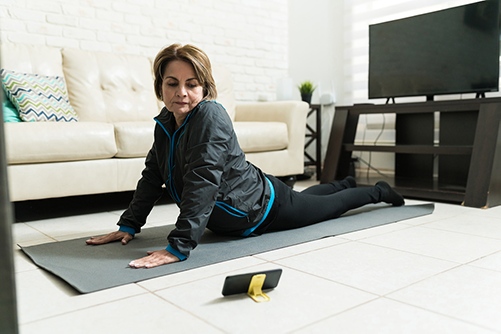 Steve Kelley, AccessWorld Author
On the one hand, we want to stay healthy, and adhere to the suggestions that we limit our exposure to groups of people, and maintain a social distance, in the new world of coronavirus. But with gyms closing down to comply with stay-at-home orders, staying healthy might be looking a little more challenging. What are the options, short of retrofitting our homes with gym equipment?
Audio-described fitness routines might be the answer! The Hadley discussion group, "Get Up and Go," recently had fitness experts Mel Scott and Tyler Merren join in with some of their suggestions on getting started with a fitness routine. Mel Scott produced the audio-described Eyes Free Fitness recordings originally hosted on BlindAlive.com. Although Scott discontinued work on BlindAlive to make room or new projects, in her Goodbye blog post, she provided links to her many fitness routines, to download audio files from Dropbox, at no cost. You'll find routines that match whatever level you're currently at, from beginner to more advanced. You'll also find many of these routines on YouTube under the Eyes Free Fitness Channel.
Tyler Merren, a Paralympic athlete and personal trainer will soon be releasing the Revision Fitness App, an audio fitness app specifically designed for users who are blind or visually impaired. The app will include fitness routines that can be done from home, and also provide information about using gym equipment, proper form, and workout sessions designed for everyone from beginners to advanced. In addition, we recently reviewed the Aaptiv audio fitness app which provides audio only workouts.
If you're wondering how to maintain the progress you've made at the gym, or actually get started on that fitness resolution you committed to, check out the Hadley Get Up and Go archive Audio-Described Exercises with Tyler Merrin and Mel Scott. You can stay motivated and check in with others on the first Tuesday of each month with Get Up and Go by phone or Zoom at 7 PM CSt.
Additional Resources
United States Association of Blind Athletes (USABA) will be posting a series of free "Staying Fit While Staying Put" videos on their Facebook page. They write, "We have recruited several world-class Paralympic athletes to conduct the workout videos to create a sense of community with the blind, as well as show everyone how they can stay fit within the confines of their own homes. Also, every person who shares and/or comments on each video will be entered into a drawing for a $25 Dick's Sporting Goods gift card."
Also, Dr. Sila Bal writes, "When I was in medical school I developed a yoga series with my local chapter of the Associated Services for the Blind. I taught the class there for years and have now converted it to audio files that can be listened to from home. I am making them accessible completely for free for anyone that would like to use them. You can easily access the recordings at www.medicallyinformedyoga.com."