06/04/2019
Last week, we asked you to join us in exploring the Helen Keller Archive and sharing the treasures you found during your online journey. Thanks to all of you who participated in the event! Of course, AFB staff was excited to dig into the digital archive and show a few of the fascinating artifacts their searches uncovered. We hope you enjoy these letters, gifts, and photographs from the fascinating life of Helen Keller.
---
Elizabeth: I love this photo of Helen Keller sitting and reading braille in the garden with her collie dog standing next to her.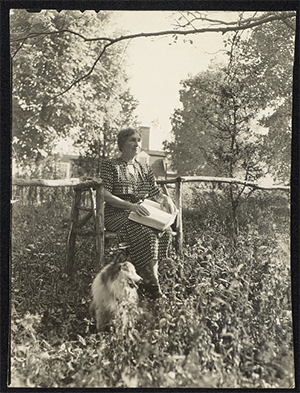 In this photograph (circa 1946), Helen sits in the garden of her Arcan Ridge home in Westport, Connecticut. She is reading a book in braille as she sits on a rudimentary log bench that continues with a log railing on either side. Her collie dog stands in the thick undergrowth that is all around them. Her home is visible behind her. She wears a short-sleeve dress, fitted at the waist and is calf-length. The dress has a choker V-neck and is dark with a light polka dot design.
---
Lisa: This is my all-time favorite photograph of Helen Keller. I am fortunate to have a print version of this picture hanging in my office.
Circa 1925, Helen Keller stands, possibly in the photographer's studio, with a dog (possibly Sieglinde) seated on the ground in front of her. She is seen looking slightly downwards and is holding a book which is open to the viewer. She is wearing a shimmery, patterned, full-length dress that is loose and has small cap-sleeves and a boat neck. The dog is looking up at Helen Keller. A circular bas-relief with a profile of Homer is on the wall to Keller's left, a chair is also just visible in the image.
---
John: I'd known from Helen Selsdon (archivist for AFB since 2002) that Helen Keller liked whiskey, but apparently she was a fan of the Old Fashioned cocktail in particular: This telegram is from Nancy Hamilton in Massachusetts to Helen in New York City with birthday wishes June 27, 1947.
"Please tell Polly to give you an extra old fashioned today for me as you are my favorite birthday girl. Love, Nancy"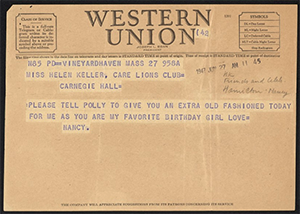 ---
Elizabeth: Though written over 100 years ago, Helen's thoughts on optimism might well resonate today. This excerpt is from Helen's speech "Facing the Future" in which she praises idealism as a necessary creative force.
"Of course we cannot look far into the future. But events are happening so fast, we wonder each day with a thrill and a shudder what the morrow will bring forth... In the midst of all this change, confusion, unrest the future will find us, and it will be well for us if we can face it with strong hearts and prepared souls. Unfortunately, we have not enough of the creative force needed to shape our future. This force is— idealism. By idealism I do not mean to look up at the stars and stub one's toe on the curbstone. ...I mean something very real indeed. We should look right out at the unhappy facts about us, then knock them down, think how to build up beautiful, happy facts in their place, and keep working until we live them over in our environment."
---
Jeremy: Helen's impact reached far beyond the United States. She traveled to 39 countries as an advocate and global goodwill ambassador. She met and corresponded with many of the leading figures of her time.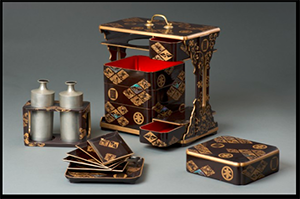 This photograph is of a red and black lacquer New Year's luncheon set that was given to Helen as a gift from Kazuo Honma, founder of the Japanese Braille Library. The main box is in black lacquer with gold symbols and carved abalone inlays, all set in carrying stand with brass top handle. Six drawers (boxes), one with cover, one medium size tray, five small ones, removable flask holder, pair of pewter cylinder flasks with top handles inlaid with red glass. Interior of drawers in red lacquer.
---
Kelly: When I was visiting Bok Tower in Florida this winter, I learned that they were friends with Helen and supporters of AFB. Edward Bok was publisher of the Ladies Home Journal and Helen wrote several articles for them. It was funny reading letters between an editor there and John Macy negotiating payment for her work; at one point he said to Macy, "I hope that you will tell me that you mentioned five thousand dollars just in fun."
---
Amanda: I love this holiday card she received from Indira Gandhi showing two little boys with their pet tiger and dog! If you do a search for "Indira" in the archive, you will see another card with the same boys riding camels. I need to up my holiday card photo game!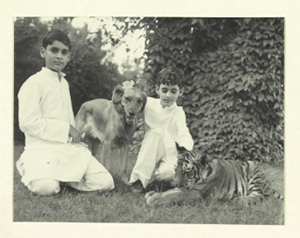 Accompanying card reads, "Miss Helen Keller
Miss Thomson
ALL GOOD WISHES FOR THE NEW YEAR
Indira Gandhi
DELHI 1956"
---
Thanks to a National Endowment for the Humanities (NEH) grant, and generous funding from American Express, AFB is proud to the have the first digital collection made fully accessible to blind, deaf, deafblind, sighted and hearing audiences alike. But the continual costs of digitizing this huge collection are substantial. Please consider supporting the archive and share in the opportunity to preserve priceless materials for generations to come.