02/06/2020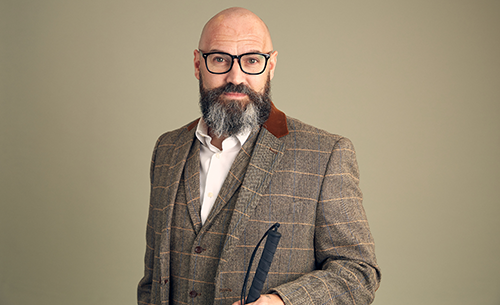 The American Foundation for the Blind is proud to announce that Dave Steele, known as "The Blind Poet," will be emceeing the 24th Annual Helen Keller Achievement Awards on March 25 at the Crystal Gateway Marriott in Arlington, Virginia. The award recipients are the American Printing House for the Blind, P&G, and Dr. Chieko Asakawa.
Steele is an award-winning poet, author, public speaker, singer, and advocate for the blind. Diagnosed with retinitis pigmentosa (RP) in 2014, his eye condition left him severely sight impaired.
Facing emotional and financial difficulties with the diagnosis, Steele turned to social media for support. He was struck by the numerous misconceptions and stories of injustice by so many blind or visually impaired people all over the world. When a member of one of these online groups learned of Steele's singing background, he was invited to perform at a meeting for those living with RP and Usher Syndrome. The experience inspired Steele's "Stand By Me RP" song, taking the classic Ben E. King tune and altering the lyrics to relate to how he felt losing his own sight to RP.
In 2015, Steele created his own "Stand By Me RP" Facebook page, which has since become one of the largest social media RP groups in the world. As his eyesight continued to decline, the words did not stop flowing, and he began writing two to three poems per day. Part creative genius, part therapy, Steele's writing became a catalyst for helping others and himself through RP.
Steele's first book, Stand By Me RP Volume I, was released in February 2016—on the same day he received the call that he had been matched with his guide dog, Christopher. During its first week in publication, Stand By Me RP Volume I became the number 1 poetic release in both the United States and Australia. He released his second book, Stand By Me RP Volume II, in February 2017, and it became the number 1 poetry release in Europe within its first day. In February 2018, his third book, Stand By Me RP Volume III, was released, completing his trilogy.
Steele has been featured in the short film "Blindsighted" by Cambridge University. He has appeared on a special called "The Blind Poet" for RNIB radio, BBC TV, ITV and That's Manchester TV news. His advocacy work continues to be recognized both locally and internationally. In 2018, Steele was honored by Henshaws, a British charity supporting people living with sight loss and a range of other disabilities, with the "Impact Award" and was the recipient of the Pride of Bury "Community Hero Award." He currently serves as a local ambassador for Henshaws and as a global ambassador for Two Blind Brothers.
Steele's legion of followers greatly identifies with his poetic realism. With over 700 poems and songs dealing with the fears and struggles associated with sight loss, his work is helping to diminish many of the misconceptions associated with blindness. Steele's mission through his poetic verse is "to help those who are being isolated by a condition that strips us of our independence, let them know that they aren't alone, and help educate loved ones on how we feel."
Read more about The Blind Poet Dave Steele on his website.
The Helen Keller Achievement Awards were established by AFB in 1994 to acknowledge Keller's extraordinary efforts and to promote the notable achievements of individuals and organizations that are leaders in improving the lives of people with disabilities.