05/16/2013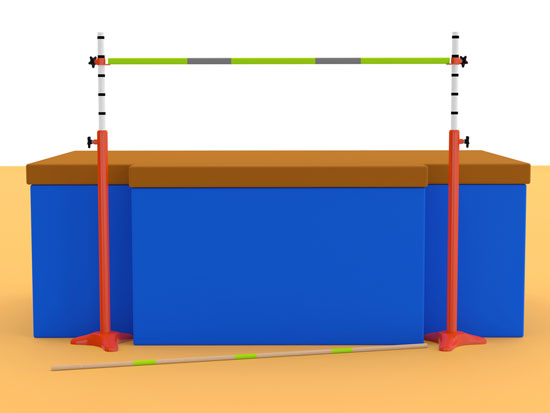 You may have caught the recent New York Times about Charlotte Brown and Aria Ottmueller, two high school track athletes with visual impairments. They are not being publicized for competing against other athletes with vision loss, but against their sighted peers. These athletes are examples of the roads being paved in the United States for persons with disabilities. Many could not imagine athletes with limited sight competing and succeeding in the pole vault or high jump, yet they are doing it.
Programs like Camp Abilities from Dr. Lauren Lieberman, an AFB Access Award winner and author, have created opportunities for athletes with vision loss to build their confidence and learn about participating in sports. Camp Abilities pushes teens who are blind or visually impaired to get active and create their own opportunities through athletics. The United States Association for Blind Athletes (USABA) is another organization encouraging, supporting, and recognizing athletes who are blind or visually impaired. USABA-sponsored sports have made a difference in my life—I was encouraged to play Goalball, a Paralympic sport, while living in Florida. I loved participating, competing and being active with a team. I was legally blind at age 19, and Goalball gave me the confidence to become more active in sports. It brought back that competitive feeling that I missed. We all should have the opportunity to use our skills, especially in our youth. These students are competing in mainstream sports in the public schools. We need to be encouraging more youth with visual impairments, blindness, and disabilities to be active.
Physical Education and Sports for People with Visual Impairments and Deafblindness: Foundations of Instruction, co-authored by Dr. Lieberman along with Paul E. Ponchillia and Susan V. Ponchillia, Ed.D., is a great resource for general and special education teachers who want a guide on including students with visual impairments in a physical education setting. This is quite close to my heart, as my introduction to our field was as a teacher's assistant in physical education and adapted physical education at a school for emotional and behavioral special education. Yes, I was legally blind by this time, and I loved the work. I had the opportunity to work with a whole range of students. Dr. Lieberman's book is an amazing resource, and I have read it. I just wish I'd had this resource back in the day!
Read more about Charlotte Brown and her advice for other students who are blind or visually impaired in the "Our Stories" section of CareerConnect. Charlotte is also featured on the FamilyConnect blog.
High jump equipment image courtesy of Shutterstock.