01/22/2019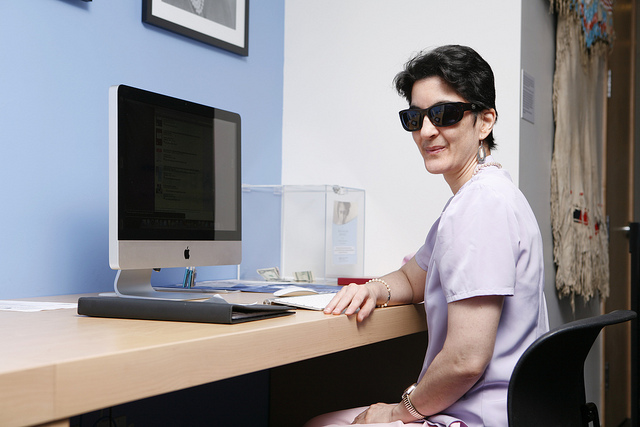 The National Research and Training Center (NRTC) on Blindness and Low Vision at Mississippi State University will hold a State of the Science (SOS) research conference on employment throughout the AFB Leadership Conference. Sessions are sponsored by the NRTC, through funding from the National Institute on Disability, Independent Living, and Rehabilitation Research (grant #90RT5040).
The SOS Conference is an excellent opportunity for professionals to learn about the latest research and products available to help individuals who are blind or visually impaired obtain employment. Sessions in the SOS Conference begin with the code letters "EM" for employment. The NRTC is offering continuing education credit through ACVREP and CRCC for AFBLC's aging and vision loss and EM tracks. The full conference program is now available online.
Thursday
EM12: What We Know About Job Retention and Career Advancement; Presenters: Adele Crudden, Anne Steverson, and Ashley Townsend. If you have a significant vision loss, how likely are you to keep working? Learn about the factors and services that influence job retention and career advancement among employed VR applicants and how state agencies are addressing these issues.
EM22: An Experiment to Evaluate Approaches to a First Meeting Between a VR Professional and Employer; Presenters: Michele C. McDonnall, Karla Antonelli, Bobby Druesedow, and Rebecca Soto. Can meeting with an employer really help people who are blind or visually impaired become employed? We will present the results of a study that evaluated two different approaches to a meeting with an employer and the impact of vision status on employer attitudes toward, knowledge about, and intent to hire.
EM32: A Job Search Intervention for Youth with Visual Impairments: Results and Trainer Perspectives; Presenters: Jennifer L. Cmar and Michele C. McDonnall. Working for pay during high school predicts future employment for youth with visual impairments, especially for youth who find their own jobs. Learn about a job search intervention for youth with visual impairments that aims to enhance knowledge, skills, and confidence in independent job-seeking.
EM42: 4to24: Development of an App to Help Parents and Youth Focus on Employment; Presenters: Karla Antonelli, Jennifer L. Cmar, and Anne Steverson. For families of children with visual impairment or dual sensory impairment, information and resources about navigating the path to independence and employment as an adult can be a lifeline. To help fill this need, a new app is being created for parents and youth to help prepare these youth for employment.
Friday
EM52: Employment for Youth Who Are Blind and Deaf-Blind: Key Predictors and Current Status; Presenters: Stephen Lipscomb, Michele C. McDonnall, and Jennifer Cmar. We will discuss predictors of post-high school employment for youth who are blind or visually impaired and for youth who are deaf-blind.
EM62: Effectiveness of a Business Development Training for Rehabilitation Counselors for the Blind; Presenters: Michele C. McDonnall, Anne Steverson, Sophie Kershaw, and Timothy Jefferson. Working with employers is an important component of the rehabilitation counselors' job, yet many counselors are not comfortable or prepared for this activity. We will discuss the results of a study that evaluated the effectiveness of a business development training for rehabilitation counselors who work with individuals who are blind or visually impaired.
EM72: New and Emerging Technology to Improve Workplace Accessibility; Presenters: Sassy Outwater-Wright, Daniel Frye, and Paul Schroeder. We will discuss new and emerging technologies that can level the playing field for people who are blind or visually impaired in the workplace.
2019 AFB Leadership Conference
Crystal Gateway Marriott, Arlington, VA
February 28-March 1
Older Individuals Who Are Blind Program Managers Meeting - February 27 (Open to all conference attendees, but seating is limited)
Early-bird rate until February 1: $399
Rate after February 1: $449 (includes on-site registrations)
Register online
To learn about sponsorship opportunities: 2019 Sponsorship menu
And don't forget—we'll kick things off on February 27 with the 2019 Helen Keller Achievement Awards Gala! This black-tie event was established by AFB in 1994 to acknowledge Keller's extraordinary efforts and to promote the notable achievements of individuals and organizations that have improved the quality of life for people with disabilities. The gala, which will be emceed by athlete, adventurer, and author Erik Weihenmayer, includes a cocktail hour, silent auction, and formal dinner. The 2019 award recipients are Amazon, Northrop Grumman, and Washington State Lt. Gov. Cyrus Habib. Tickets for this special event must be purchased separately. Please visit our site to purchase individual tickets, tables, or event sponsorships.