03/11/2014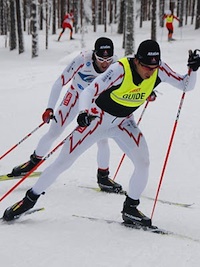 A blind skier and his guide
Hello everyone,
Since it's Winter Olympics time again, I figured I would do a follow-up to my previous blog post that I had written about my skiing experiences as a blind person.
I wanted to give you all an update, and share some more adaptations, ones that proved extremely useful during my recent ski trips. For example, I utilized my accessible GPS software's "breadcrumb" and "point of interest" features to map out the trails; I have used Mobile Geo and the Trekker Breeze. This technology allowed me to create my own unique landmarks that alerted me to the upcoming terrain changes, such as "steep hill 200 feet ahead," "vertical drop-off on the right in 80 feet," and "sharp curve to the right in 100 feet." With this adaptation, I was able to ski trails alone, without the typical sighted guide who would have been responsible for verbalizing this crucial, visual information.
Also, I experimented with one of the ultrasound mobility devices, the Miniguide, which alerts the visually impaired user of obstacles via sound or vibration, to see how well it recognizes trees and other obstacles commonly found on trails. I found it most beneficial for locating large obstacles from a distance. I'm still planning on testing it some more, seeing if I can "fine tune" it, discovering other creative uses for it. (If you wish to learn more about these products, visit AFB's Product Database.)
Besides skiing, many other recreational activities are just as simple to make accessible. Consider snowshoeing, tubing/sledding, ice fishing, or even spending the day teaching your kids how to build a snowman. I'd love to hear about other visually impaired people's experiences participating in any of these activities. Please share them by replying to this post. Give us the scoop on your latest winter adventure, share adaptations for making sports accessible to people with vision loss, or ask any question related to this topic.
In conclusion, live life to the fullest! There are so many winter-weather recreational opportunities for you to choose from. Invite your family and neighbors over to enjoy the snow in your backyard, attend a trip with your local ski club, or venture out solo.
Recommended Sports and Recreation Resources for People Who Are Blind or Visually Impaired