09/06/2012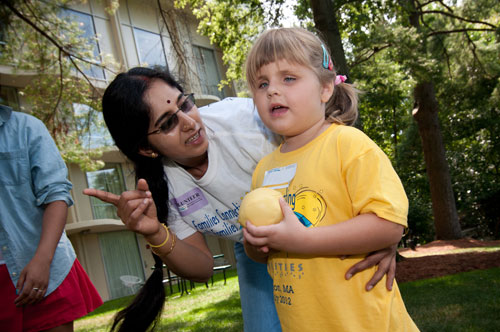 [Editor's Note: The following post is authored by Dr. Lauren Lieberman. Dr. Lieberman is a graduate of Oregon State in the Movement Studies in Disabilities Program, and is currently a Distinguished Service Professor at SUNY Brockport in the area of Adapted Physical Education. Dr. Lieberman is the founder of Camp Abilities, a developmental sports camp for children with visual impairments. She is also co-author of the upcoming AFB Press book Physical Education and Sports for People with Visual Impairments and Deafblindness: Foundations of Instruction.]
With the Paralympics nearing its conclusion in London, it's a fitting time to examine an often-overlooked issue: the role of physical education and recreational sports for children who are blind or visually impaired. As most great athletes will testify, dedication to the sport generally begins at an early age.
Participation in the Paralympics gives athletes opportunities to compete at the highest level in their sport, travel, meet people from all over the world who love the same sports, and become role models for younger children with similar disabilities. Training for the Paralympics gives the athletes goals, a sense of purpose and an experience they can cherish for the rest of their lives.
Getting involved in the Paralympics does not happen overnight. Athletes must first be exposed to a variety of sports to determine what they like and excel in most. This must happen in physical education, in the child's neighborhood, or in a summer sports camp with a methodical and developmental approach. Some sports, like skiing, track and field, soccer, swimming and biking, may be done on teams after school against able-bodied peers. Other sports, like Judo, goalball, power-lifting, and ten-pin bowling, must be enjoyed in clubs, at camps or in local practices and with teams. Either way, skill development and practice leading to improved performance must be done on a continuous basis throughout the year.
However, for individuals with visual impairments, ongoing participation in physical education has too often been limited at best. To help close this gap, a new book I co-authored, along with Paul E. Ponchillia and Susan V. Ponchillia, will soon be available through AFB Press.
Physical Education and Sports for People with Visual Impairments and Deafblindness: Foundations of Instruction is a practical and essential manual and reference for physical education teachers, adapted physical education specialists, teachers of students with visual impairments, orientation and mobility specialists, occupational and recreational therapists, and anyone interested in sports and recreation for individuals who are visually impaired or deafblind. Because physical activity is a necessity for everyone.
To learn more about sports in the Paralympics you can also visit the United States Association for Blind Athletes web site at www.usaba.org.