10/01/2020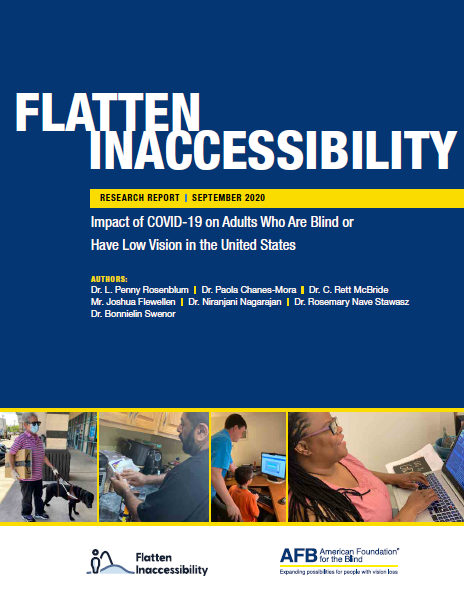 AFB is immensely proud to release the report on the findings of the Flatten Inaccessibility Study. Almost two thousand people took part in the study, sharing how the coronavirus pandemic has affected them and highlighting how community decisions have in many cases erected barriers to independence and equal access for those who are blind or have low vision.
This report is a tool not only for organizations to advocate nationally for dismantling barriers and creating opportunities, but it also is a tool for you, as an individual, to advocate locally and raise awareness about your own needs in your community from your perspective as an individual with a vision loss.
With that goal in mind, here are a few ways that you can use this report to create a world of no limits for yourself and others who are visually impaired:
1. Use social media and other networks to share the report along with your own story. This report puts data behind a common story of how people who are blind or have low vision have faced more barriers during this pandemic than prior to it. You can use this report and your voice to raise awareness about your experiences and rights as a person with a disability. The more people who hear our perspectives, the more likely everyone is to consider people who are blind or have low vision when making decisions about public programs and products, such as how to design a restaurant takeout experience, whether to offer walk-up COVID-19 testing, or how to design websites that are accessible to people who use screen reader or screen magnification technology.
Share posts: AFB will be tweeting and posting on Facebook and LinkedIn with findings that we think are important. You can retweet or share and add your perspective. Use #FlattenInaccessibility to join the conversation.
Write your own posts: Tell your story, then link to the report (www.afb.org/FlattenInaccessibility) and use the hashtag #FlattenInaccessibility so that your post becomes part of the larger conversation.
Use the statistics in the report to support your story. The Executive Summary includes some statistical highlights. You can also link to individual sections of the report that are important to your point.
Consider making your posts public, so others can learn about your experiences and develop a deeper understanding of the challenges you experience as a person who is visually impaired.
If you don't use social media, you can still share the report with your friends and family by email or in a conversation.
And remember, your personal story is the hook that makes others read your post and open up the report. The report then amplifies your voice.
2. Write to your newspaper. Letters to the editor are a great way to raise awareness about issues in your community beyond your personal network. You can address the barriers that impact you in your community and cite the report's recommendations to highlight potential solutions to the problems you experience. You can use the report to illustrate to readers that you aren't the only person facing barriers as a result of a vision loss. Usually you can contact your local paper or visit their website to find specific instructions about writing a letter to the editor.
3. Write to your elected officials to let them know about barriers in your community and the change you want to see. Tailor your message to the right official. You might reach out to your city council member, a local board of education representative, a state legislator, or a member of Congress. Each official has different issues or regions within their jurisdiction.
At AFB, we are bringing the issues identified by the 1,921 participants in the Flatten Inaccessibility study to the attention of federal policymakers, but by and large, our lawmakers have been slow to respond. Yet, did you know that there are hundreds of thousands of elected officials in the United States? Each one of them would benefit from hearing your voice. If everyone reading this blog post reached out to even a few public officials in their communities, we'd make a huge impact!
4. Think about the issues most important to you and reach out to an agency or company that provides that service. For example, if transportation is an area of concern for you, reach out to your local transportation company and inform them about the report. Help them understand why reducing schedules or mandating back door entry to a bus is problematic for those with visual impairments. Highlight the transportation section of the report for them.
Similarly, if healthcare is a concern for you, share the report with your healthcare providers or healthcare provider organizations in your community. The healthcare section of the report contains information and recommendations that can assist healthcare providers to ensure those with visual impairment get accessible healthcare.
Even manufacturers would benefit from seeing this report. If you are experiencing an accessibility issue with a website, app, or device, you can share the technology section of the report with the company along with the specific challenges you experience with their tool.
5. Finally, share this report with fellow advocates. Our voices are always stronger when we have multiple voices working together—after all, learning about the communal experience is why we did this research! You can also reach out to local civic organizations such as the Lions Club or Rotary Club and inform them about information in the report. Consider volunteering to give a presentation to the membership.
At AFB we recognize that these are deeply challenging times for all Americans. By joining with 15 other organizations and companies to conduct the Flatten Inaccessibility study in an unprecedentedly short time, we were able to shed light on the issues facing people who are blind or visually impaired. Now it's time for all of us to work together to advocate for those who live with vision loss every day. The Flatten Inaccessibility report is a vehicle for you to use in your advocacy efforts for yourself and the larger community.