04/24/2013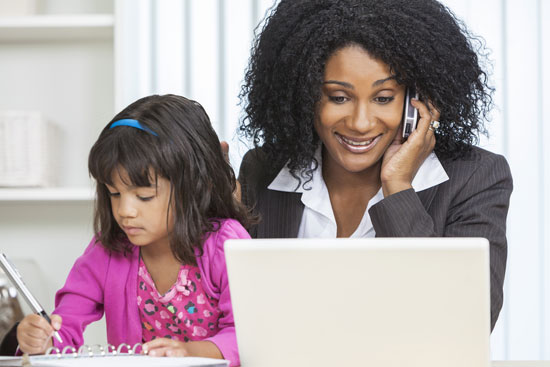 Thursday, April 25, is Take Our Daughters And Sons To Work Day
How many of you are thinking about bringing your son or daughter to work? My opinion? I think you should speak to your workplace to see if you can bring your child to work on that day. "Hey AFB, can I bring my Australian Shepherd to work? So, she may not be a human child, but I pretty much treat her like my child."
On a serious note, I can tell you a little bit about why I believe this day is so important to me and for children who are blind or visually impaired. I can tell you that my parents bringing me to work on occasion made a big difference in my life; it may not have been on that "official" day, but it is just as important. Allowing children to experience their parents' employment can leave a lasting impression. It certainly did for me.
As many of you know, I am a professional who is blind or visually impaired. My mother also happens to be visually impaired. She experienced her vision loss a lot later in life. My mother had a career change around the same time when her vision loss started progressing. She went back to school to be a paralegal, after being a real estate agent for a number of years. She wanted a change and had an interest in being a paralegal. She went back to school and did extremely well in her program. She finished quickly and found a job at a local law firm.
During her time at the firm she had to adjust to using assistive technology to complete her job. She used a CCTV or video magnifier. She used screen magnification software to access her computer screen. Most of this was during my high school and undergraduate years. My twin brother and I visited her workplace on occasion, and even were asked to help with basic tasks like moving around items in the storage rooms and such. I was able to experience my mom working, and working as a person who is visually impaired. I don't think I ever really thought much about it. My mother's experiences played a role in my view of vision loss. Even though our experiences differ, I can relate to many of her experiences. I could tell how important working was for her and how she had to be creative to accomplish tasks. At times she had to work a few extra hours here and there to make sure she completed her work. My parents were great examples to my brothers and me—we all learned the value and importance of work. We also were encouraged to work from an early age and were assigned chores from as early as I can remember.
All children should have the opportunity to experience their parents' work, and to be encouraged to learn why people put forth the effort. They should have the opportunity to observe the skills necessary to maintain and succeed in employment. Parents and families have an opportunity to model appropriate work habits. We all have hard days, difficult bosses, and issues at times. But, it is important to stress the positives and how we deal with employment situations. Also, pointing out the habits that lead people to not be successful, like the workers who are consistently showing up late and taking advantage of their workplace—they are not destined for success.
I believe that the opportunity that I had to see my mother, as a person with vision loss, working to help provide for our family, had a profound impact on me. She liked the work that she did for the law firm, and it definitely played a role in my life. Even prior, during her time as real estate agent, getting to experience the different aspects of her job allowed us to understand more about different types of employment.
Allow your children to experience your work, and provide them with the opportunity to grow and learn during "Take Our Sons or Daughters and Sons to Work Day." Now, if you are a parent of 12 children, you might want to think about limiting the number of children you bring to work—again, most offices are not meant to be a day care. Just saying...
For other stories about Take Our Daughters and Sons to Work Day, check out my FamilyConnect blog post. AFB CareerConnect also offers stories about successful people who are blind or visually impaired and their work in the "Our Stories" section. What are your memories specific to your parents and their work?
Mother and daughter working together photo courtesy of Shutterstock.