12/14/2012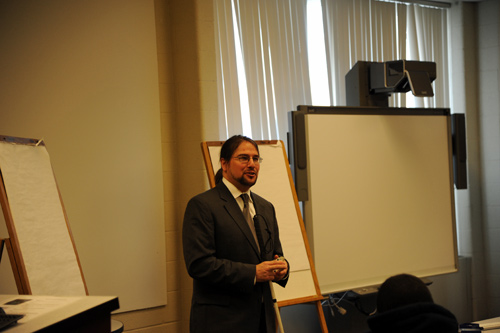 Recently, I had the opportunity to conduct the first of six teen employment workshops for students who are blind or visually impaired. These workshops are being held in multiple states, the first of which was with the Overbrook School for the Blind (www.obs.org) in Philadelphia. The workshops allow me to work with teens and associated professionals on self-awareness, career exploration, pre-interview skills, and the job interview. They are really focused on the needs and present levels of the students, and are applicable to high school age students at various levels.
The workshops are based on lessons from AFB CareerConnect, including the Job Seeker's Toolkit—a free, self-paced, online course that guides teens and adults through the employment process with specific vision-related advice. The workshops allow me to share my own personal stories and situations that might be encountered by others during the employment process. I truly put a lot of myself, and other successful persons with vision loss, into the content.
The first workshop took place on November 28, 2012, and all parties believe it was a success. The students are now completing surveys and the school will return them to me. During the sessions, I provided advice, tips, resources, and tried to help the students become more self-aware. The group of 35 students at Overbrook was amazing to work with. I think I got just as much out of it as they did. They were enthusiastic and engaged throughout—even early in the morning and just before lunch, when many of us get a bit antsy! The granted workshops take place with partnered organizations, schools, and state agencies. The participating groups are located are located in Pennsylvania, North Carolina, Florida, and California. These groups responded to an invitation to participate that was first come, first served.
The teen employment workshop series was funded by the Jack K. and Agnes K. Ayre Foundation for Blind Children. AFB and all of the participating organizations are grateful to the support that allows for these workshops. They allow us to introduce the teens and associated professionals to content and resources. High school-age teens can participate in a teen employment workshop at the CTEBVI Conference (California Transcribers Educators for the Blind and Visually Impaired) near San Francisco on Saturday, March 16, 2013. Find more information about this teen employment workshop for students with vision loss at www.ctebvi.org. The workshop will be free to registered participants.
Here are a few snapshots from the first teen employment workshop, provided by the Overbrook School for the Blind. (All photos reprinted with permission Overbrook School for the Blind ©.)