02/12/2016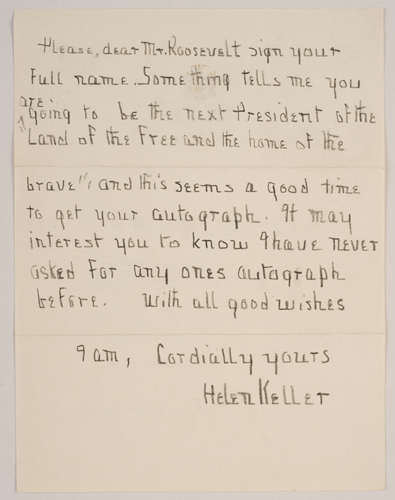 On President's Day we honor two giants of American history – Franklin Delano Roosevelt, a giant among politicians and Helen Keller a global leader for those with disabilities.
Franklin D. Roosevelt (FDR) and Helen Keller had a great admiration for each other. As early as 1929, Helen Keller instinctively knew that FDR was to become a great leader, and on behalf of the American Foundation for the Blind (AFB) she solicited the then New York Governor to become an honorary member of AFB. The image that is displayed here is FDR's subsequent letter to Helen and Helen's reply to the New York Governor. In his letter, FDR explained that he was unable to become a member of AFB. However, he originally forgot to sign this letter and Helen wrote back to him – on the reverse side of the document – asking for his autograph. Her reply, in her square-block script is wonderfully cheeky! The language and tone are of a confident woman, who knows she is famous (perhaps more famous than him at that time) and is certainly not shy to ask for a favor from her friend and up-and-coming political leader.
Happy President's Day everyone, and enjoy this wonderful document from the Helen Keller Archives!
Enjoy!
Transcription
[Recto]
[Letterhead:
State of New York
Executive Chamber
Albany
Franklin D. Roosevelt
Governor]
February 7, 1929.
Miss Helen Keller,
93 Seminole Ave.,
Forest Hills, N. Y.
My dear Miss Keller:
I received your letter of January 1st together with enclosures which I have read with interest and want to extend to you my heartest [sic] good wishes and congratulations.
At the same time I will be unable to become a member of the American Foundation for the Blind [Handwritten inscription:, much to my regret.]
With kindest personal regards, I am
Very sincerely yours,
[Handwritten signature: Franklin D. Roosevelt]
[Verso]
Please, dear Mr. Roosevelt sign your full name. Some thing tells me you are going to be the next President of the "Land of the Free and the home of the brave," and this seems a good time to get your autograph. It may interest you to know I have never asked for any ones autograph before. With all good wishes
I am, Cordially yours
Helen Keller