11/24/2014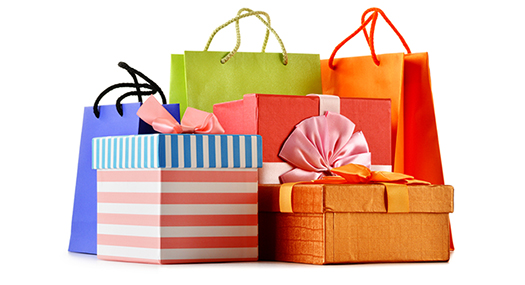 It's that time of year again, when we're all searching for gift-giving ideas. If you have close friends or family members who are blind, visually impaired, or losing their sight, here are some gift-giving guides you might want to check out. From young children to working-age adults to seniors who are gradually losing their vision, the American Foundation for the Blind has you covered.
AccessWorld® brings you some high- and low-tech gift ideas that are completely accessible to people who are blind or who have low vision—and they are all priced under $100. Check out the AccessWorld 2014 Holiday Gift Guide: Great High- and Low-Tech Ideas Under $100 and then read Janet Ingber's guide to shopping online.
Help AFB every time you shop online—Would you like to be able to donate to AFB quickly and easily, without increasing the cost of your online shopping? Check out our Other Ways to Give page for details on how to add a charitable bent to your online gift purchases year-round.
AFB CareerConnect offers gift ideas for career-minded recipients who are blind or visually impaired.
For the month of December only! Our friends at L'OCCITANE en Provence will contribute $5 to AFB for each purchase of select gift sets purchased in stores or online this month. These luxurious beauty products and fragrances are sure to please everyone on your gift list!
FamilyConnect® has pulled together a number of suggestions for parents of children who are blind or visually impaired who are looking for fun, accessible games, books, and toys to give for the holidays—as well as gifts and gadgets for their teenagers! Visit the FamilyConnect 2014 Gift Ideas for Parents of Children Who Are Blind or Visually Impaired for great gift ideas, as well as helpful articles and links to other sites' holiday guides and sales.

VisionAware™ has a myriad of ideas to choose from, especially for friends and loved ones who are new to vision loss. Some of them are specially adapted for people with vision loss, and some are inexpensive mainstream products. Visit VisionAware's Holiday Gift Ideas for People Who Are Blind or Visually Impaired as well as the Peer Advisors' Holiday Gift Picks.

You can send a free, accessible, large print eCard featuring a Helen Keller quotation and a beautiful archival photo to a friend or loved one.

"Nothing of value can be done without joy."
- Helen Keller

And for teachers and parents, the AFB Store now offers some wonderful presents, including an adorable Braille Bug® mug! Visit the gifts for friends page for more ideas.
And finally, we are proud to remind you of our partnership with the Chicago Lighthouse Tools for Living Store™, which carries beautiful print/braille cards, adaptive technology, independent living aids, lighting products, games, toys, kitchen gadgets, and more. The Chicago Lighthouse will donate a portion of your eligible purchases back to AFB when you shop using our affiliate links.
If you are on Pinterest, be sure to check out AFB's gift ideas board.
Please share your ideas below! What have been some of your best stocking stuffers, games, or big-ticket items, for loved ones who are blind or visually impaired?