10/21/2020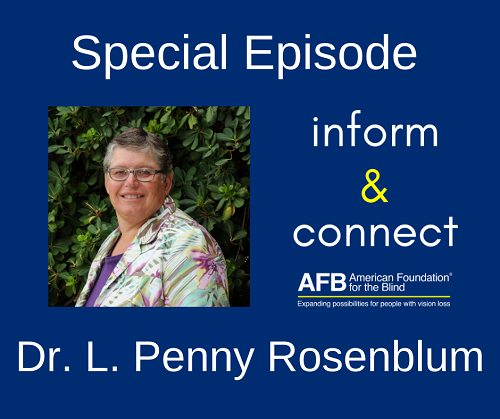 In this special edition of AFB's Inform & Connect podcast, Dr. L. Penny Rosenblum discussed the Flatten Inaccessibility research report, the culmination of survey findings from 1,921 U.S. participants who are blind (65%) or have low vision (35%). The survey investigated the experiences of these participants during the start of the COVID-19 pandemic to determine how they were affected in areas including access to transportation, healthcare, access to food and supplies, employment, education, and voting.
"People with disabilities have been uniquely impacted by COVID-19, and as far as we know, this is one of the few studies taking an in-depth look at the social, economic, and civic impact for those who are blind or have low vision," Dr. Rosenblum said. "While other research projects examine the risk to people with disabilities of contracting COVID-19, AFB and the other organizations behind this study had concerns about the quality of life for those most affected by community and public policy responses. This includes reduced public transportation options, the quick transition mandating employees work from home, and school closings."
In addition to the survey findings, you'll also hear about AFB's recent activities, including our series of Town Halls we'll be hosting in October and November.
A Transcript of the podcast is available.