---
AFB's Forward-Looking Centennial Events Celebrate Inclusion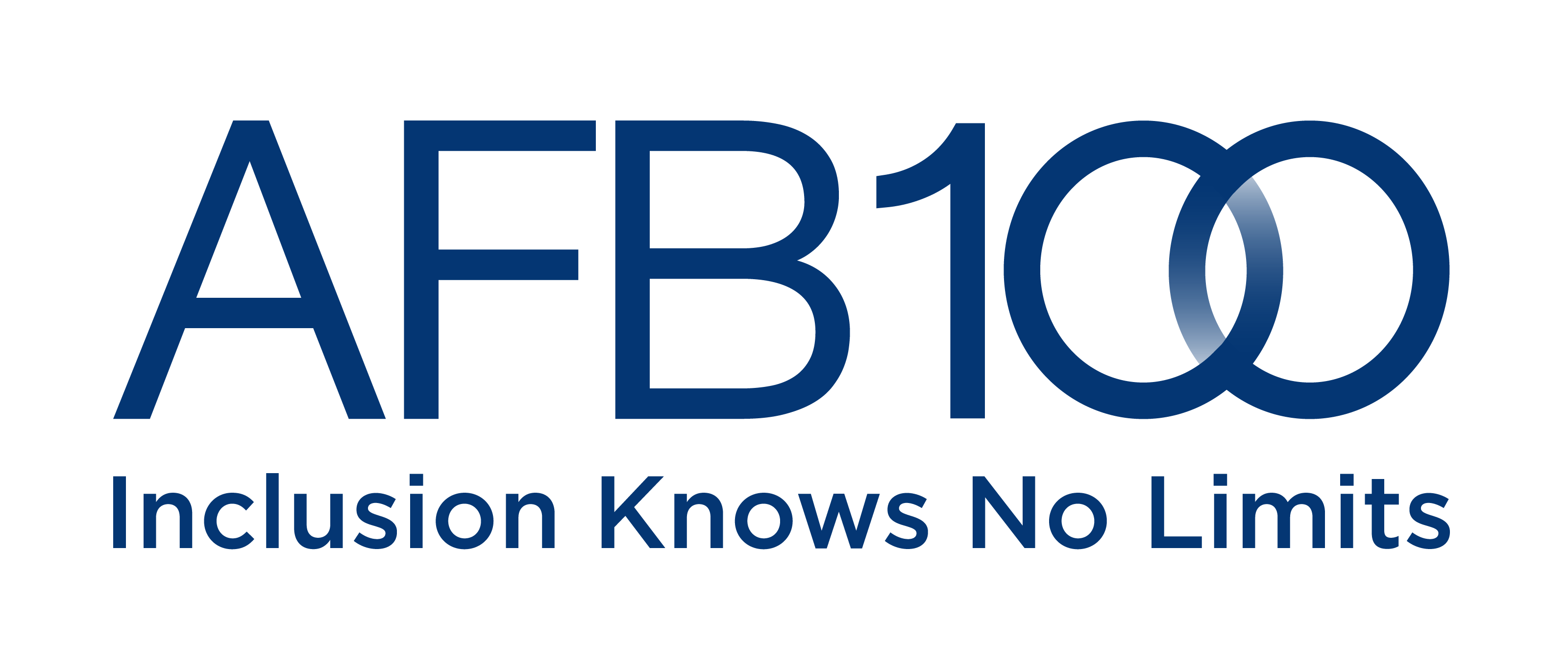 An inside look at the AFB100 celebrations, upcoming events – and the work yet to be done in the years ahead.
AFB President and CEO Kirk Adams, Ph.D., says it's "admirable and remarkable" that AFB is celebrating our 100th year. At the same time, he calls it "unfortunate" that AFB still needs to be here after all this time.
"Although things have improved in many ways for people who are blind over the last 100 years, by whatever measure we use, blind people are not thriving at the same level as the general population," he says. "So when we say, 'create a world of no limits,' we mean that when the markers of thriving are the same for blind people as they are for everyone else, AFB won't be needed anymore. And that's our ultimate goal."
The reality is that AFB is very much needed right now.
Our centennial theme is "Inclusion Knows No Limits," which ties directly into AFB's mission. AFB is "all in" right now on improving employment rates for people who are visually impaired, Dr. Adams says.
"We're really excited that conversations in the employment world have gone beyond diversity and are now talking about inclusion," he says. "Diversity is what you see; inclusion is what you do. So we have to be very clear with employers that inclusion makes for better outcomes, stronger companies, and more effective organizations."

Inclusion certainly made for a spectacular gala, the biggest event in AFB's centennial celebration. According to Adrianna Montague, chief community engagement officer, the #AFB100 theme of "Inclusion Knows No Limits" underscores AFB's genuine commitment to creating a more inclusive, accessible world.
"We wanted to show the power of inclusive art and music," she says. "We're so grateful to all the artists for sharing their time and talent."
Producing a full-scale concert during a global pandemic involved creative thinking, innovation, and a lot of collaboration, she shared. For example, jazz pianist Matthew Whitaker, hip-hop artist Aloe Blacc, and the students from the New York Institute for Special Education Choir were all in separate locations when they recorded "What a Wonderful World" – with the students recorded via Zoom. Others, like Tony Award-nominated singer and actor Sean Allan Krill, who performed "Rainbow Connection," including costume changes, approached it as "a complete DIY" project: Krill recorded the vocals and video, then edited it on his computer.

Yet others relied on spouses and family members to serve as camera operators, lighting designers, or set decorators. And Helen Selsdon, AFB's archivist, huddled in a closet to get good sound quality to record her narration for the segment about AFB's history.
From the event producer, Brian Satz – who collaborated with Jennah Bell to create the song she performed with lyrics based on Helen Keller's writings – to the video and audio engineers, ASL interpreters, and so many others, creating an inclusive centennial gala was truly a team effort.
The same can be said for the monthly events AFB is hosting online throughout the year – with more to come, including discussions on the
future of work
and
financial literacy
. Find an archive of all the events and details on those coming up at afb.org/100. True to our commitment to inclusion, every event includes captions, audio description, ASL interpretation, and a transcript.
Plus, there's some exciting news: Thanks to a team of supporters, a documentary about Helen Keller is in development. According to Montague, it's being created as part of the centennial to showcase disability rights and advocacy work, both Keller's achievements and the voices of today.
"We could not have created our celebration without the individual donors, corporate partners, and nonprofit partners who help support this work," Montague says. "Without our supporters, we would not be able to do any of the work we do, and we are so very grateful."
---
Donor Corner: Swimmer, Musician, and Tutor Has a No Limits Mindset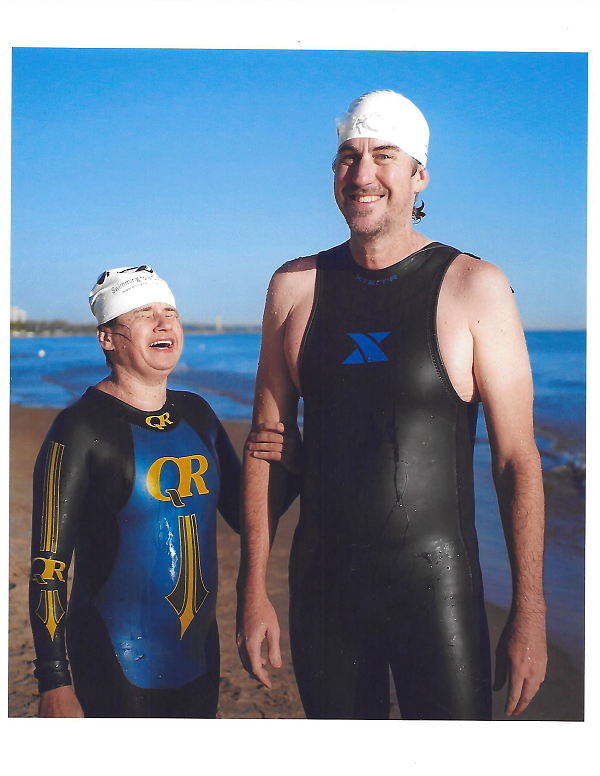 We continue our periodic series highlighting donors who are supporting AFB's work.
Heidi Musser has been swimming as long as she's been blind – her entire life, she says. She learned to float on her back before taking her first steps. She was the youngest member of the Metro Chicago Leaning Tower YMCA's Conqueror's Program, which was created in 1968 for athletes who are disabled.
In 1998, she participated in her first triathlon in Chicago – one of only two visually impaired athletes to do so – guided when needed by her then-coach Mark Landeck. She's had a number of coaches and trainers over the years, and always felt warmly embraced by the YMCA, which she says gave her the support she needed to rank as a fearless blind open-water swimmer, one of only a few in the country.
Musser has gone on to participate in many triathlons and swimming competitions. As a youth, she showed a real talent for French and German, gymnastics, and classical piano – taught by Mary Sauer, former principal pianist for the Chicago Symphony Orchestra. She's also a trained singer. Musser earned a bachelor's degree in music from Northeastern Illinois University, working entirely by ear. Although she reads braille she does not read braille music; she has "perfect pitch" and an excellent memory.
Back in 2001, Heidi and her mother were instrumental in convincing the Skokie Public Library in Skokie, Illinois, to add braille books to their collection. Most were books donated by Seedlings Braille Books for Children in Livonia, Michigan. Now 55, Musser teaches braille and piano to students who are blind or visually impaired – and sometimes introduces them to swimming with an emphasis on being fearless.
After all, one of Musser's greatest passions is her beloved swim team, the Chicago Swedish Fish (SWED), an all-level swim team where she's found both coaching and camaraderie.
"Just like the YMCA, they have fully integrated me into the water and the team," she says. "I score points for the team and have had some very good coaches, including my close friend Andy Holck."
Musser participates in Illinois U.S. Masters State Meets and is proud to have earned a number of medals, including two for participating in the 1.5-mile "Escape from Alcatraz" race in 2002 and 2004.
She shows no signs of slowing down, continuing with her training and many other activities, including singing in her church choir, playing classical piano during Sunday church services, and reading books in braille specially transcribed for her by Horizon for the Blind in Crystal Lake, Illinois. In addition to all the support she gives others through teaching, Musser made three donations to AFB in 2020.
As Musser wrote in a tribute honoring the YMCA of Metro Chicago, "Erich Fromm said: 'Giving is the highest expression of potency. In the very act of giving, we experience our strength, our wealth, and our power as human beings.'"
---
Research Roundup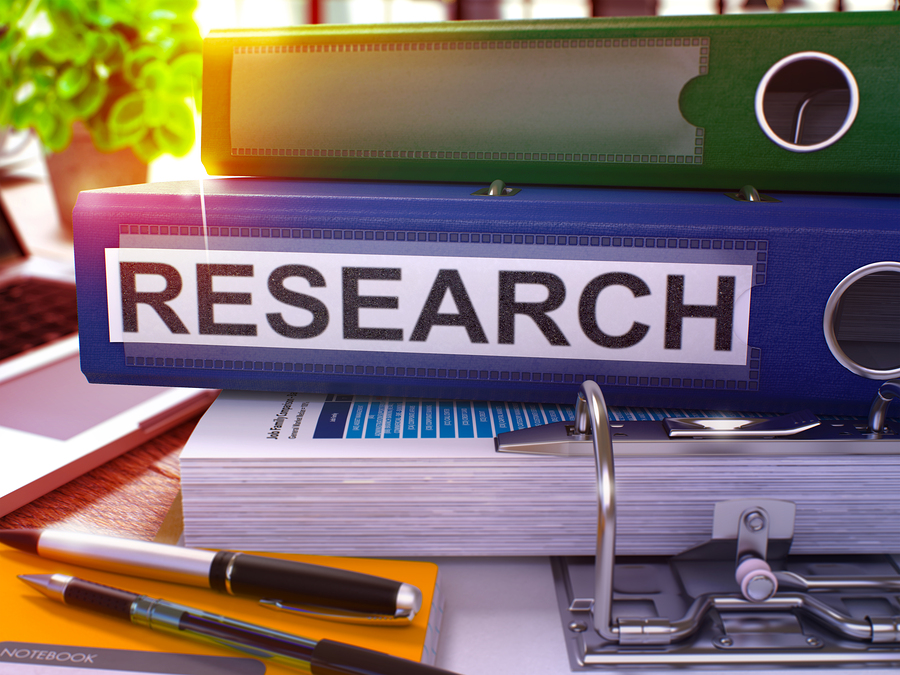 Workplace Technology Study
This four-part project continues to investigate how people who are blind or visually impaired are using assistive and mainstream technology in the workplace. Having completed focus groups with sighted, blind, and low-vision participants to learn about their experiences (details at AFB's Inform & Connect podcast, afb.org/ICWorkplaceTech), the research team developed a survey to further explore people's use of technology in the workplace, as well as people who are seeking work, are retired, or not working. A total of 487 participants from more than 40 states responded to questions ranging from the process of getting hired and onboarding to who provides equipment and training.
"We're going to use this data to not only educate employers, but also technology companies and people with visual impairments," says L. Penny Rosenblum, Ph.D., AFB's director of research. "Technology is constantly changing and there are very few jobs that don't require some sort of technology. For today's employees to be competitive and productive, they really need a toolbox of options and the flexibility to select the most efficient way for them to work."
The AFB research team is currently analyzing the data and will follow up by conducting in-depth interviews with a sample of workers who are visually impaired. Watch for an update in a future issue.
Blind Leaders Development Program
To measure the impact of the Blind Leaders Development Program (BLDP), AFB's research team is interviewing the fellows and mentors and has been doing so periodically since the beginning of the program in 2019. Now that the first cohort has completed its year-long experience, AFB is gathering data on how fellows advanced in their leadership skills, along with what worked well for fellows and mentors and what could be improved. The research team is also evaluating the effectiveness of the program's teaching techniques.
Learn more and apply for the next cohort at afb.org/BLDP.
Changes to the Research Team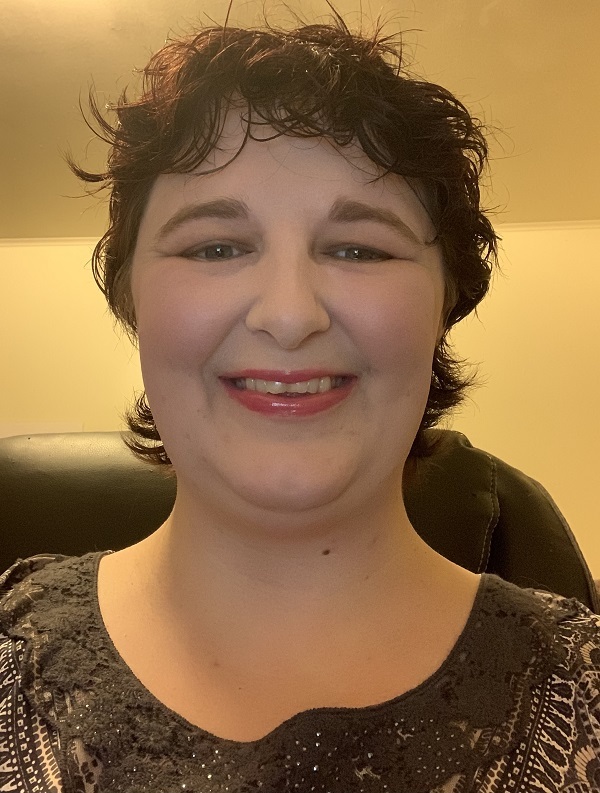 Dr. Rosenblum gratefully acknowledges the work of Paola Chanes-Mora, Ph.D., who has moved on to a new position. Her many contributions to AFB's research included attention to detail in data collection and a strong commitment to diversity, equity, and inclusion among research subjects.
AFB welcomes Carlie Rhoads, Ph.D., as a research specialist. With a deep background in both research in and education of people who are visually impaired, deafblind, or have multiple disabilities, Dr. Rhoads joins AFB from Western Oregon University, where she was director of the Deaf-blind Project.
"Research is a great way to drive long-lasting change and policy change," Dr. Rhoads says. "I've long admired AFB's work and was really interested in working with Dr. Rosenblum, whose work I've been reading for years."
Dr. Rhoads has already finalized the second report in the Access and Engagement study (afb.org/AE2), which explores the ongoing impact of COVID-19 on students who are visually impaired, and is working on the third study. She's also involved in the workplace technology study, among others, using her experience in both qualitative and quantitative research.
"I think my versatile skills mean I can work on a lot of different tasks, which is a good thing," Dr. Rhoads says. "And I really admire the entire research team I'm working with here."
---
What Does the World Look Like to You?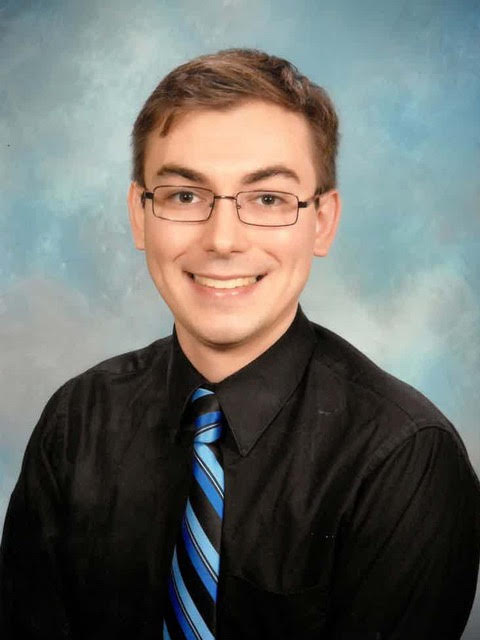 We continue our series asking people who are blind or visually impaired to share their employment journeys.
Andrew Worley, a fellow in AFB's first cohort of the Blind Leaders Development Program (BLDP) (afb.org/BlindLeaders), describes the program as "a breath of fresh air when I didn't realize how long I'd been holding my breath." He works at a middle school in development and events after teaching music there for six years. Andrew segued into administration about three years ago, to continue advancing the school's environment as a place where students feel valued and safe. He sees the BLDP as the start of a "lifelong journey of self-development, practicing leadership, and encouraging and enabling others to do the same." He lives in Pennsylvania with his husband, Brian.
When did you first experience vision loss?
From the time I was in kindergarten, I was always the kid with glasses who needed to sit in the front of the classroom. I just thought eyesight wasn't my strong suit. But when I was a junior in college, I started noticing some significant changes in my vision. I was a music major and it was becoming harder and harder to see the music, and I was having trouble driving, especially at night. Finally, my parents urged me to see a specialist, and I was diagnosed with retinitis pigmentosa. I still have some usable vision, although my detail vision isn't great and I struggle with color contrast.
What surprises people about your life?
That I use my assistive tools, like JAWS and ZoomText and a magnifier, as well as I do. I've put in a lot of work behind the scenes to make sure I'm doing my job effectively. But it's still surprising to people that I'm not openly struggling.
Have you ever been in a situation where people tried to put limits on your aspirations because of your visual impairment? How did you have to advocate for yourself?
Honestly, most of the time I think I place limits on myself before other people have the chance to place limits on me. I've always been hard on myself. But during the Blind Leaders Development Program, we evaluated ourselves and compared it to feedback from our coworkers. There was a surprising difference between how critical I am of myself and the ratings from my colleagues. I gained a lot of confidence from that and the entire program. But there have also been times I tried to hide my vision loss, like refusing to use a cane at first, because I thought people would question my abilities.
What do you wish more people understood about what it means to be blind or visually impaired?
First, visually impaired isn't one-size-fits-all. We all have varying levels of visual ability. Second, having vision loss doesn't mean you're incapable of everything else. We have just as much capacity and intelligence as anyone else. We just can't see you very well, if at all.
What would true inclusion look like to you?
To paraphrase The Leadership Challenge, I think inclusion involves enabling others to act by providing them with the tools they need to succeed, whether that is access to assistive technology, education, training, or other services. As someone with a genetic visual disability who also happens to be gay, true inclusion would be all of society embracing you for everything you are, instead of embracing you in spite of it.
---
AFB Notes
Helen Keller Lesson Plans Earn National Recognition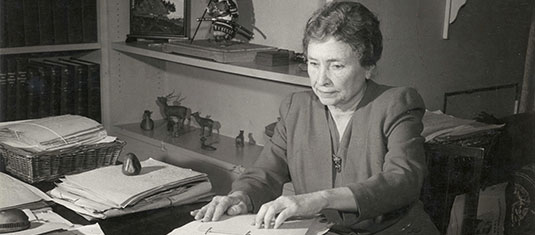 For Women's History Month in March, AFB's Helen Keller Lesson Plans were featured on the National Endowment for the Arts (NEH) website (afb.org/EDSITEment). The NEH funded AFB's Helen Keller Archive digitization project (afb.org/HelenKellerArchive), and Humanities New York and the Achelis and Bodman Foundation provided generous additional support for developing the lesson plans. There are three lesson plans so far that teach middle and high school students the fundamentals of archival work and primary-source research, while expanding their knowledge of the role of people with disabilities in history. The Helen Keller lesson plans are available at no cost from AFB (afb.org/LessonPlans).
Fashion for Fundraising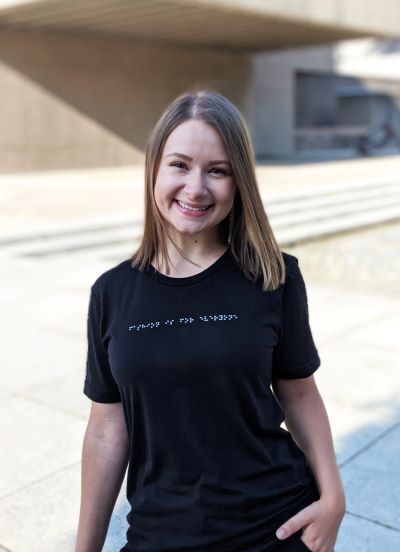 Alexa Jovanovic, designer and founder of Aille Design (pronounced "eye"), has a simple but powerful brand philosophy: "Good design shouldn't exclude anyone." That's why she established her company in January 2020 to create inclusive designs for people who are visually impaired. The line currently includes T-shirts, face masks, and scarves emblazoned in braille phrases made from hand-beaded Swarovski Crystal Pearls. What's more, their products are created with input from people who are blind or visually impaired.
Right now, Aille Design is donating 5% of all proceeds from its T-shirt sales to AFB.
"Everything we do is with the community and for the community, and there's no better way to continue that message than to donate back to the community," Jovanovic says. "I'm so grateful for all AFB does, and with this year being the centennial I wanted them to be the organization we donate to."
You can shop the Aille Design store at ailledesign.com/collections/all. Learn more about Jovanovic's inspiration and work on AFB's Inform & Connect podcast at afb.org/InformConnectAille.
Next
Focus on AFB: Spring 2021