Every year, the National History Day Contest encourages more than half a million students around the world to conduct historical research on a topic of their choice, and many students choose to research Helen Keller and her teacher, Annie Sullivan.
This year, the National History Day theme is "Debate & Diplomacy in History: Successes, Failures, Consequences."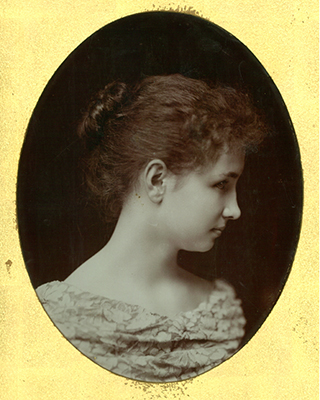 Helen Keller circa 1893
Frequently Asked Questions
What did Helen Keller do to help people who cannot see?
Helen Keller made enormous differences in two key ways. Firstly, she changed perceptions about blindness and secondly, she was instrumental in getting laws passed to benefit those who could not see.
Perceptions of Blindness
Helen Keller was born in 1880, in a world still dominated by the centuries-old belief that blindness was a punishment from God, barring you from a normal and productive life. Keller was instrumental in changing negative perceptions that were still prevalent when she was growing up.
Helen Keller led by example. Her life embodied the possibilities of what a blind child, adult, and senior citizen could do, and raised expectations for the daily lives of those with vision loss in the process. As a six-year-old child who was both blind and deaf, she famously learned extraordinarily rapidly how to communicate using the manual sign language and then equally quickly, how to write. Helen Keller witnessed extraordinary change in society and cultural attitudes over the course of her life. She lived through two world wars, as well as the Korean War, saw women gain the right to vote, and witnessed hard-fought triumphs in the arena of civil rights. As a leading disability activist, she successfully campaigned for funding for Talking Books, and for rehabilitation services for those who are deaf and blind as well as for wounded veterans.
Keller's Achievements as an Adult
But her achievements as an adult went on to surpass those of her childhood. She became an advocate on behalf of those with disabilities, a feminist, suffragist, social activist, pacifist, and published author — and that was just in the public sphere! Helen Keller loved nature and physical activity. She rode horses and bicycles and she played chess and backgammon. Keller's life showed what can be done with extraordinary hard work, determination, and joy.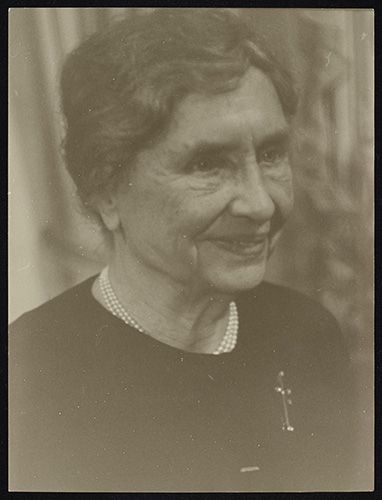 Portrait of Helen, 1950
Effecting Real Change
Keller worked for the blind as a private individual, beginning in 1906, and then as an employee of the American Foundation for the Blind (AFB) for 44 years beginning in 1924.
To mention but a few of her accomplishments:
Between 1931 and 1947 she crisscrossed the nation, personally appearing before at least 13 state legislatures and targeting 18 with demands that included the creation of State Commissions for the Blind and the construction of schools for those with vision loss.
At the federal level, among her many achievements, she successfully lobbied the government to print and distribute books in braille for use by the adult blind across the United States
And from 1942-1944, she supported Senator Robert Wagner's efforts to secure funding for the rehabilitation, special vocational training, placement, and supervision of blind persons, including those blinded in World War II.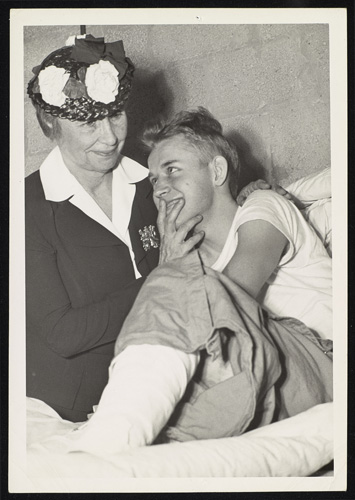 Helen Keller and a wounded soldier at the Thayer Military Hospital, Nashville, June 19, 1945. For more information on Keller's visits to military hospitals try browsing under Military in the Helen Keller Archive.
Did Helen help both deaf and blind people?
Disability advocacy is frequently partitioned, with advocacy groups specializing in blindness or deaf-blindness or deafness. Although Keller insisted that the American Foundation for the Blind create a special fund for the benefit of those who are deafblind, her primary mandate was to advocate on behalf of those with visual rather than auditory impairments.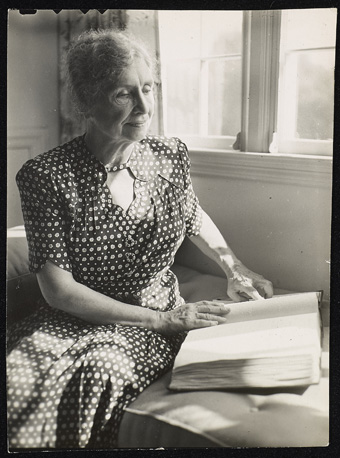 Helen Keller seated by a window reading a book in braille at her home in Westport, CT, circa 1955. Learn more about Keller's advocacy efforts by browsing the Correspondence: Legislation: Federal series in the Helen Keller Archive.
How has Helen Keller's work affected the lives of those with vision loss today?
The laws Helen Keller helped enact directly benefit those with vision loss today — braille books in libraries, additional social security measures for those with vision loss, rehabilitation services for wounded veterans — these are outcomes of her determination to leave the world a better place than she found it.
Visit AFB's accessible online Helen Keller Archive to watch a film of Helen working at the American Foundation for the Blind and visiting schools.
In the big picture, Keller made it clear that those who cannot see have as much right to happiness as their sighted counterparts. Keller fought for the civil rights of those who cannot see.
Is Helen Keller still relevant today?
Absolutely!
Sadly, the fight Keller fought is not over, and some of the challenges she faced remain our challenges too, especially in the area of employment for those with visual impairments. At the American Foundation for the Blind we continue to work towards greater equality for those with vision loss—our programs and services address the most pressing needs of people who are blind. We change lives—breaking through barriers, challenging misconceptions, and expanding possibilities. In the spirit of Helen Keller, we do so with optimism and determination.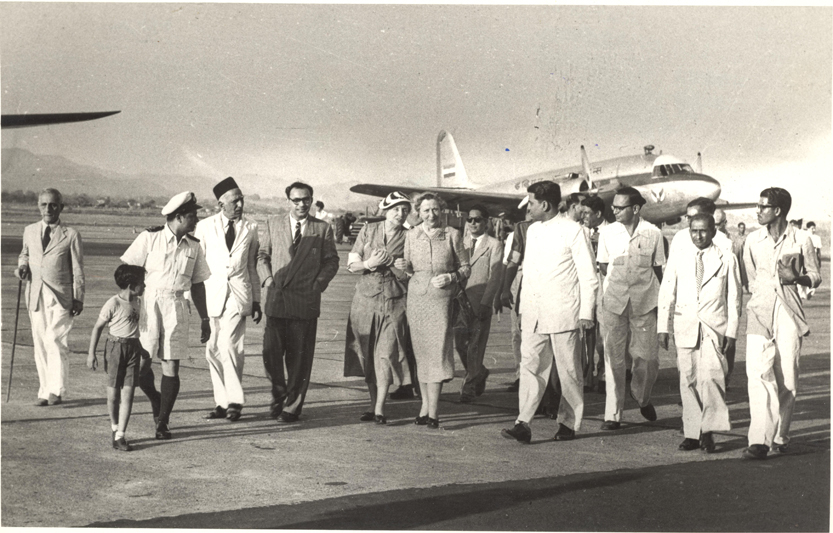 This image shows Helen Keller arriving in India's Mumbai airport in 1955. Keller traveled to 39 countries around the globe, advocating for those with vision loss worldwide. For more information, explore the Travel subject in AFB's digital Helen Keller Archive. Grade-school students may enjoy exploring the World Leader gallery in the Helen Keller Kids Museum.
Was Helen Keller ever in love?
Yes, she was.
In 1916 when she was about 36 years of age, she was preparing to elope with a young writer and her secretarial assistant Peter Fagan. Fagan had learned manual sign language to be able to talk to Helen and translate texts to her. Helen's mother Kate Keller prevented the elopement. There was a common belief that if you had a disability you should not be allowed to marry and have children. Keller wrote the following:
"What earthly consolation is there for one like me whom fate has denied a husband and the joy of motherhood? At the moment my loneliness seems a void that will always be immense. Fortunately I have much work to do — more than ever before in fact."
- Helen Keller's journal, 1938
How many dogs did Helen Keller have?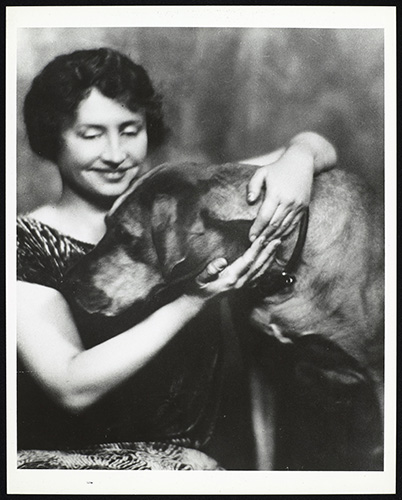 Helen Keller with her arms around a big dog, circa 1925.
Explore the Helen Keller Archive for more photographs of Helen with dogs.
Here's a list of 18 dogs whose names we know, but you can be sure there were many more!
Belle
Bounce – Labrador puppy (c.1963)
Darky – Possibly a female Scottish Terrier
Dileas – Male Shetland Collie
Ettu – Female German Shepherd
Hans – Possibly a Danish Baron
Helga – Great Dane
Kaiser – Male French Bull Terrier
Kamikaze-Go – Akita dog
Kenzan-Go – Akita dog
Lioness – Female Mastiff (1890)
Maida – Female Lakeland Terrier
Nimrod – Male Great Dane
Phiz – Male Scottie
Sieglende – Female Great Dane, puppy of Thora
Thora – Female Brindle Dane
Tinker – Dachshund (c.1963)
How many teachers did Helen Keller have?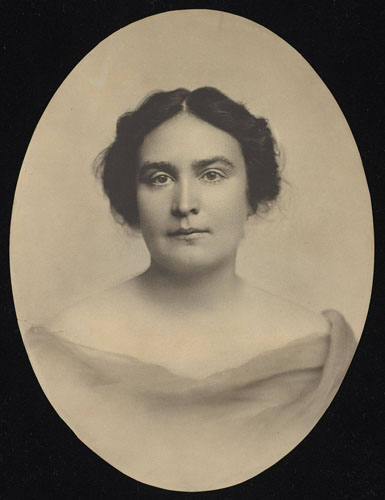 Anne Sullivan Macy
Helen was taught by teachers at the Horace Mann School in New York City, the Arthur Gilman School in Cambridge, MA and Radcliffe College in Cambridge, MA. However, the key teacher in Keller's life was Anne Sullivan. Anne became Helen's teacher in March 1887 when Helen was six years old and remained with Keller until Anne died in 1936. Helen always referred to Anne as "Teacher."
How many pupils did Anne Sullivan Macy have?
Anne had only one pupil: Helen Keller. There were times in her life when the possibility of her teaching other children was discussed, but these did not materialize. For more information on Anne Sullivan Macy's life visit the Anne Sullivan Macy: Miracle Worker online museum.
Did Helen have a happy childhood?
Keller became deaf and blind as a result of illness at nineteen months. In The Story of My Life she recounts her childhood in Tuscumbia, Alabama. She describes enjoying her garden, even as a very young child:
"Even in the days before my teacher came, I used to feel along the square stiff boxwood hedges, and, guided by the sense of smell would find the first violets and lilies. There, too, after a fit of temper, I went to find comfort and to hide my hot face in the cool leaves and grass. What joy it was to lose myself in that garden of flowers, to wander happily from spot to spot, until, coming suddenly upon a beautiful vine, I recognized it by its leaves and blossoms, and knew it was the vine which covered the tumble-down summer-house at the farther end of the garden!"
Keller continues to describe her daily life as a young child in the house — imitating adults, making hand signs to communicate and playing with the daughter of the family's cook. Helen was well aware that her mother Kate Keller loved her and wanted the best for her.
"I owe to her loving wisdom [Kate Keller] all that was bright and good in my long night."
However, Helen was also an unruly child with a fearsome temper, the result of frustration at her inability to communicate fully with those around her. Helen's life changed irrevocably on March 3rd 1887 when Anne Sullivan Macy arrived to work as a governess in the Keller household. Keller was just a few months shy of her seventh birthday. She wrote the following in The Story of My Life:
The most important day I remember in all my life is the one on which my teacher, Anne Mansfield Sullivan, came to me...the light of love shone on me in that very hour.
Helen's tantrums and rebellious spirit are famously captured in the movie The Miracle Worker. Here you see Helen physically lashing out at her new teacher, but love rapidly replaces frustration and antagonism. Anne Sullivan Macy wrote the following letter on March 28, 1888 to Michael Anagnos, the Director of the Perkins School for the Blind:
"I saw clearly that it was useless to try to teach her language or anything else until she learned to obey me. I have thought about it a great deal, and the more I think, the more certain I am that obedience is the gateway through which knowledge, yes, and love, too, enter the mind of the child."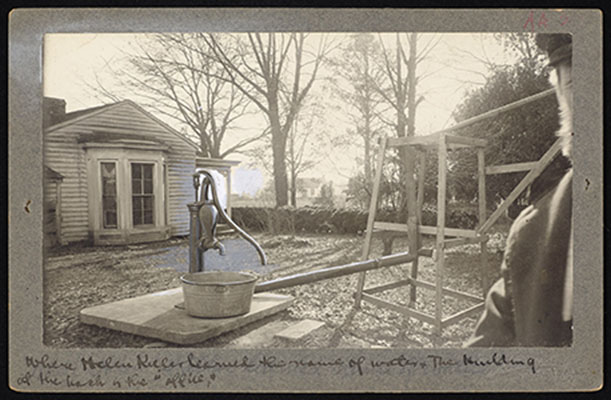 The famous water pump where Helen Keller first understood that the words Annie was spelling into her palm had meaning.
As Helen wrote in The Story of My Life:
Some one was drawing water and my teacher placed my hand under the spout. As the cool stream gushed over one hand she spelled into the other the word water, first slowly, then rapidly. I stood still, my whole attention fixed upon the motions of her fingers. Suddenly I felt a misty consciousness as of something forgotten—a thrill of returning thought; and somehow the mystery of language was revealed to me. I knew then that "w-a-t-e-r" meant the wonderful cool something that was flowing over my hand.
Did Annie Sullivan have a happy childhood?
Unfortunately, no, Annie Sullivan did not have a happy childhood. Anne Mansfield Sullivan was born in Feeding Hills, Massachusetts on April 14, 1866. She was raised in poverty. She was the eldest of five children, only two of whom reached adulthood. Her father, Thomas Sullivan, was an alcoholic and her mother, Alice Chloesy Sullivan died from tuberculosis when Anne was 9 years old.
When Anne was 7 years old she developed trachoma, a bacterial infection of the eyes. This infection went untreated and affected her vision. She had almost no usable sight until she had an operation at the age of 15, which restored some of her vision, but she remained visually impaired for the rest of her life. Learn more about Annie's life in AFB's Anne Sullivan Macy online museum.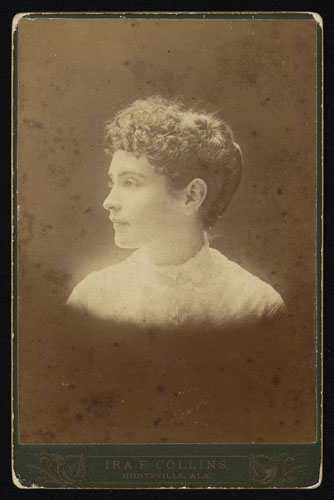 Annie Sullivan, age 15
In what way was Annie Sullivan's teaching different from other teachers?
Anne was aware of the new teaching methods of Maria Montessori (1870-1952). Montessori developed a child-centered educational approach to teaching children. One that "values the human spirit and the development of the whole child—physical, social, emotional, cognitive." (From: https://amshq.org/Montessori-Education/Introduction-to-Montessori)
Anne powerfully engaged her young pupil by using the child's remaining senses of touch and smell. She took Keller outside for classes, to smell flowers and surround her with nature. Learning was a fun activity that connected the young girl to the physical world around her.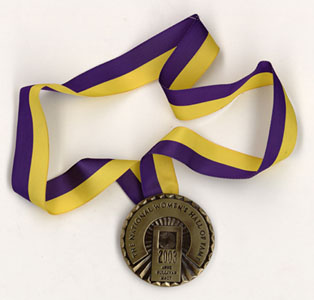 In 2003 Anne Sullivan Macy was inducted into the National Women's Hall of Fame. Browse the Artifacts in the Helen Keller Archive to learn about the beautiful objects in Keller's collection.
I want to undertake more research about Helen Keller and Anne Sullivan Macy, where do I go for more information?
Be sure to explore the main Helen Keller area on AFB's website. And here are other areas that might be useful as well:
Besides hearing aids and braille, what other communication tools are there for blind and deaf people?
There are so many more communications tools today for people who are blind and/or deaf today. These include:
Hearing devices
Assistive Listening Devices: These devices can be used with or without a hearing aid to enhance a person's voice
Captioned Phones: These phones display what the caller is saying on the screen
Amplified Phones: These phones amplify the sound so that people who are hard of hearing can understand what the caller is saying.
Signalers
Audible, visual, and vibrating signalers provided to alert the user to a phone ringing, e-mails, texts and other types of distance communications.
Screen Reader and Magnifier Software
Screen reader and screen magnifier software programs. A screen reader can serve as an interface between a computer and a braille display, and for those with some usable hearing, it also provides synthesized speech output of what is on the computer screen.
CART: (Communication Access Realtime Translation)
This is verbatim text of spoken presentations provided for live events. Only the text is provided on a computer screen or projected for display on a larger screen. CART is helpful in one on one as well as group settings.
Statistics on People Who Are Blind or Visually Impaired in the United States
Every year, the National Health Interview Survey asks a large number of people, "Do you have trouble seeing, even when wearing glasses or contacts?" People who say "Yes" are also asked "Are you totally blind or unable to see at all?" Based on this question, in 2017 they estimated that, in the United States, 26,900,000 adults had trouble seeing (or about 10% of all adult Americans). For more about these numbers and for other data sources, check out www.afb.org/stats.