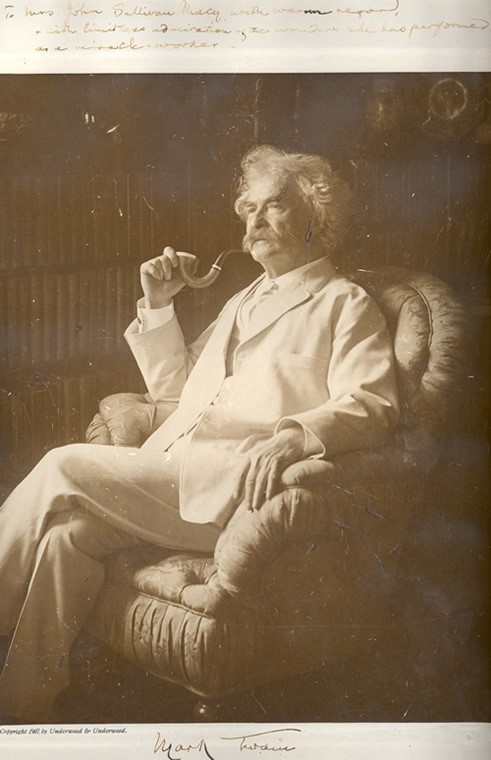 This full-length photographic portrait of Samuel Langhorne Clemens (Mark Twain) shows him sitting in an armchair smoking a pipe, 1909. Clemens inscribed the photograph with the following: "To Mrs. John Sullivan Macy with warm regard & with limitless admiration of the wonders she has performed as a miracle-worker."
---
Anne's success with Helen was astonishing. She described her progress with Helen in letters to Michael Anagnos, the Director of the Perkins School for the Blind in Boston. He then published these in the school's Annual Reports.
Alexander Graham Bell, the inventor of the telephone and teacher of the deaf, who had referred Helen's parents to the Perkins School, also played a role in Anne's and Helen's life. He made the public aware of their results when he gave a New York newspaper a picture of Helen and one of her letters to him.
In May 1888, Anne, Helen, and Helen's mother Kate Adams Keller, traveled to Washington, D.C. There they met President Grover Cleveland and were joined by Dr. Bell. They went on to Boston as guests of Mr. Anagnos. It was he who persuaded Helen's father, Arthur Keller, to let Helen study at Perkins in the fall as a guest of the school.
Sophisticated Bostonians were eager to meet Helen and her extraordinary teacher. Already, however, people's interest was focused on Helen rather than Anne. Samuel L. Clemens (Mark Twain) gave Anne the credit she was due when he called her a "miracle-worker."
Next
Teaching Helen Keller How to Speak