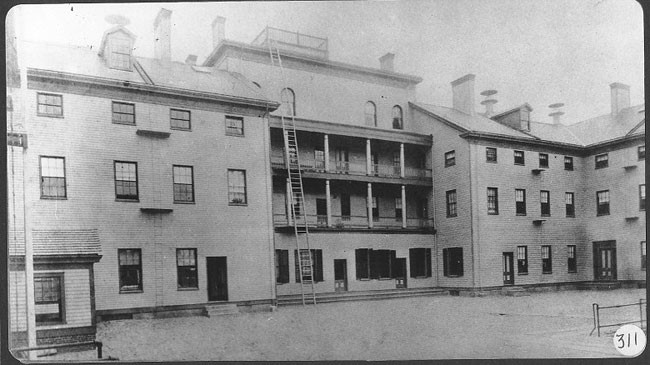 Photograph of the Tewksbury Almshouse, circa 1890. This three-story wooden structure was erected circa 1854-1858. Image courtesy of the Public Health Museum, Tewksbury, Massachusetts.
---
Tewksbury was infamous throughout the state of Massachusetts. By 1874, the population included alcoholics requiring treatment, as well as those labeled "pauper insane." The largest group were poor immigrants from Europe. During Anne's time at Tewksbury, the majority of these were Irish Catholics.
Rumors circulated throughout the state about cruelty to inmates at the institution, sexually perverted practices, and even cannibalism. As a result of these rumors, the Board of State Charities launched an investigation into the facility. The investigation was spearheaded by Samuel Gridley Howe, a founder of the Perkins School for the Blind in Boston, Massachusetts.
In a collection of thoughts that Anne wrote later in life, entitled "Foolish Remarks of a Foolish Woman," she reflected on her experiences at Tewksbury:
Unexpected good has filled the chinks of frustration in my life. But at times melancholy without reason grips me as in a vice [sic]. A word, an odd inflection, the way somebody crosses the street, brings all the past before me with such amazing clearness and completeness, my heart stops beating for a moment. Then everything around me seems as it was so many years ago. Even the ugly frame-buildings are revived. Again I see the unsightly folk who hobbled, cursed, fed and snored like animals. I shiver recalling how I looked upon scenes of vile exposure—the open heart of a derelict is not a pleasant thing. I doubt if life, or eternity for that matter, is long enough to erase the errors and ugly blots scored upon my brain by those dismal years.
Next
The Death of Her Brother Jimmie