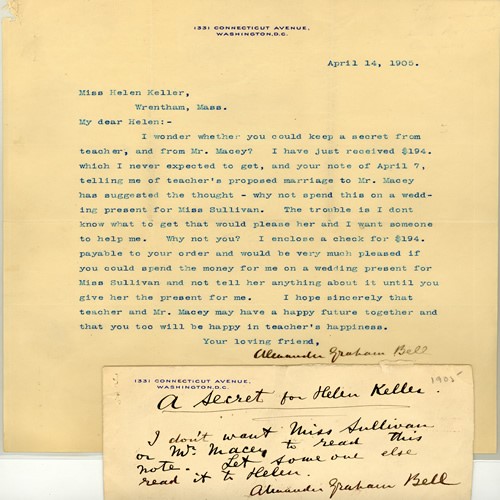 A letter from Alexander Graham Bell to Helen Keller regarding a wedding present for Anne Sullivan Macy, 1905.
---
Anne married John in the living room of the Wrentham house on May 3, 1905. The twenty wedding guests included Mr. Macy's family, Kate A. Keller, John Hitz, and Sophia Hopkins.
Anne made the wedding cake. Helen stood beside her teacher and a friend stood beside Helen, spelling the service into her hand. The ceremony was performed by Dr. Edward Everett Hale.
Helen wrote the following description of the event to her friend Sister Mary Joseph:
I did not think you would care for the little details of my teacher's wedding; but you shall have them. She wore a dark blue travelling dress and a white silk waist. I wore a moss green dress, and I stood up with the bride. My friend Mrs. Smith sat near enough to tell me what was going on without interrupting the ceremony. Mr. Macy wore a gray frock-coat which was most becoming.

We had luncheon immediately after the ceremony, quite without formality. My teacher made the wedding-cake herself, and for that matter she prepared the salads and the punch. They had many beautiful flowers, and each of the guests carried away a bunch of carnations as a souvenir of the occasion...

The wedding presents were very handsome—a fine French clock with candlebra [sic] from Dr. Bell, a large punch bowl with glasses from Mr. Wade, spoons enough to stir tea for the village, a splendid box of silver, containing one hundred and twenty-five pieces, from Mr. and Mrs. H. H. Rogers, a silver bureau set and many other gifts I cannot remember...
Following their brief honeymoon in New Orleans, Anne and John went to Alabama to see Helen before going on to Wrentham. When they arrived there Anne wrote a letter to John Hitz, whom she often referred to as "cher Pere." The excerpt below includes comments added by Anne's husband John Macy (J.A.M.) in parentheses:
I am much the same person that I was (I agree to that, both as to the good and as to the naughty -- J.A.M.) -- just as perverse, just as unreasonable, just as full of love for my friends, just as adverse to writing them. Yet when I realize what has happened to me it seems as if the great happiness which is mine should make me better and wiser in every way and a good deal more of a Swedenborgian (who ever heard of an Irish Swedenborgian? J.A.M.).
---
Full Transcript of Letter
Miss Helen Keller,
Wrentham, Mass.
My dear Helen:-
I wonder whether you could keep a secret from teacher, and from Mr. Macey [sic]? I have just received $194 which I never expected to get, and your note of April 7, telling me of teacher's proposed marriage to Mr. Macey [sic] has suggested the thought - why not spend this on a wedding present for Miss Sullivan. The trouble is I don't know what to get that would please her and I want someone to help me. Why not you? I enclose a check for $194 payable to your order and would be very much pleased if you could spend the money for me on a wedding present for Miss Sullivan and not tell her anything about it until you give her the present for me. I hope sincerely that teacher and Mr. Macey [sic] may have a happy future together and that you too will be happy in teacher's happiness.
Your loving friend,
Alexander Graham Bell
---
On envelope:
A secret for Helen Keller
I don't want Miss Sullivan or Mr. Macey [sic] to read this note. Let someone else read it to Helen.
Alexander Graham Bell
Next
John Albert Macy: Editor, Writer and Literary Critic