09/17/2021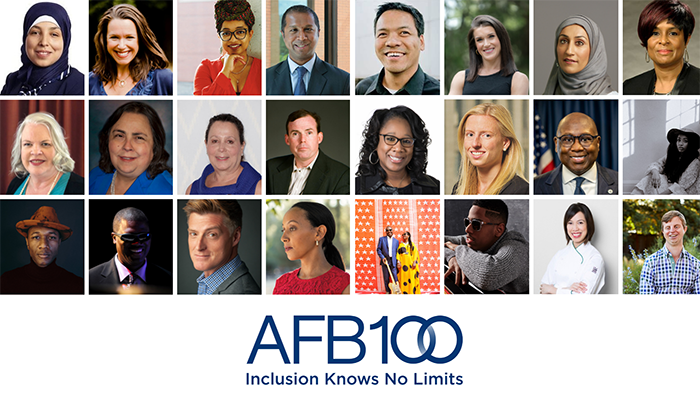 Join us, September 23, 8:00 PM Eastern, for an encore presentation of the AFB 100 "Art of Inclusion" concert and celebration, co-hosted by Haben Girma, author of the best-selling memoir Haben: The Deafblind Woman Who Conquered Harvard Law, and AFB president and CEO Kirk Adams, Ph.D.—with performances by Grammy-nominated artists Amadou & Mariam and Marcus Roberts, jazz pianist Matthew Whitaker, Tony-nominated Sean Allan Krill, songwriter Jennah Bell, hip-hop artist Aloe Blacc, and students from the New York Institute of Special Education Choir. What a wonderful celebration of AFB's 100th anniversary!
Find out how you can host a Facebook Watch Party!
Throughout the event, attendees will enjoy different musical styles and learn about AFB's history and future. This gala was just one of a series of centennial-themed events scheduled throughout 2021. Other events included a series of curated webinars focused on the most pressing issues and topics affecting the blind and low vision communities, pairing prominent speakers with younger voices. The full list and additional details are available at www.afb.org/100.
These centennial events are made possible through the generous sponsorship of partners like Hewlett Packard Enterprise, JPMorgan Chase &Co., American Printing House for the Blind, Exelon, Google, Northrop Grumman, Pepco, U.S. Bank, Walmart, Microsoft, Charter Communications, and Challenger, Gray & Christmas.